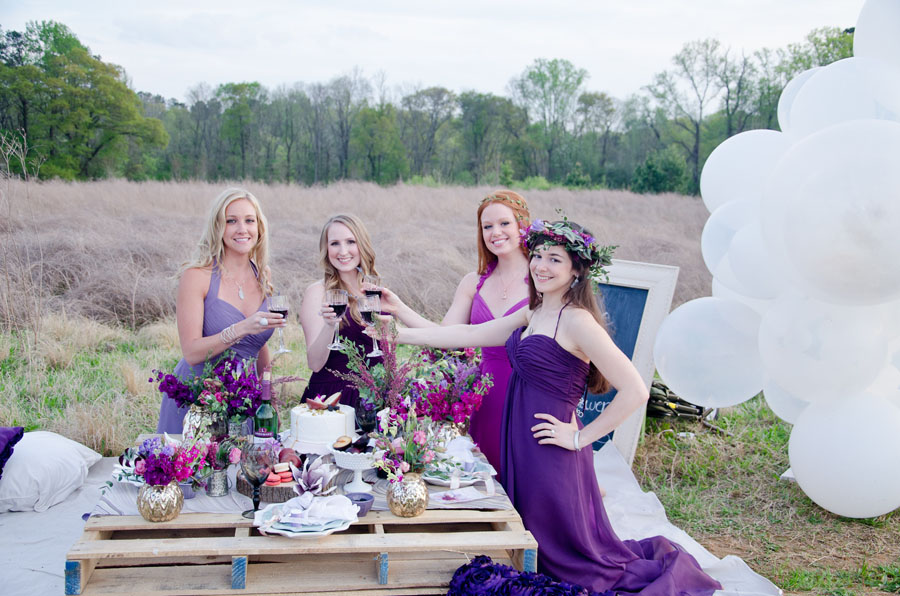 Radiant Orchid Inspired Bridal Shower Picnic
There are few things in this world as simply romantic as a picnic in spring.  The sun wrapping you in its golden warmth as you enjoy a meal outdoors, the sweet smell of grass and the chirping of birds seeming to make time itself stand still.  What could be a better haven for the stressed-out bride desiring a few hours of talk, laughter, and relaxation with her closest girlfriends?  Exactly.  That's why, in honor of International Picnic Day tomorrow, we bring you this brilliance from event planner, Jasmine Shah — a bridal shower picnic, the entire shoot focused on the Pantone Color of the Year 2014, Radiant Orchid.  The affair couldn't have been more magical!  The lovely ladies, hair down and feet bare, were dressed in a stunning array of purple, the bride-to-be boasting a crown of violet blooms.  All sat upon a blanket to relish fruits, sweets, and rich red wine.  The table swam with whimsical arrangements of purple and pink flowers, the evening sun smiling down on the intimate scene with a soft and serene glow.  This flood of enchantment is brought to you by Mp Photographie!
THEME
The theme mainly encompasses a bridal shower picnic out in the open, intentionally planned to be low-key but meant to be a memorable and real-life experience for the bride-to-be.
COLORS
Our color palette was inspired by Pantone's color of the year "Radiant Orchid". It worked so gorgeously when mixed in with dark berry colors, a little sage green and a few shades of pink.

WHAT TO WEAR
These are bridesmaids dresses from Bride Beautiful in Atlanta, Georgia. The girls opted not to wear shoes in order to go with the whimsical theme. The girls did their own hair and make-up leaving their hair down to blow freely in the wind. The beautiful custom jewelry was provided by Jeff McLaurin Designs also in Atlanta, Georgia.

FLOWERS
Kim McNaron of Holland Daze did an incredible job capturing our vision with the flowers. The colors were beyond perfect, the arrangements themselves breezy, casual and whimsical. And the mercury glass containers added the perfect amount of glamor while still being understated! Miniature hydrangea, lilac and blue hyacinth, rose, lisianthus, purple dendrobium orchids, pink heather, gunne eucalyptus, trailing wandering jew and fragrant purple double stock.
THINGS TO REMEMBER
This is a perfect shoot for spring, when all the buds are beginning to bloom and the lust for warmer weather is in full effect. 

ITEMS TO INCORPORATE
The amazing thing about this kind of shower is that you can easily pull it off in your own backyard. Work on a visual story board, pulling inspiration from the bride's favorite things, colors, tastes, textures. Use what you already have when it comes to the setting …. maybe a nice coffee table, a rug or throw blanket, some pretty toss pillows and your nice china… and then accent with some pretty paper, ribbon, gold foil napkins, and some nice candles! Paper Source is a great resource for all of those items!

SIGNATURE COCKTAIL
Something romantic. We chose red wine that accented the plums.

PERFECT FOR
The bride-to-be that believes in experiences, memories and relationships over traditional shindigs that involve multiple guests she may not even recognize. She wants an intimate wedding. She wants to splurge on a few favorite things but not necessarily everything. She wants to create a beautiful, hand-crafted, personalized and unforgettable experience for herself, her husband-to-be and her family/friends.
TAKE IT UP A NOTCH
One easy and inexpensive way to kick it up a notch would be to add some bistro lighting above the table setting! Purchase a few strands of outdoor bistro-style lights (round clear bulbs, not holiday lights), attach them together as per instructions and hang overhead, or let them hang down from trees nearby. Think magical!
And if these breathtaking photos aren't enough, check out the behind-the-scenes video of this shoot, brought to you by Alex McClelland!
Shoot Professionals
Planning & Design: IDEA! Event + Style | Venue: Garrard Landing Park | Photography: Mp Photographie | Second Shooter: A. Bloch Photography | Florals: Holland Daze Weddings | Invitations: digibuddhaPaperie | Balloons: Balloon Artistry of Atlanta | Videography: Alex McClelland | Dresses: Bride Beautiful | Jewelry: Jeff McLaurin Designs | Desserts: Alon's | Tableware: Anthropologie