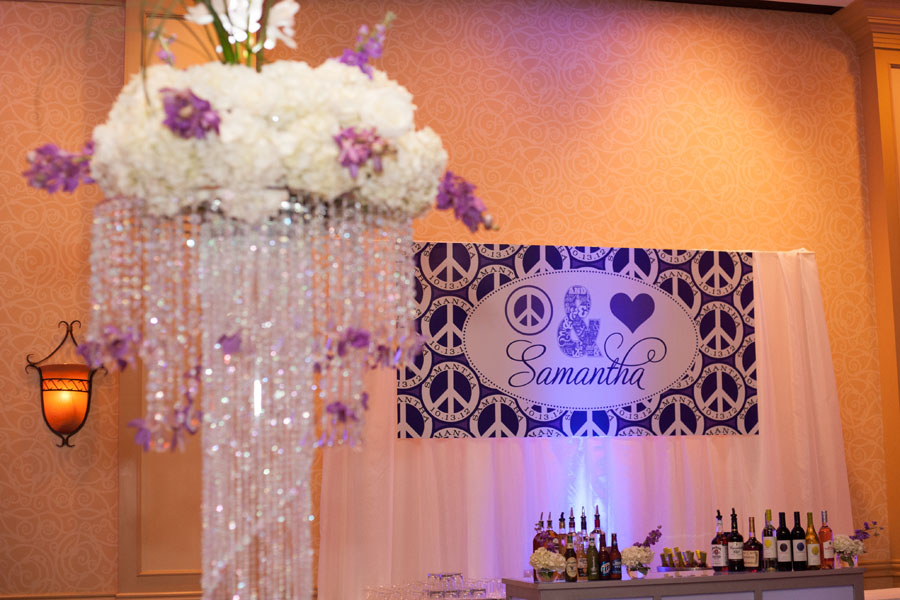 Purple and Peace Sign Themed Bat Mitzvah
In the fall of 2012, Samantha celebrated her Bat Mitzvah with a 'purple and peace sign' celebration at the Hyatt Regency Coconut Point Resort.  The venue was bathed in the color purple, Samantha's favorite color since she was a little girl.  The peace sign logo was incorporated in places like the escort table which was customized with her name in, what else, glitter adorned purple!  After disco dancing the night away under hanging mirror balls, guests were treated to a bag of cookies accompanied by a customized milk glass bottle filled with either chocolate, plain or strawberry milk!  Images by Aimee Rossi Photography!
COLOR
The guest of honor loves purple so instead of numbering the tables, they were named different shades of purple including amethyst, violet, plum, lilac and lavender.  The tablecloths were a purple sequin cloth which shimmered when the light reflected on it.
Party Professionals
Venue: Hyatt Regency Coconut Point Resort | Photography: Aimee Rossi Photography | Event Planner: RSVParties | Decor: Party Perfect | Rentals: Taylor Rental | Entertainment: Galaxy Entertainment | Invitations: DM Paper Designs | Videography: Senderey Video