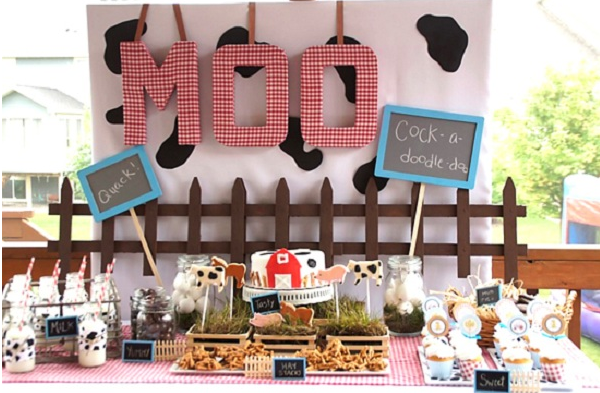 Plan a Barnyard Themed Children's Birthday Party
"Old MacDonald had a farm, EE-I-EE-I-O!" From décor to the desserts, today's birthday bash inspiration brings this beloved children's song to life. Whether your child is celebrating their first birthday, or their tenth, a barnyard-themed event will be a downright delight to plan, and will let each little guest enjoy a day on the farm.
Every child's favorite part of the barnyard birthday will surely be the attendance of all their furry friends. Make sure to incorporate the farm animals into the event elements in some quirky and unexpected ways. Super cute cake pops like these will be a sweet surprise as kids head over for desert. (Photo via Bakerella)
No need for chairs when you have hay bales! Arrange several bales around the tables to really play up the barnyard ambience. Just make sure to place a blanket or sheet on top of the hay to keep them comfy. (Photo via Brightgirl Photography)
Let the theme continue flowing with a food table that's every inch "the farm." Clever changes like swapping juice boxes for milk in old-fashioned bottles will have guests giddy-as-can-be. (Photo via A Blissful Nest)
While planning a barnyard birthday may seem initially overwhelming, just remember to keep it sweet, keep it simple, and have a blast as you bring the farmyard festivities to your home!