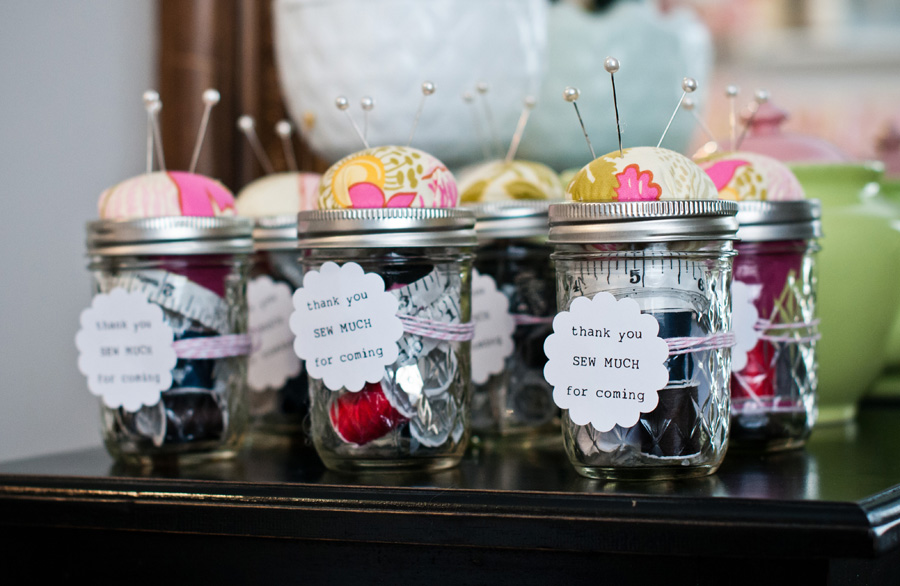 Pink, Yellow and Green Sewing Party for Girls
Little girls who love learning how to sew will be smitten with this old fashioned sewing party full of sweet southern charm.  Visions of floral fabric in sage and yellow mixed with vintage sewing machine props, thread spool place cards, sewing kit party favors and young girls learning needlepoint whilst sipping tea are enough to send any birthday girl to be into a frenzy of excitement.  Photography by Lauren Nicole Studios!
INVITATIONS
Invitations are the first place your party theme shines through for guests.  Here fabric patterns, stitched fonts and a vintage sewing machine graphic were used to show the sewing party theme to guests.
COLORS
Colors for this party were inspired by the fabric used throughout the event.  Hints of sage green, sweet pink and pale yellow added just the right amount of feminine touch.
EASY DIY DECOR
When your party is fabric themed it's easy to get creative with the decor.  Simply tear or cut with rough edges strips of fabric and create a banner, wrap around glasses, tie to the backs of chairs and you're done!
PLACE SETTINGS
Show your guests to their seat with these adorable place cards made of spools wrapped in pink and white baker twine adorned with each guest's name on top.
DESSERT TABLE
Incorporating real life props like this vintage sewing machine put the finishing touches on your party theme.  Here two vintage sewing machines were used at the table centerpiece & dessert bar main attraction.
SWEET SERVINGS
Milk glass bottles wrapped in bakers twine with sewing charms and buttons were served with lemonade to the little ladies.  Hint: Starbucks Frappuccino glass bottles with the labels removed are great for projects like this!
DESSERT
Fondant is the modern day baker's pottery.  Shown here, the cake designer got super creative by topping the dessert with spools of thread, scissors, measuring tape and pin cushions… the perfect sewing party cake.
FINGER FOODS
Finger foods are the best type of food for a party with lots of activities.  Create a food display using vintage serveware, apothecary jars of sewing supplies, dishes and utensils so guests can serve themselves as they're ready.
FAVORS
Sewing kits of needles and thread were gifted to each guest as they left.  Mom and daughter hostesses created the favor using mason jars with a DIY pin cushion of leftover fabric atop.
Shoot Professionals
Venue: The Gilbert House | Planning & Design, Decor, Stationery & Favors: Posh Tot Events | Photography: Lauren Nicole Studios | Cake: Sugar Benders Bakery | Catering: Talk of the Town Catering