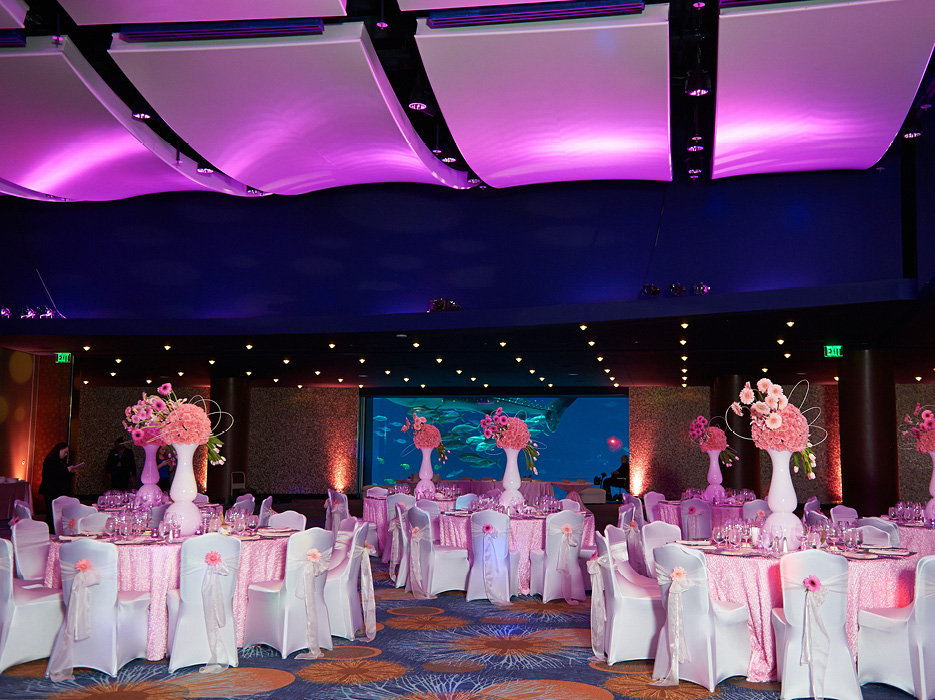 Pink Georgia Aquarium Bat Mitzvah
In celebration of their daughter Liana's accomplishments, Siomara and Ami Klin wanted to throw her a Bat Mitzvah celebration like no other, and with help from the talented Janice Blackmon, their dreams for their daughter's party sprang to life!  Held on May 18th at the Georgia Aquarium's magical Oceans Ballroom, this event was all about fun, energy, and Liana's favorite color, pink!  All 160 party goers oohed and aahed at the beauty of the space, the light pink tablecloths and fresh floral centerpieces popping brightly in the calm blue atmosphere of the ballroom.  Chef Wolfgang Puck prepared a delicious three course meal for the adults, while the kids enjoyed a finger food station serving favorites like french fries and chicken nuggets.  But perhaps the most popular party highlight for guests was the colorful candy buffet!  Put on your dancing shoes and join in this altogether fun-filled celebration with these photos by Kristen Alexander Photography!
Can you give us an overview of the event?
The party was in the evening at the GA Aquarium. It was a very happy party and both kids and adults had a blast! The ballroom was beautifully decorated by EventScapes and everything looked just amazing! Janice Blackmon from Blackmon Events was an excellent planner and she made this event happen very smooth and organized! We had around 25 people from our family coming from out of the country from Brazil, Mexico and Israel. Liana was very happy and really enjoyed every second of her special day!

Was there a specific theme or style?
Not really; we had lots of pink!!

What inspired the theme or style?
Liana loves pink and after explaining the ideas to Wilbur (EventScapes) he made it happen!

What were your playful twists that made the event unique?
The "Hora" dance which is the Israeli dance was a lot of fun! They lifted us up on the chairs and we had a great time! The video montage was beautiful; we included pictures of Liana, family and friends.

Did you DIY any of the details?
Janice helped me with all the details. She was a great help. She is easy to work with and she is really organized! She was always there for me and also during the party making sure that everything was happening!

What was the most memorable moment?
I think first when I entered the ballroom a little before the guests arrived and saw how gorgeous everything looked; it made me feel so so happy! Like, it took us so long to get ready for this special moment and then it is there so real!! Also the candle lighting ceremony was very special. Liana called her special friends and family to light each one of the 13 candles and each one had their special song. It was really emotional! Seing our whole family so happy was priceless!

Tell us about the food and desserts.
The food was amazing and delicious. Wolfgang Puck is an amazing chef and the food very unique! We had a three course seated dinner for the adults. For the kids we had more "easy" finger foods including the "fun station" with french fries, chicken nuggets and sweet potato tater tots. They also loved the special cocktails with no alcohol with the passing appetizers. Dessert was all together with different kinds of " 2 spoons desserts " including red velvet ( Liana's favorite). The cake was absolutely beautiful and very tasty. Mark Lotti from Cheesecake and Cakes did an amazing job! And we had the candy buffet which was a highlight and everybody loved it!

What kind of energy did your entertainment give the guests?
A very happy energy! Everybody danced all night.

If there was one thing you could change, what would it be?
Nothing!!

Party Professionals
Venue: Georgia Aquarium | Photography: Kristen Alexander Photography | Videography: Point of View Video | Event Planner: Janice Blackmon Events | Decor: EventScapes | Catering: Wolfgang Puck Catering and Alex Catering | Entertainment: Vibe Entertainment | Cake: Cheesecakes and Cakes