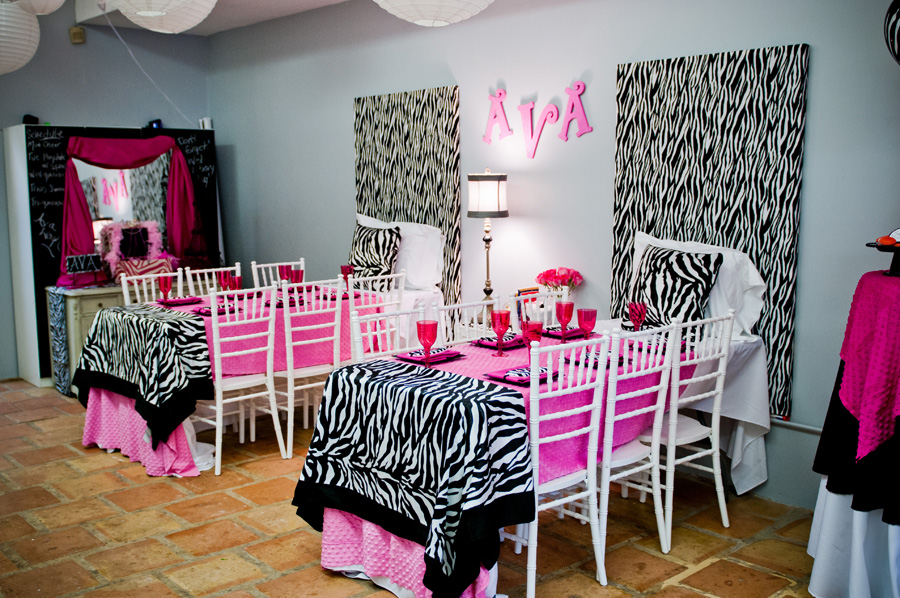 Pink and Zebra Print Daytime Slumber Party
Every little girl loves slumber parties.  For Ava's eighth birthday, she and 12 of her friends were treated to a "Pajama Jam Spa" daytime slumber party.  Guests arrived at Posh Tot Events in Roswell decked out in pajamas to custom tables made to look like beds with headboards crafted out of corduroy zebra print fabrics, Ava's favorite pattern, along with hot pink 'bedspreads' used as the table covers.  Their table settings were sleep masks embroidered with each guests name in zebra print as well.  After being treated with mini mani/pedi's and making their own jewelry in the 'bead lounge,' guests received a 'spa in a jar' filled with beauty products and a custom luggage tag.  Images by Lauren Nicole Studios!
FOOD & DESSERTS
On the menu were Ava's favorite foods in miniature including grilled cheese sandwiches, shots of tomato soup, caesar salad cups and fruit kabobs. The cake, by Dot's Delights, was in the birthday girl's favorite pattern, zebra. Also included was a dessert buffet with raspberry macarons, a custom made strawberry cake, zebra print chocolate covered oreos, and giant hot pink gumballs.
Party Professionals
Venue, Event Styling, Favors& Invitations: Posh Tot Events | Photography: Lauren Nicole Studios | Cake: Dot's Delights | Macarons: Douceur De France, French Bakery & Café