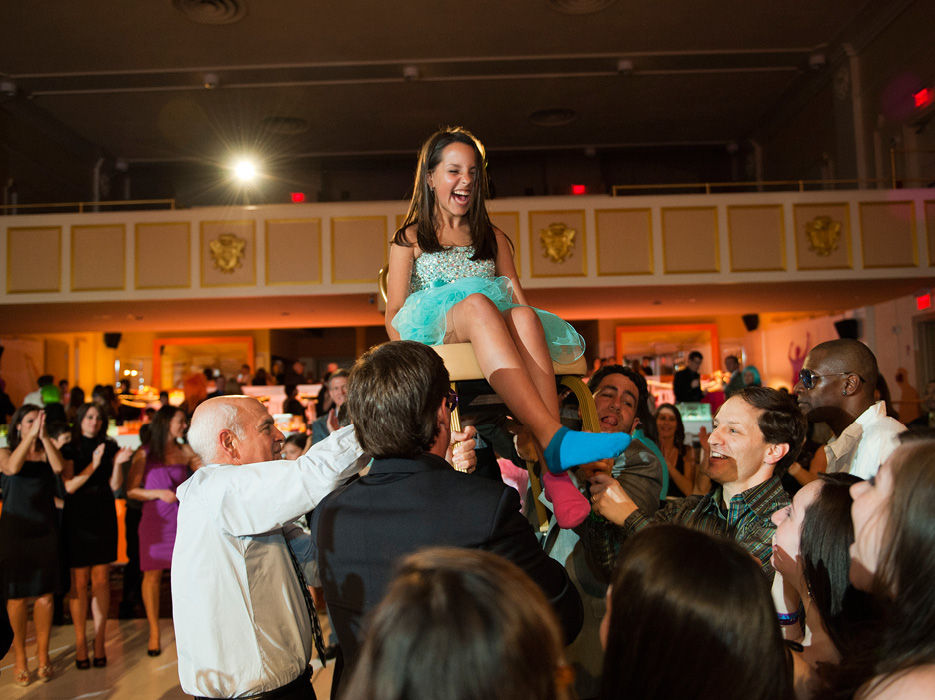 Pink and Orange "Crazy for Carly" Bat Mitzvah
The vibrant pink, orange and blue color scheme that inspired Carly's "Crazy for Carly" Bat Mitzvah were just as fun, festive and yes, CRAZY as the guest of honor herself! With her picture displayed on The Buckhead Theatre marquee, Carly — along with her family — ushered her 200+ party guests into the theatre for a night to remember. Cocktail hour kicked off the evening, allowing guests to peek over the theatre balcony for a look inside the main party room. After a special video that Carly's mom and dad put together for the big day (including  well wishes from famed rapper Ludacris!) had played, the giant screen was lifted to reveal a kids only lounge on the theatre stage. From that point on, the party didn't stop!  At "Carly's Counter" guests could take a seat at the diner style bar created by Added Touch Catering and order up their custom Carly Sandwich from the placemat menus. Inside the main party room, chef attended stations were set up where guests could build their own custom burger creations. And of course, there were three different style fries to go along! Throw in FOUR surprise dessert bars, and there was plenty of fuel to keep the whole crowd rocking all night long; jamming to sounds by Rhythm Entertainment. Images by Ric Mershon Photographers!
INVITATIONS
We love these acrylic invitations by Jenny's Paper, Ink. A youthful interpretation of the traditional paper version, they are the perfect way to set the tone for Carly's energetic and celebratory weekend.
THEME
Playing off of Carly's zest for life and the overall celebration of such a wonderful milestone, the "Crazy for Carly" theme for the party was born! In a perfect example of how to carry across a theme and/or color combination, Carly's signature jumping silhouette and loud colors were everywhere: cookies, napkins, food stations, stage decorations, cocktail napkins — even the dessert bar cookies!
DESSERT
Toward the end of the party, Carly and guests were surprised when four larger than life boxes were lifted to reveal an unbelievable — and vividly colored — dessert bar! Added Touch Catering had push pop-cake pops, s'mores, Crazy for Carly cookies and more for guests to feast on.
ENTERTAINMENT
Carly made her grand entrance to the party via a choreographed hip hop routine, but it was another moment that had everyone on their feet! Seeing Carly lifted in her chair by close friends and family for her Hora was a special highlight for everyone to remember.
Party Professionals
Venue: The Buckhead Theatre | Photography: Ric Mershon Photographers | Caterer: Added Touch Catering | Decor: Bold American Events | Videographer: Dewitt-Smith Video Productions | Party Favors: Icebox | Stationery: Jenny's Paper, Ink. | DJ: Rhythm Entertainment | Event Planner: It's My Party