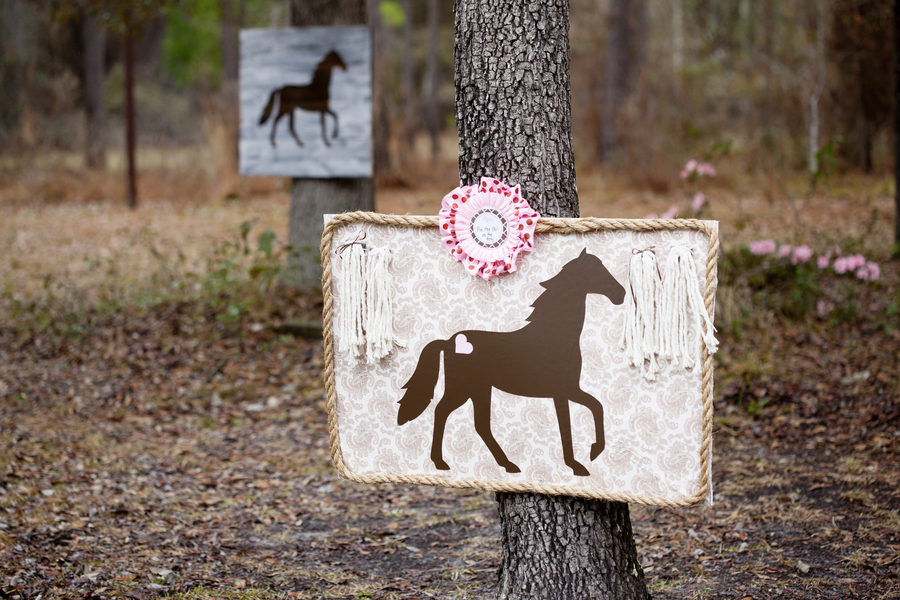 Pink and Brown Pony Themed Birthday Party
Now and then in our adult lives, we all look at the pictures from a kid's birthday celebration and think: "What?!  That's amazing!  I wish I were little again!"  And for me, this is definitely one of those parties.  When Tanya Hendricks of Southern Charm Weddings & Events asked her granddaughter what kind of party she wanted for her third birthday, Chloe's immediate response was "Ponies," and from this one word sprang a pink and brown celebration beyond the little girl's dreams.  A rustic sign including rope and wagon wheels welcomed everyone to "Chloe's Ranch," cowboy hats and sheriff badges handed out to all of the girls and boys upon their arrival.  The kids filled their tummies with pigs in a blanket, apples and carrots, and a wagonload of desserts before riding their stick horses around the yard to participate in games of horseshoes and pin the tail on the pony.  But the true highlight of the celebration?  The way Chloe's eyes sparkled when she got to ride a real pony.   This piece of childhood magic is brought to you by Christy Whitehead Photography!
Was there a specific theme or style?
We started planning Chloe's party back in the fall. I asked her what kind of party she wanted expecting to hear Minnie Mouse, Barbie or something along those lines. She simply said I want a Pony Party. So I pulled up a few Pinterest photos and showed them to her asking her if this is what she meant and her response was yes, pink is for girls and brown is for boys. So the theme/style started… Pink and Brown Pony Town! A mini ranch filled with a pony fun for all Chloe's friends.
Please give us an overview of the event.
Chloe's special day was a mini ranch filled with fun activities for the children and a nice cozy place for the parents. We live in the country on lots of acreage so making room for everything was not a problem. We had real ponies, sack races, a stick horse derby race, pin the tail on the pony, 3-year-old-friendly horseshoes, child-size cornhole and a pinata. And of course there was a chuck wagon full of goodies and a watering hole.

Did you DIY any of the details?
We did them all!!! Chloe's Ranch sign was created by her Poppie. All the decor was created by her Mimi to include the Sock Pony Stick Horses. The Magnetic Pin the Tail on the Pony. The Balsa Wood Horseshoes were cut out by a friend and we painted them pink and brown. The Chuck Wagon was two wooden spools with a planking board. We hung Wagon Wheels off the Spools to create the Wagon effect. For the watering hole drink station we used a small vintage chest of drawers we painted with a pink chalk paint and turned one of the drawers inside out to use as a shelf for the mason jars.. The 1st, 2nd and 3rd place ribbons were made from button makers with ribbon cinched together to give it a ruffled look. Chloe wanted to be included so we let her make and put together the gift bags. We had thank you circles made from printables to go on the outside of the bag. She was in charge of using her glue stick and placing them on the small brown kraft bags. Once they were done, she was to fill them with small trinkets for her guests that we purchased from Oriental Trading Company. Then instead of tissue we topped them off with either a pink or brown bandana.
Tell us about the food and desserts.
Yummies were piled high on the Chuck Wagon to include pigs in a blanket (Chloe's Favorite) and little cups with sliced apples and baby carrots which not only served as a healthy snack but doubled as treats for the ponies. For the Watering Hole, we had to have a galvanized tin filled the tin with water bottles with customized labels. Pink lemonade was served in Mason Jar Dispensers and mini mason jars with daisy lids and pink and brown paper straws were used as cups for the kids. There was also chocolate milk and strawberry milk in mini milk bottles to go with the pink and brown macaroons. Instead of a cake, Chloe's mom made her homemade cupcakes and iced them with a yummy cream cheese icing. Our friends own a cake business and made the cutest little pony cake pops ever.

What kind of energy did your entertainment give the event?
We knew with a bunch of 3-year olds the attention span was going to be very short and the energy level high, so we planned on many different activities for them to run back and forth. Nothing with the activities was rigid or structured. We let them have fun. The real ponies and the sock pony stick horses were the hits.

What was the most memorable moment?
Chloe's face when the pony trailer pulled in.

Party Professionals
Photography: Christy Whitehead Photography | Floral, Decor & Rentals: Southern Charm Weddings & Events | Cake Pops & Macaroons: Metro Custom Cakes | Pony Rides: Pinto Carriage Works | Vinyl Decor Accents: Ten23 Designs | Stationery: Tomkat Studio