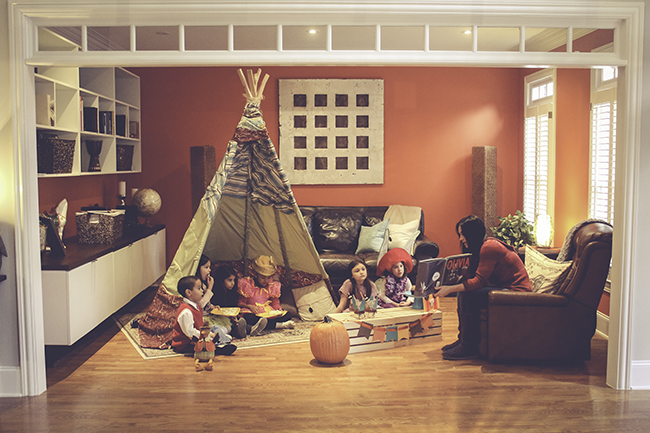 Festive Pilgrims & Indians Birthday Party
Looking for a cute idea for a kid's birthday party this fall? Look no further, we've found the idea worth replicating: a Pilgrims & Indians party! Jessica Guevara of OhSoPrintable shares this festive setup for a crew of happy 6-year olds, and with a no-sew tepee of course!
From Jessica: "When I was approached to do a Pilgrims and Indians party for a sweet little girl's 6th birthday, my thoughts immediately went to a turquoise and orange color palette. Yellow and brown were used to compliment the turquoise and orange which truly captured the autumn feel of the party.
There was one non-negotiable from the birthday girl; I had to somehow incorporate her favorite dessert, PUMPKIN PIE! I'm not sure if the Pilgrims and Indians ate pumpkin pie that very first Thanksgiving, but I'm pretty sure had it been in existence it would have been a must have at the table. I chose to make the pumpkin pie the focal point of the dessert table and turned to Joly, owner of Viva La Cake, to make the vision reality.


She created a cake in the shape of a slice of pumpkin pie capturing every detail from the dollop of whip cream on top to the fondant fork at its side. Beth, owner of The Way the Cookie Cumbles, outdid herself in making the Pilgrim and Indian cookies, not only were they delicious but their design was adorably whimsical.
To further embrace the Thanksgiving theme, I made turkeys out of yarn inspired by Lynn of Pocketful of Paint. They were the perfect addition to the dessert table.


Drinks were served in mason jars wrapped with leather cord and accented with teal feathers. Also included were "Mayflower" brownie bites and vanilla and chocolate cake pops placed in felt Pilgrim hats.
The children enjoyed photo ops and story time in their very own teepee. I came across the tutorial for the no sew teepee by Jamin and Ashley and just had to try it. After tons of hot glue and a heaping amount of fabric, the end result was worth the while."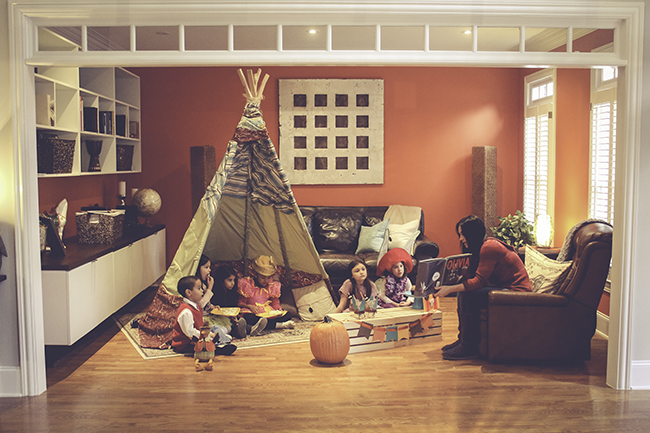 Party Professionals
Design and Styling: OhSoPrintable | Photography: Eli M. Photography | Cake: Viva La Cake | Cookies: The Way the Cookie Crumbles | Yarn Turkeys: Inspired by Lynn and www.pocketfulofpaint.com | No Sew Teepees: Inspired by Jamin and Ashley