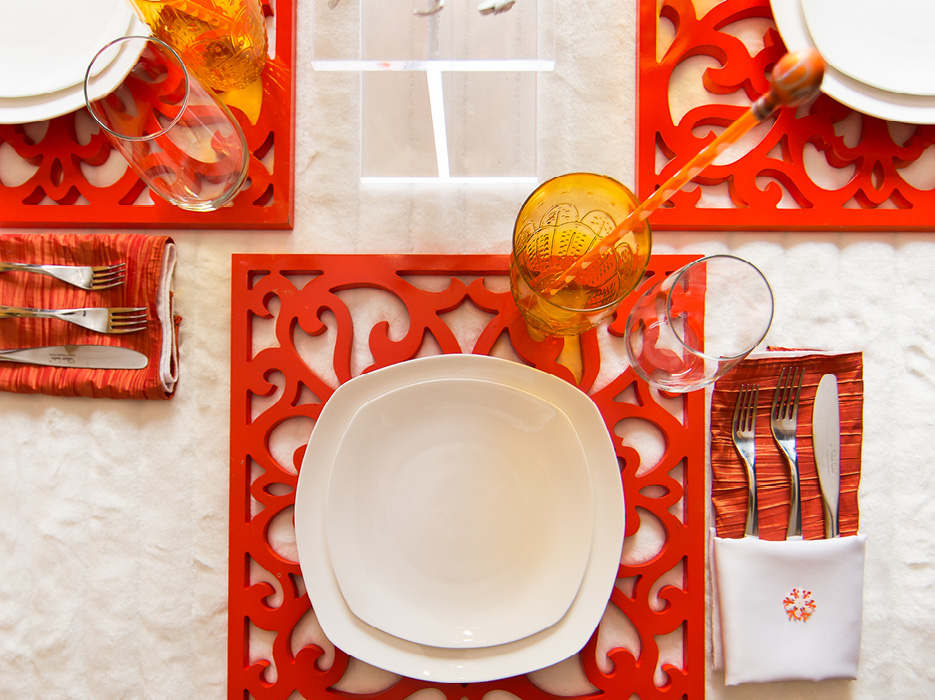 Orange and Silver "Holiday at Home" Party
There is nothing like the hustle and bustle of the holidays. There's shopping to do, trips to make, decorating to be done and of course, parties to host. Our favorite variety is often times one thrown at home. Personal and cozy, there is nothing like opening your home to friends and family for a lovely meal and celebration. Danny Wilson of The Savage Garden dreamed up one such affair featuring a bold color palette of tangerine, black and sliver. A dazzling holiday at home with southern sensibility and big city flair. Images by Anna & Spencer Photography.
"I really loved these silver deer heads. They do a great job of conveying a holiday feel and were a breeze to hang in place on a large wall. The stir sticks made for a terrific party favor. I created them using a fun, hard plastic polka dot straw and attached a frosted orange holiday bauble, with each guests'  name written with a micro glitter pen." – Danny Wilson
ALL ABOUT THE CENTERPIECE
Combining holiday elements with a natural aesthetic, Danny truly created a one of a kind centerpiece. "To create the look, I used a custom designed acrylic I-beam structure as the base. Then, I accented the beam with a variety of frosted and glossy orange and white holiday baubles. The key was their sculptural arrangement around a piece of natural driftwood (painted white) that kept to our modern aesthetic. The icing on the cake was the delicate addition of white phaleonopsis orchid blossoms."
COLOR PLAY
Danny encourages hosts and party planners to opt for an out of the box color scheme this year. Mixed metallics, patterns and pairings like orange and silver add an element of surprise that guests will love. "I wanted to use a non traditional color palette for the party to demonstrate that any color can be used to pull off a holiday look," Danny said.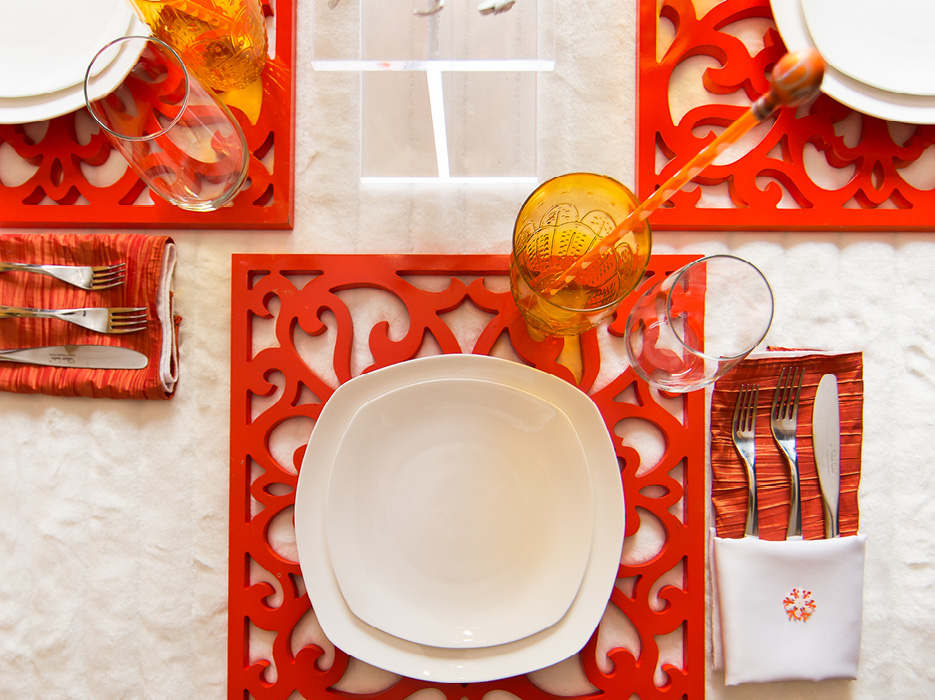 RECIPES FROM THE CHEFS
We've got your gourmet connection with two delicious, behind the scenes recipes from Endive Catering and Baker's Man Inc. Bon Appetit!
Thin Crust Pizza topped with Duck Confit
From Endive Catering
Smoked duck breast
Bleu cheese crumbles
Red Onions
Flour Tortillas
Fig preserves
Shred or thinly slice smoked duck breast, set aside. Thinly slice red onions; place in non-stick skillet; saute on low flame until caramelized. Set aside to cool. Lightly and evenly puncture flour tortillas with fork. This will avoid "bubbling". Toast tortillas lightly in oven until firm. Spread light coating of fig preserves on toasted tortilla – leave the very edges uncoated. Add shredded duck breast; then some caramelized onions. Top with bleu cheese crumbles. On sheet pan lined with parchment paper, bake pizza at 350 degrees until cheese melts and edges are slightly browned. Allow to cool slightly, then slice into small pieces and serve canapé style.
Mark's Cream Cheese Frosting
From Baker's Man Inc.
Soft cream cheese 12 oz.
Room temperature unsalted butter 4 oz.
Confectioners sugar (10x)  4 oz.
Pure vanilla  1 tsp.
Using a tabletop mixer or hand beaters, mix the first two ingredients together until there are no lumps.  Then add the confectioners sugar and the vanilla. Mix until incorporated but do not over mix.  If the filling gets too soft, put it in the refrigerator until it gets to the consistency that you can spread it between the cake layers as
your filling.
The Design Team
Photography: Anna & Spencer Photography | Event & Floral Design: The Savage Garden | Linens: I Do Linens | Catering: Endive Catering | Cake: Baker's Man Inc.