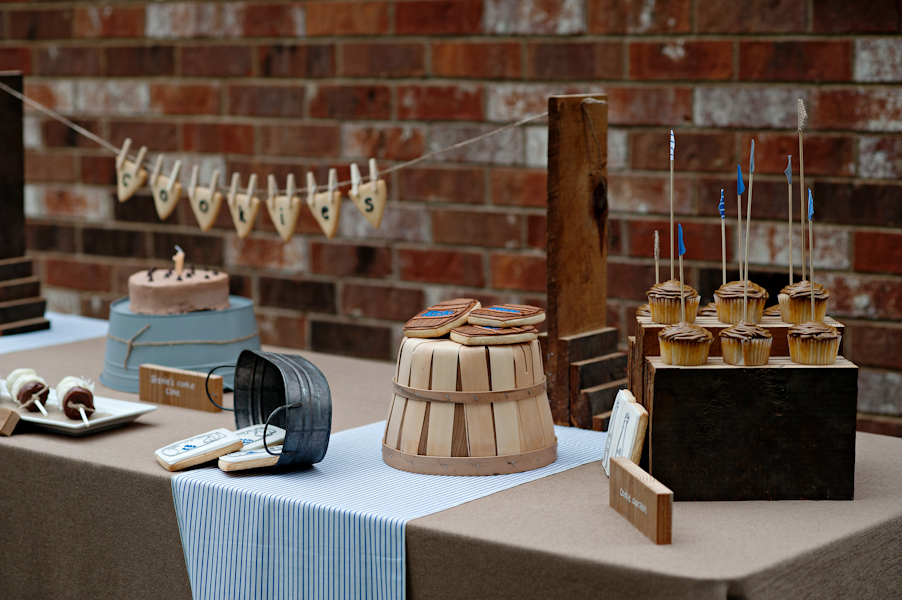 Cookie Themed Birthday Party from Jenny J Cook Events by The Beautiful Mess Photography
If I wasn't afraid that writing in all caps would make you immediately leave this post, I would be writing in them right now. I COMPLETELY and UTTERLY, ADORE this birthday party from Jenny J Cook Events and shot by (proud parents to the birthday girl!) The Beautiful Mess Photography. Oh my gosh. There are cookie kabobs, mini milkshakes, cookie decorating kits, cookie wedges for kids' drinks (mocktails, anyone?) and baby hoodies. And more…. If this party doesn't make you pin something, share it with someone or slap a big ole smile on your face then, well, it's not going to work out between us. There are SO MANY details that I couldn't include in one post. Do not skip over the full gallery.
Can you give us an overview of the event? We wanted to celebrate Stevie's first birthday in a blowout celebration of her first year of life. We celebrated with very close family and friends, incredible desserts, and some fun stations for crafts, games, and pictures.
Was there a specific theme or style? We started the whole conversation of having a party based upon Cookie Monster. Not necessarily the Sesame Street Cookie Monster, but cookies and milk, mixed with a blue, grey, and wood color theme and lots of DIY elements. We wanted it to feel very naturals and calming to the eye, especially with little one's getting SO much sugar with the desserts!
What inspired the theme or style? Candice made up a song for Stevie about the Cookie Monster based upon the music to La Cucaracha. It was the one song that we could sing in her first year that would calm her down, make her laugh, and help get her to sleep
What were your playful twists that made your event unique? Having a photobooth at the party was a way for us to document everyone that was there in a fun way….not to mention the older kids loved grabbing a handful of cookies and throwing them at the camera! We had a cookie contest table that allowed the kids to make their own custom cookies with a variety of topping that even included handmade eyeballs. It was a huge success. We recycled old baby food jars for the milkshakes and it was a great way for the kids to get just the right amount of milkshake and large Mason jars for the adults made it fun for them to drink homemade spiced cider. Finding unique ways to incorporate the 'cookie' idea was a lot of fun–with cookie balls, cookie crisp cereal in handmade burlap cones, cookies topped on cupcakes and mason jars, cookie garland and kabobs, a cake designed to look like a cookie, and all kinds of cookies to eat!
Did you DIY any of the details? We did! We designed and built a variety of dessert stands and signage with old reclaimed lumber. We photographed, designed, and printed all the invitations that were sent to the attendees. We made a homemade spiced cider that made you want to drink glass after glass. We made DIY gifts for the kids to take home that had their initials spray painted on the side with fun artsy things and crafts for the kids to play with and create with when they got home. Many of the food, linen, and craft items were DIY'd by our amazing planner, Jenny Cook, based upon our collaboration of ideas
That was the most memorable moment? There were many memorable moments, but for us, having the majority of people we love in one place celebrating our precious daughter's first year of life will be our best memory. Her chowing down on cookies and cake is a close second!
Tell us about the food and desserts: The desserts were almost overwhelming! There were so many good things to eat it was hard not to try one of each and then go back for seconds! It was a great range of desserts from super moist cake-based to crispy baked cookies to thick creamy milkshakes to a spiced cider. It was really designed for each and every palate to enjoy their favorite kind of dessert.
If there was one thing you could change, what would it be? Warmer weather! It was unseasonably cool and wet that weekend, so we had to be a bit more bundled up than we would have hoped. Other than that, I don't think we'd change a thing. It was just what we had dreamed of and it was executed better than we could have ever hoped.
AND today, we're lucky enough to get a few quick tips + tricks from party designer extraordinaire Jenny Cook of Jenny J Cook Events….
Jenny on upcycling items for the big party…so very inventive!:
Up-cycled details:
– Stevie's old baby food jars were used as vessels for mini milkshakes.
– Vintage wine barrel was found inside a relative's garage and transformed into an over sized cookie barrel. (A fun focal at the party!)
– Stevie's Dad (who holds an architecture degree) gathered old wood scraps from around the house and made custom dessert display pieces (see mini milkshake and cupcake display boards and structures holding c-o-o-k-i-e garland). Yard signs and table signage were also made from the wood scraps.
– Mason jars from a great uncle's attic were used for serving drinks.
– Paper grocery bags were used for making name tags on the half pint mason jars for each child guest. Name tags were placed on bright blue straws.
Jenny on party entertainment:
Having interactive elements at children's parties is so important for keeping the little ones entertained. The following activities were included:
– Photobooth – included an over sized cookie barrel, burlap backdrop and a handmade fabric banner. (Children threw cookies in the air as the photographers snapped their picture!)
– Cookie contest – children were given all the toppings necessary to make a Cookie Monster face cookie (a subtle way of incorporating the furry monster into the party).
– Basket of BLUE fun – a basket of blue bouncy balls, blue jump ropes, blue punch balloons and blue Cookie Monster headbands.
– Children's furniture – two small tables with chairs and stools were set up where the children could sit, play and eat their cookies together.
[nggallery id=310]
Planner + designer:  Jenny Cook of Jenny J Cook Events | Photographer:  The Beautiful Mess | Linen rentals + custom table runners:  First Impressions Party Linen Rental | Cupcakes:  Kymm McLean of Who's the Fairest | Shortbread cookie towers + cake pop kabobs:  Nona's Sweets | Smash cake, cookie garland, plain sugar cookies + fondant "eyes":  Brenda's Cake Gallery | Custom decorated sugar cookies:  The Cookie Jar | Mini Milkshakes: recipe inspiration via Pizzazzerie | Tables: Augusta Special Event Tents | Flowers:  Kroger and Jenny J Cook Events
Children's furniture: Ikea