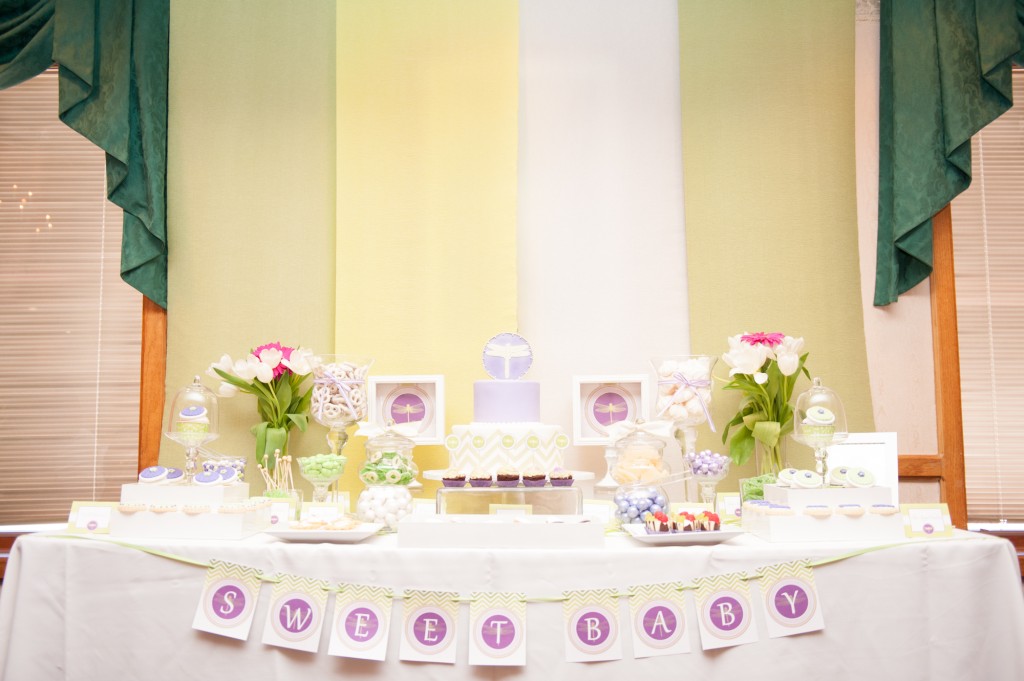 New Jersey Baby Shower at Cafe Tivoli by CIK Studios
So, here's a little bit of trivia for you on this lovely Monday morning: did you know that in some parts of the world, dragonfly's actually symbolize change, self realization, maturity and a deeper understanding of life? I know, me either! Luckily, Sarah De Jesus is on top of such this and designed an entire baby shower for her brother and sister-in-law around the idea. Makes sense, right? And while we're totally on board with the symbolic motifs, we're also happy about the mint green color scape, fresh chevron strips and knock OUT dessert buffet. Photography by CIK Studios
Can you give us an overview of the event? I am happy to be sharing this coed baby shower I recently designed for my sister and brother-in-law who are expecting their first child, a baby girl in May.
Was there a specific theme or style? The theme was Dragonfly Inspired. The style was girly, fresh and modern.
What inspired the theme or style? In my research, I found that in some parts of the world dragonfly symbolizes change, self realization, maturity and a deeper understanding of life, therefore Dragonfly, made the perfect theme for someone starting a new phase in their lives. I think it was also made a sweet and delicate theme, perfect for a someone celebrating a little girl's arrival. The color scheme was mint green, purple and white. I incorporate the use of the ombre chevron pattern to make it fresh, girly and modern. The ombre chevron pattern was used from the invitations, to printables to the table runners and treat bags. Since I have not seen much done with this theme, my friend Wendy Oliver of Green Beansie Ink, helped bring this theme to life by designing the invitations and printables in a green/white ombre chevron pattern
What were the playful twists that made the event unique? Instead of party favors, we decided to have a dessert table with treats for people to enjoy while at the shower. I also had the tables set up with either a cute cello bag of popcorn with a dragonfly "Enjoy" tag or a pretty acrylic container with mixed sixlets. I think having the same treat at each setting, we had 2 which made the tables look fun and while having something to give to each guests to take with them from the shower.
Did you DIY any of the details? I spray painted two wooden shadow boxes in white and put a dragonfly printable inside to give the illusion that the dragonfly had been trapped inside which I think was a nice detail found on the dessert table.
What was the most memorable moment? I loved watching the mommy-to-be opening her gives with the help of her two 2 year old nephews. It was fun seeing the kids so involved in their aunt's party.
Tell us about the food an desserts: This party was early in the afternoon so it was a lunch buffet style menu of assorted italian dishes. Dessert table: The table was dressed in a white linen with the modern chevron table runner over it. We served assorted candies including gumballs, sixlets, chocolate covered pretzels, meringue, vanilla and chocolate cupcakes, brownies with cream, Lemon meringue, rasperry+ kiwi chocolate cups and sugar cookies. The cake took center stage and on the sides I used two wooden handpainted shadow boxes which held the pretty dragonfly inside, along with two pretty and tall white tulip arrangements with a purple gerber.
What kind of energy did your entertainment give? The energy was positive and happy. Everyone really enjoyed their time with the parent to be. They enjoyed taking photos, the food and the sweets and playing two fun baby shower games.
If there was one thing you could change, what would it be? I wish I could have gotten those chair covers that I wanted to order. It was hard to figure out how many I needed to get since a lot of people rsvp'd pretty late. I think the chair covers would have added an extra touch to the look of the tables.
Design Concept, Execution and Styling:  Sarah De Jesus of Dreamers Joy Events & Design | Invitations, Banner and Printables: Wendy Oliver of Green Beansie Ink | Cupcake Toppers and Mini Chevron Cookies: Arlene St. Hilaire of Sweets by Arlene | Cake and desserts: Dulce De Leche Bakery | Venue: Cafe Tivoli | Chevron Table Runner: Four Bugs in A Rug on Etsy | Chevron Goodies Bags: Bake Me A Party | Photography: Chanu Kim of CIK Studios
[nggallery id=305]