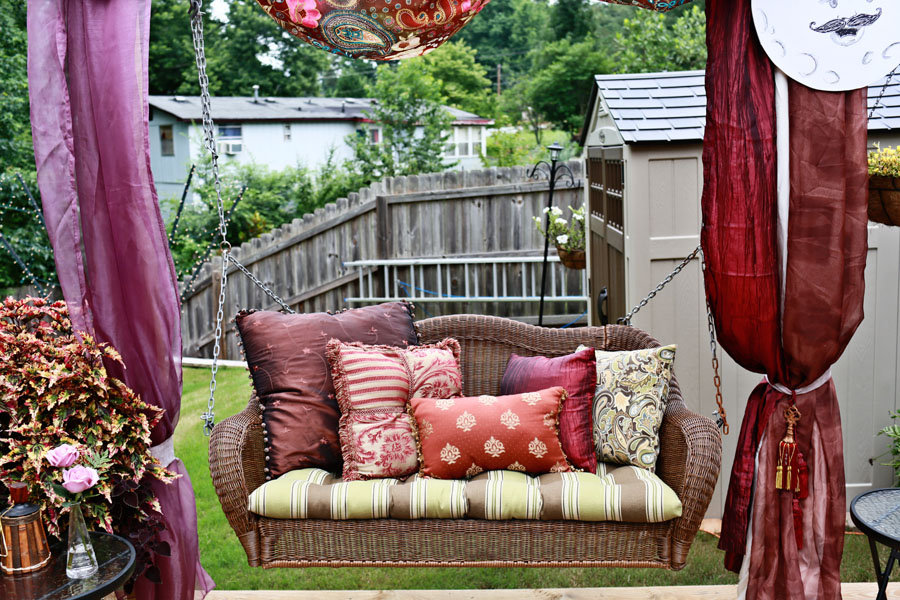 "Moulin Rouge" Bohemian Birthday Party
A thirtieth birthday is a pretty big milestone, and so it stands to reason that an exceptionally gorgeous party is in order for any lady celebrating the illustrious affair.  The French bohemian theme for photographer Melissa's birthday party was bright, bold, and perfectly unique.  Taking a cue from one of her favorite films, Moulin Rouge!, she decided to employ a bohemian revolution style to her event, infusing the décor with a perfect blend of both Indian and French impressions in vibrant tones of coral and turquoise, yellow and red — truly an eye-catching display.  Flowers, candles, and heavy fabrics adorned the scene while guests in costumes dined on homemade French food featuring cold corn soup and chicken with radish sauce.  Lyght House Cocktails provided drinks throughout the night, even mixing up a signature melon ball martini that the birthday girl and her guests deigned "The Green Fairy Drink."  This one-of-a-kind party is brought to you by the leading lady herself, Melissa Collazo of Melissa Prosser Photography!
Was there a specific theme or style?
Moulin Rouge was the theme, but not in the can can feather boa type of way. We went more with how the movie portrayed the club to be. Bohemian Revolution style. A mix of cultures (Indian and French), bright colors, flowers, cancldes, just overall bold style. I myself wore a sari since the play in the movie was set in India.
What were your playful twists that made the event unique?
My best friend/designer Shauna Mooney helped with some fun designs. Her and her husband made a lit up windmill that we put in the backyard, along with a man in the moon attached to the top of the swing. We draped everything with lots of fabric and pillows and it looked amazing.
Did you DIY any of the details?
Yes! We did just about everything! Goodwill helped us with a lot of the decor items, flowers arranged by Shauna purchased at Costco, lots of labor, but fun!
Tell us about the food and desserts.
My mom is quite the chef. We went back and forth on different recipes to try out, and all of the food was incredible. We had a cold corn soup to start with a few other apps, then the main dish at dinner with this incredible chicken with radish sauce. French food at it's finest. We also hired the amazing Lyght House cocktails to bartend throughout the night so I could just enjoy my guests! She even made a signature melon ball martini that we called the Green Fairy drink. Perfection!
Splurge on…
A bartender! It was so nice to not have to worry about making everyone's drinks, or having a big mess in the kitchen. Carmelita was so awesome to work with. I highly recommend Lyght House Cocktails!
What kind of energy did your entertainment give the event?
I really wanted this to be a casual hang out, drink, mingle event. And it was. I made a playlist with some of my favorite music (and a lot of tunes from Baz Lurhman's movies).
What was the most memorable moment?
Moving the bar inside because it started raining. We literally set up the bar in front of the fireplace in the living room. It was hilarious.
If there was one thing you could change, what would it be?
Sadly, it did rain on my parade, but we still had an awesome night!
Party Professionals
Event Design: Shauna Mooney | Photography: Melissa Prosser Photography | Catering: TC's Kitchen | Bartending: Lyght House Cocktails | Hair & Makeup: Gretchen the Makeup Artist