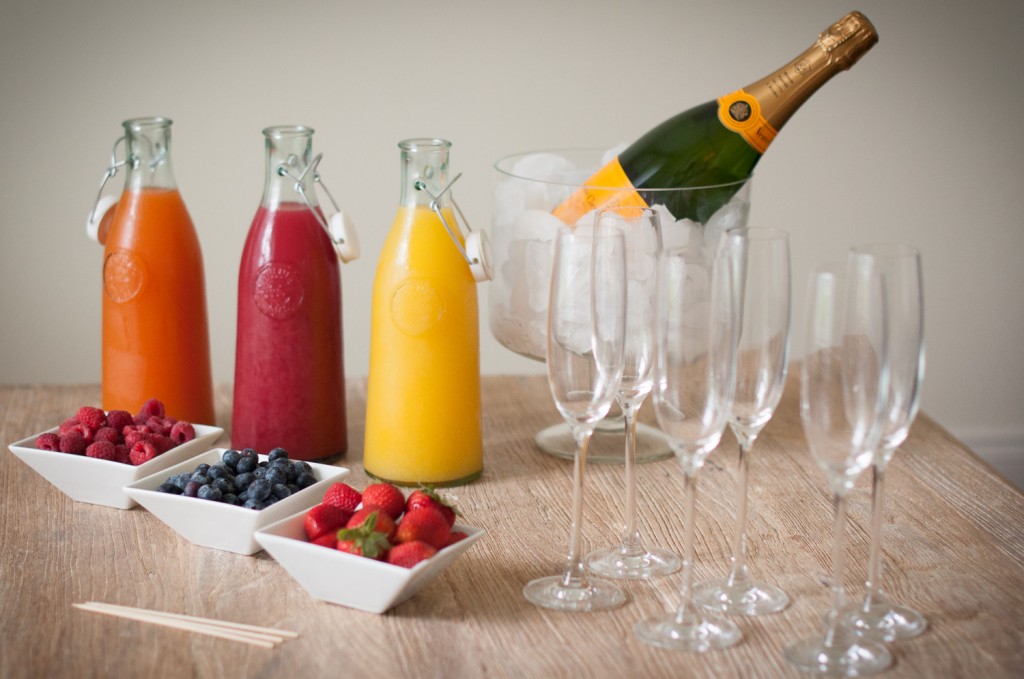 Mother's Day has a whole new meaning to me this year.  As a first time mom to the adorable little dude you see below, the thought of brunching with my besties to celebrate the most wonderful job on earth has visions of pretty parties swirling in my head.  So, I set out to Home Goods, Williams and Sonoma and the flower market to bring together easy ideas you can follow to serve a great meal, sip cute cocktails and do it all at a beautiful setting… while keeping food prep to a minimum for Mom.  Bonus!
"Mom"osas
Brunch isn't brunch without a Mimosa in my book, but since it's Mother's Day we're celebrating, why not put a little spin on the sparkly traditional drink and offer "Mom"osas of many types.  Paired with my favorite bottle of Veuve Clicquot, I set out three fruit juice options of Peach Mango, Fruit Punch and of course Orange Juice and set out skews to garnish with your favorite fruit topping.
Spring Table
It's easy to set a seriously stylish table with one trip to Home Goods.  I literally dressed this entire set up in a one hour trip.  When setting your table don't be afraid to mix patterns and colors.  Just because some tableware pieces aren't sold together, doesn't mean they don't go together. Here I mixed traditional china with a more relaxed pottery for the plates.  Placed them atop a gorgeous coral floral placement and paired with my favorite gold flatware from West Elm.  Center the table with Tulips and Lilies and you're set.
Waffle Station
Since we're keeping food prep to a minimum, a waffle station is the perfect brunch option that is quick for you to set up and easy for your guests to customize to their liking.  Here I've set out my favorite Gluten Free Waffles, three spread options of butter, nutella and peanut butter, fruit to garnish and maple syrup and Round Pond Blood Orange Syrup I found at Williams and Sonoma (delish by the way) to drizzle on top.
Ta-da! A beautiful setting to celebrate with friends and family what it means to be a Mom.  I think I'll go eat these waffles now.
Since I'm all sorts of IN LOVE with being a mom, I'd love to hear what Mother's Day means to you.  Comment below and tell me your most favorite thing about being a mom and how you'll be celebrating this year.