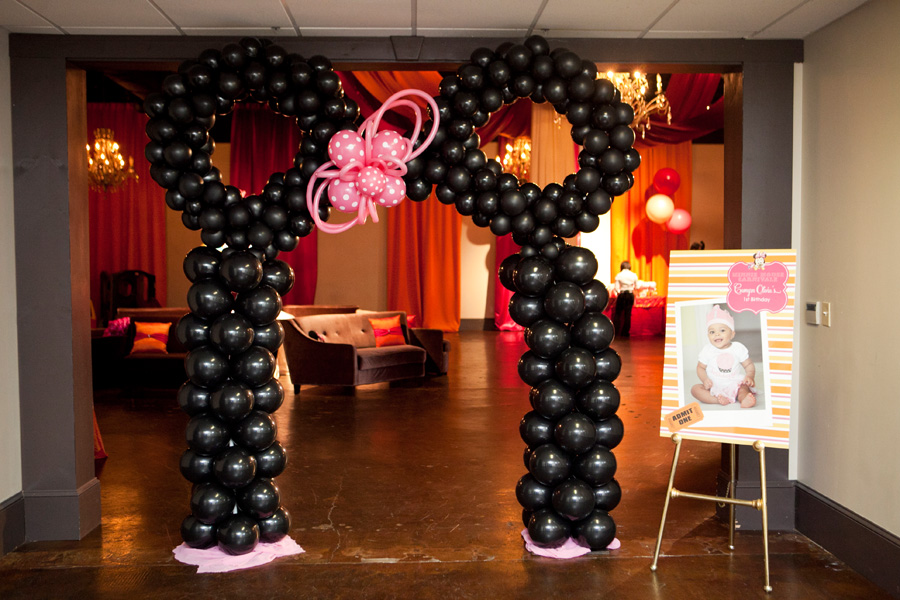 Minnie Mouse Themed Birthday Party
A Minnie Mouse themed carnival was brought to life inside Le Fais do-do for Camryn's first birthday.  While you might find most carnivals outdoors, this party was brought indoors to avoid the winter chill because Camryn's birthday was in December.  The carnival theme was carried throughout, from the bounce house to the games and  also an aerialist and stilt walker.  The guests feasted on gourmet carnival food including shrimp corn dogs, sliders, fries and desserts including a funnel cake bar and a candy apple bar.  It was all worth it to see the smile on the face of little Camryn.  Images by Andrea Taylor Studio!
THEME
Camryn adores Minnie Mouse so including her favorite character in the soiree was essential.  Michelle Gainey of Lemiga Events incorporated the Minnie Mouse carnival theme throughout. Pink and orange tutus lined the back of the children's chairs and banners in various patterns including orange and pink stripes and pictures of Minnie Mouse adorned the pink striped and orange polka dot straws.
THE FOOD
Endive gave the carnival food a gourmet twist with shrimp corn dogs, sliders, fries, chicken fingers, a funnel cake bar, a candy apple bar and freshly popped popcorn.  The fabulous Minnie Mouse cake was designed by Sugarplum Visions and the oh-so-girly candy display of cotton candy, pink and white swirl lollipops, gumballs, rock candy and pink M&Ms was brought to life by Sugar Style Events.
ENTERTAINMENT
In addition to the basics like a bounce house, photobooth, and DJ, the party also included carnival games, an aerialist, face painting and even a stilt-walker.
Party Professionals
Venue: Le Fais do-do | Photography: Andrea Taylor Studio | Event Planning & Design: Lemiga Events | Catering: Endive | Candy Display: Sugar Style Events | Cake: Sugarplum Visions | Floral: Edge Design Group | Linen & Specialty Print: I Do Linens | Stationery: Papered Wonders | Drapery: Event Drapery | Balloon Art: Balloonacy