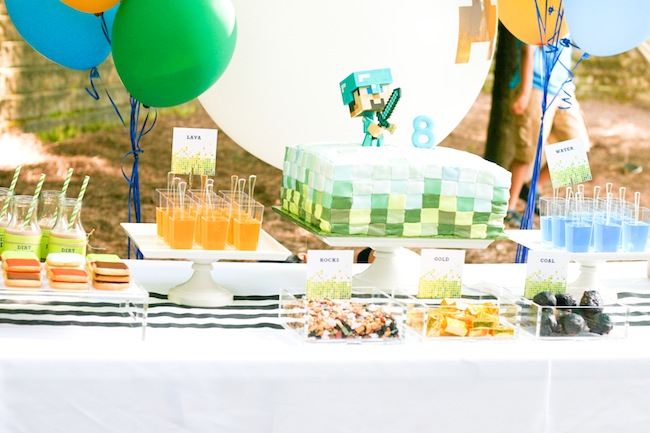 Minecraft Goes Mod in This Vibrant Boys' Birthday Party
Live with boys between ages 5 and 105? Chances are you've probably heard of the game MINECRAFT. While the game itself is pretty amazing, mostly about destroying and rebuilding stuff (boys!!), the graphics and colors are not in the least bit inspiring! So I made it my mission to plan a modern, brightly-colored Minecraft-inspired party with many little details that relate directly back to the game. Those very details made my 8 year old guests squeal in delight! Mission accomplished!
After all, who wouldn't like edible lava AKA mango jello?!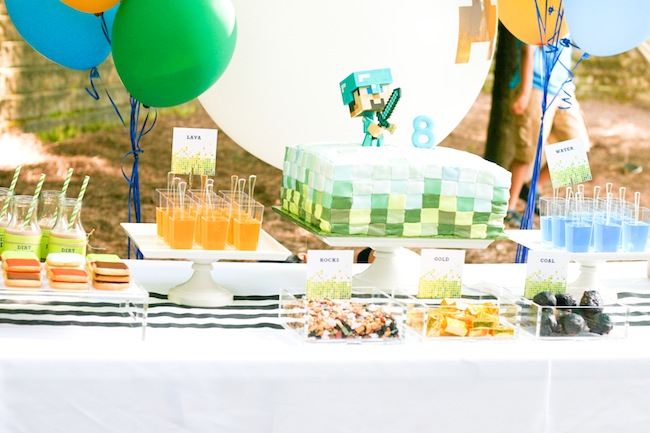 If you've ever hung out with a little boy, you know Dirt Juice sounds way cooler than Chocolate Milk.
Chipotle made us the most perfect little lunch boxes for the boys. So fun, right?!
See this truck? It was air-conditioned, well-cushioned, and had 20 video game screens to play on. Yes, 20.
The best part though? It matched our party colors!
Who says boy parties can't be prettied up with fresh flowers and gold glitter swords?!
Malvi Mallows were a no-brainer. Delicious and perfect little square "building blocks" that resemble the game itself! So cool!
See more of the party on IDEA! event + style.
Party Professionals
Planning / Design / Photography: IDEA! event + style | Cake: Euro Style Cakes  | Desserts: Pum's Sweets | Cookies: Yummy Delicious | Entertainment: Street Games | Balloons: Balloon Artistry of Atlanta