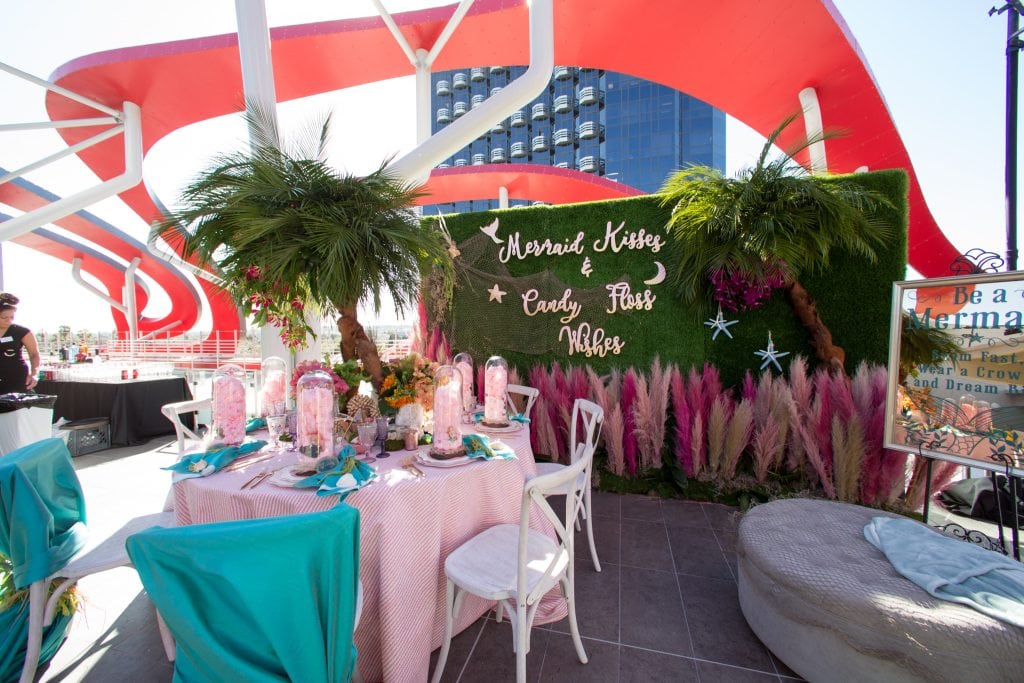 Mermaid Kisses and Candy Floss Wishes
This tabletop was designed for LUXE Linen's "LUXE Launch 2018" – one of the wedding and events industry's most anticipated events. The LUXE Launch serves as a trendsetting, networking function of the industry's top planners and designers. Now in its fifth year, The LUXE Launch is a tabletop showcase featuring their latest linen collection. Each designer pairs up with a florist of their choice to create any tabletop and theme they dream up.
When Charley King of Bluebell Events first saw her assigned linen, she believed it looked like like little mermaid tails joined together. The color of the linen was called Candy Floss, so King thought mermaids and candy floss made the perfect combination and went well with the overall tropical theme of the LUXE Launch. Therefore, her table name "Mermaid Kisses and Candy Floss Wishes" was born. King is British and candy floss is the British version of cotton candy.  Her goal was to make a fantasy table, so people could step out of the bad things happening in the real world right now and just enjoy a bit of fantasy for a few hours. The Petersen Automotive Museum, where the event took place, is a beautiful open space, so it was lovely to spread out and tell her story without feeling confined.
Having a real live mermaid was her favorite part of the table. Mermaid Monroe put the finishing touch to my table and when the bubbles were blowing, it all came alive. She also loved my pink pampus grass by The Hidden Garden at the bottom of the hedge that symbolized a pink ocean.
The most unexpected element added was the real candy floss (cotton candy) to the domes on the table with the little mermaid sleeping on it. The designer had no idea how the candy floss would hold up and was hoping that it wouldn't melt in the sunlight outdoors! Overall, she really loved how it turned out and the little fairy lights inside the dome as well made it really magical.
---
---