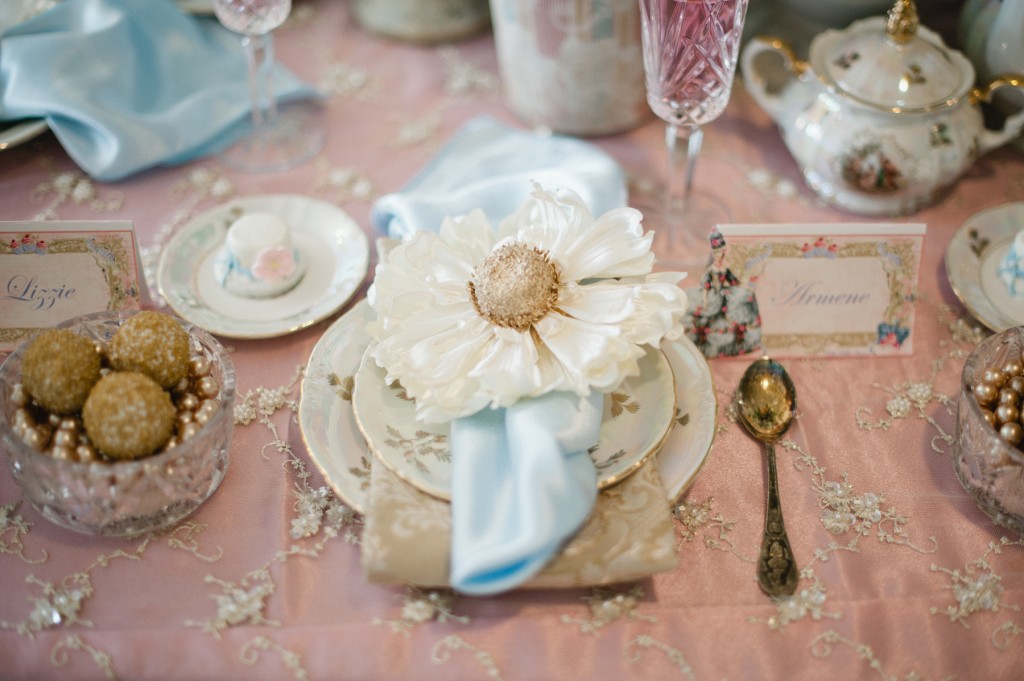 Marie Antoinette Themed Girls Party
Bonjour and welcome to this splendid celebration!  Inspired by the extravagance and grandeur of 18th century French nobility — including the famous Marie Antoinette — this girls' party was planned by the talented duo of Armene Akopyan and Mary Bilbulyan of Night'n'Gala Event Design in Burbank, California.  These ladies are known for their acute attention to detail, making sure colors, fabrics, props and lighting work cohesively to achieve a unified look throughout every event they design.  And both women being the mothers of young girls, Armene and Mary are always seeking new ideas and themes for girls' parties.  "Our girls love playing dress up," says Armene, "and we knew that they would absolutely love the extravagant and regal costumes from the Marie Antoinette era.  Our shoot was not only inspired by the fashions of 18th century France, but by French culture."  Filled with pastel colors, decadent desserts, and the richness of gold, lace, and pearl details, this celebration was most certainly a royal treat!  Keep reading for more of Armene's thoughts on the event, photographed by Lizzi Photography!
VENUE
Private home in Burbank, California.
FLOWERS & DECOR
For the flower arrangements, we were lucky to find vintage vases in light shades of baby blue. Our friends at Petals LA took it from here. They implemented beautiful roses and tulips in various shades of pinks and peaches mixed into naturally flowing foliage. In essence, they were able to provide just the right amount of elegance to complement the look of our shoot! A focal point in this shoot was a beautiful button tufted love seat that we borrowed from our go to rental company CMC Party Rentals. This piece was truly regal! CMC also provided the beautiful silk table cover in dusty rose along with the lace overlay which had gorgeous pearl and gold accents all over it. In addition, they provided the white chiavari chairs with matching lace chair covers. When you think of Marie Antoinette, you think of rich textures and accents and pearls galore. We kept this image in mind when shopping our local craft stores where we purchased different pieces that we then embellished on our own. For instance, the simple pink round hat boxes were lovely as is, however with some blue ribbon, lace and and a silhouette brooch, they were divine! Since this was a tea party, it was important to have the right tea set to complete the look. When we found the mother of pearl Romeo & Juliet collection, we knew that it would be perfect for our table scape. For the place settings, we wanted to add the wow factor so we utilized large silk flowers and gold brooches along with lace ribbon to create one of a kind napkin rings to complement the beautiful china.
CAKE & DESSERT
The stylish cakes were created and designed by Rose Bakery in Van Nuys, CA. We explained our vision and color palette and they came through with not just one, but two exquisitely beautiful cakes. As Marie Antoinette would say, "Let them eat cake!" and so they did. The girls loved the cake and the desserts which included French Macaroons, Chocolate Bon Bons and handmade Vanilla Cookies in the shape of spring flower hats complements of The Gourmet Pop girls in Burbank, CA. Our little girls truly got a taste of the good life with these decadent sweets and they loved sipping on their pink lemonade beverages in their own crystal champagne flutes! How heavenly!

STATIONERY & OTHER PAPER PRODUCTS
Stephanie Henning of Bella Bella Studios provided the chic stationary images for the table sign and the escort cards for each place setting. She also created the designs for each individual dessert sign which were all framed in white lacquered baroque style frames. With her creativity, we were able to combine old world charm with a modern twist!
FASHION
The costumes and props were items that we searched for online and ordered via amazon.com. We loved using the lace umbrella and fan as props. They added a unique touch! The headpieces were handmade by us using ribbon, feathers, lace and fun embellishments that we collected while planning the shoot. The girls hair was fashioned to resemble the styles of 18th century France. The girls also wore various costume jewelry pieces that were quite inexpensive as we purchased them from local fashion stores like Forever 21.
Shoot Sources
Planning, Design, and Coordination: Night'n'Gala Event Design | Florals: Petals LA | Rentals: CMC Party Rentals | Photography: Lizzi Photography | Cake: Rose Bakery | Other Desserts: The Gourmet Pop | Stationery: Bella Bella Studios