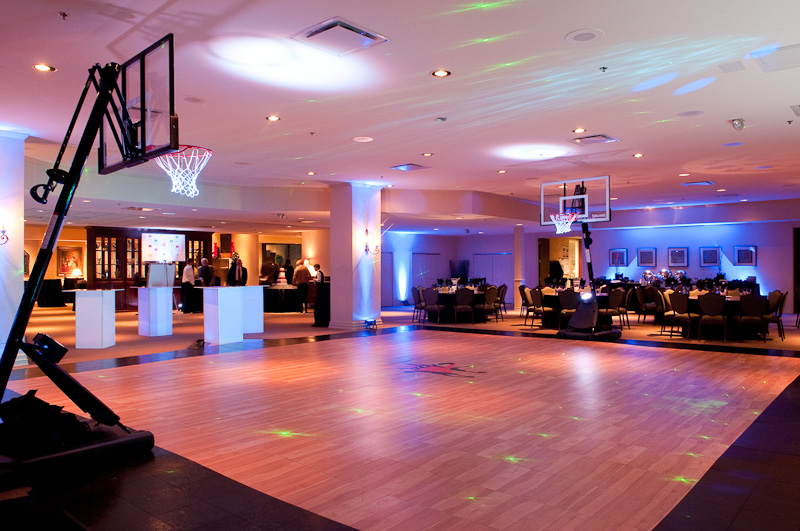 "March Madness" Basketball Themed Bar Mitzvah
Following a Friday night dinner catered by the incomparable Shane's BBQ, Benji and his family woke up Saturday morning full of excitement for the big day.  After the Bar Mitzvah service at the synagogue, guests enjoyed a Kiddush Lunch.  March Madness was the theme for Benji's dinner celebration, complete with a basketball court dance floor with a personalized logo and tables decorated with college team memorabilia. The seating chart even paid homage to a final four bracket.  Basically, one of the coolest themes a boy could ever ask for.  Benji has been a serious basketball fan pretty much since birth.  His parents recently found a video of him with a basketball in his hands at only ten months old!  Once everyone had gathered at The Metropolitan Club, adults were treated to a meal of classic southern cuisine including a gourmet grilled cheese bar, while the kids enjoyed their own buffet of burgers and pizza and well, all the things Benji loves best.  Following dinner, a DJ kept everyone hopping on the dance floor, playing the perfect combination of new hits and older favorites.  This winner is brought to you by Mitzvahmanphoto.com!
Was there a specific theme or style?
We had a "March Madness" themed event. We hired an event planner to create a basketball court dance floor, each table was decorated with logos from college teams.

What was the most memorable moment?
I loved seeing Benji with his friends! Middle school years you don't get to see their school friends much. I was so happy with the group of kids that were at his party. The kids had a great time and made sure to thank us!

Party Professionals
Photography: Mitzvahmanphoto.com | Venue: The Metropolitan Club | Event Planner: Atlanta Party Connection | Decor: Track Seven Events | DJ: Atlanta Fever Entertainment | Cake: And Everything Sweet | Stationery: A Paper Passion | Custommized Stamps: Zazzle | Photobooth: Memory Maker GA
Planning a Bar/Bat Mitzvah? Purchase a copy of our all-new Mitzvah Guide here!