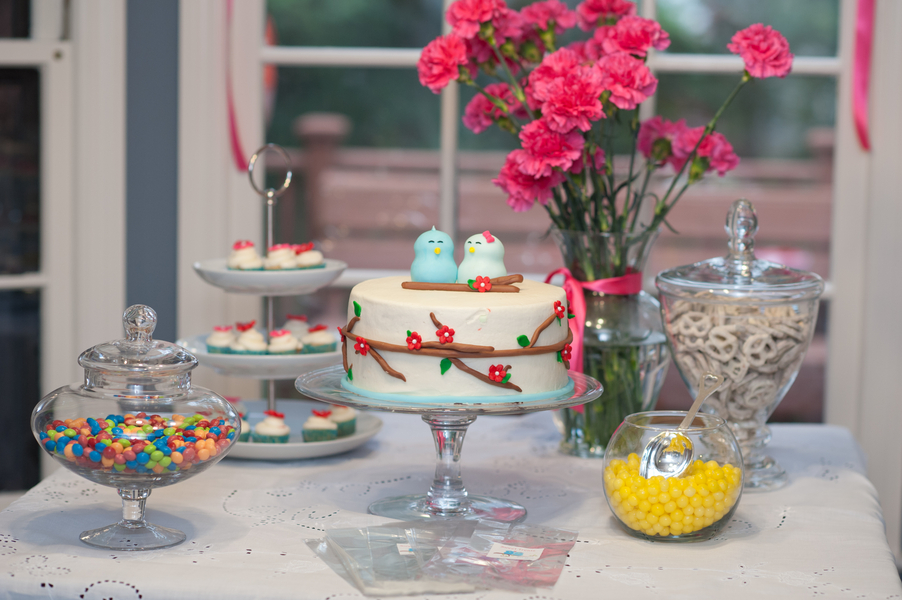 Love Birds Themed Couples Bridal Shower
One of the first things you start thinking about after you get engaged is all the planning that needs to be done like finding the venue and the perfect dress.  And one of the most exciting parts is the bridal shower.  These days, however, there can be a little twist…a couples' shower.  This is a great way for everyone to be included in celebrating the nuptials.  And that is exactly what 3 girlfriends (and their husbands) did for Kasia and Alex.  The summer and southern 'love birds' theme took place in the backyard of Julie Neill, one of Kasia's girlfriends from Junior League, for 30 of her closest friends and family.  We love seeing these details from this oh-so-cute couples' shower photographed by Peach Blossom Photography.
What inspired the theme or style?
The girls wanted to do something unique that hadn't been seen before. They incorporated fun summer colors to set the tone of the evening.
What were your playful twists that made the event unique?
Their was a wishing tree where our friends could write down wishes for us.
Did you DIY any of the details?
Julie created the banners, invites, and wishing tree tags using the cute "love bird" graphic. She also included a photo banner with pictures of me and Alex. Lettie did the flowers.
Tell us about the food and desserts.
They served beer can chicken and pulled book with various southern sides. The dessert table was filled with different type of fun candies and cakes. The main cake was adorned with "Love Birds: and was chocolate with a raspberry filling – it was to die for. They were sure to include Lemon Heads for Alex since he doesn't care for sweet stuff.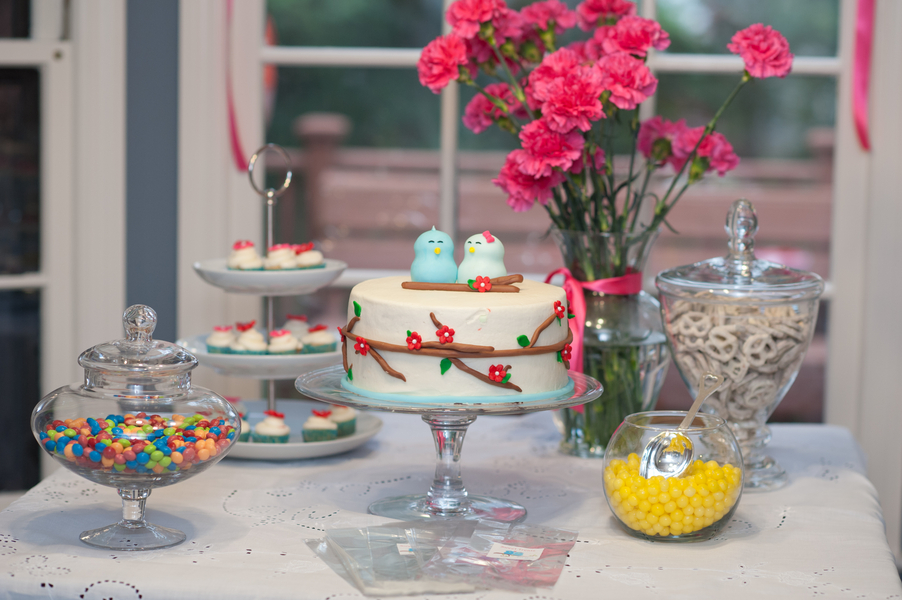 What kind of energy did your entertainment give the guests?
Low key & fun out on the Neill's back deck
Tell us how you met…
Alex and I met when we he started law school and I started grad school through a mutual friend in his law school class. We met at a party, went out on a date a week later, and the rest is history!
Now for the proposal… details!
Alex completely surprised me with this one – and I inadvertently tried to ruin it! He had planned to propose on a Friday night, and made dinner plans at one of our favorite places in Roswell, GA in preparation. However, Alex is very traditional and wanted to ask my father for permission first. He tried to contact him by phone with no luck, so we just went to dinner and had a lovely time, but no proposal (I had no idea this whole time though). Since his initial plan didn't work, his next plan was to take me to the restaurant where we had our first date – but I ruined this plan too. My father called me on the phone and said "Alex tried to call me, do you know why?" and I replied "Oh, no clue, maybe he called by accident." So, no luck Saturday night. Well, by Sunday morning, Alex got ahold of my father. Alex woke me up and asked me to take a walk with our dog, a Wheaten terrier named Reagan. We often walk our dog to a gazebo on a lake we live near and it's a very pretty spot. I promptly told him that it was 8am on a Sunday morning, and to please let me sleep. Thirty minute after the rejection, he woke me up again with a bouquet of flowers (that he had been keeping alive in a corner of the garage in 90 degree heat). I woke up confused, and asked "What's this for?". Alex replied "This is because I've been trying to ask you to marry me for the past three days!" Of course I said YES!
Party Professionals
Invites, Banners, & photos by Julie Neill from Peach Blossom Photography | Flowers & tablescapes by Lettie Nicole Events | Cake and cupcakes by Cake by Julie (Julie Harowitz) | Love bird clip art – The Crafty Clip