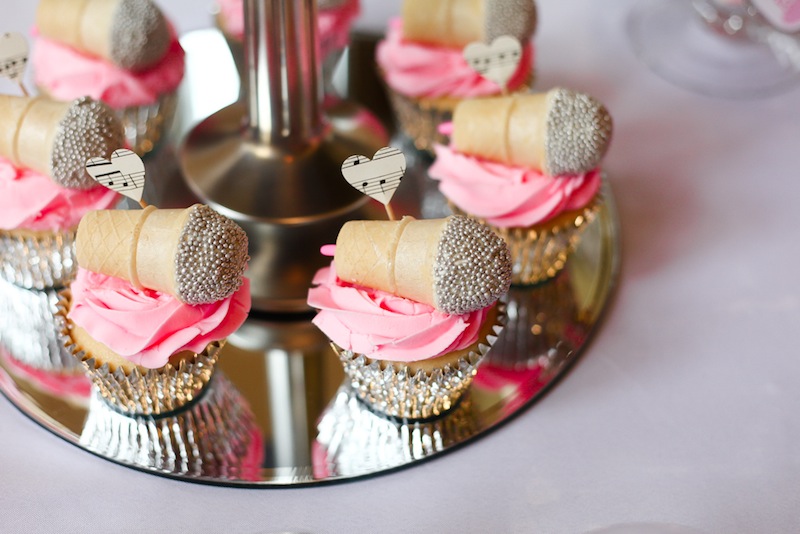 A Girly Chic Birthday Party for a Karaoke Rockstar
As she was approaching her 10th birthday, Hannah knew she wanted a karaoke-themed birthday party that included all her girlfriends. Her mom threw in a twist she knew Hannah would LOVE – an ice cream sundae bar! At IDEA! event + style, we take great pride in our chic and unique birthday parties for children, and of course, we were absolutely thrilled when the Bennison family approached us with the fun combination of karaoke and ice cream!
The Country Club of the South in Johns Creek has beautiful, well-lit ballrooms and smaller party spaces as well. We set up a dance floor by the large ceiling-to-floor windows and added a backdrop of balloons to create a girly, whimsical look. The girls got to dance and sing their hearts out with DJ Trey, and were each given pretty "Happy Girl" tumblers as awards for having the best dance move, or the best voice, best tune, etc. They had an absolute blast!
Ready for some sugar, they moved on to the large party table which was set with individual place settings, beautiful floral arrangements, pink lemonade, lunch boxes and many other goodies. After the ham sandwich, chips and fruit cup lunch, it was time to make a sundae and indulge in a pink cupcake topped with an edible microphone!
It was a fun, age-appropriate, beautiful and memorable party, just the way it should be. The girls went home with their pink tumblers and music-themed cookies, ready to talk about it at school the next day!
Party Professionals
Planning and design: IDEA! event + style | Photography: Kate Byars Photography | Venue: Country Club of the South | Cupcakes: Pum's Sweets | Florals: Dunwoody Flowers | Printables: Jen T by Design | Cookies: Yummy Delicious Cookies | DJ: Showtime Entertainment | Favors: Shop IDEA!