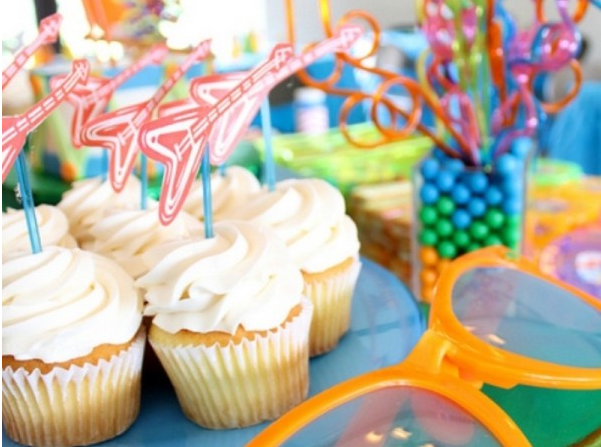 Inspiration for a Music Themed Party
Music is a love shared by most everybody, making it the perfect theme for your next get together. From celebrating your favorite bands to musical notes, there are so many different ways to incorporate this theme. Here are some of my favorite ways.
Set the tone of your party from the start with musical note envelopes! While your guests may expect a themed invite, I doubt they are expecting it to arrive in a themed envelope. These envelopes are so cute they'll be afraid to tear into them. (Photography via: Magpie & Max)
There are so many great ways to take a fun, musical spin on food. I love everything about this dessert table, from the microphone drinks to the drum cake. If you can't come up with a creative way to make something music themed, be creative with the food labels. You could name a dish after a song or just add a musical look to the label. (Photography via: Spaceships and Laser Beams)
Another great way to add the musical touch is through printables. Ordinary homemade (or store bought) cupcakes quickly transform into rocking ones with a guitar printable. Same can be said for place cards, invitations, and thank you notes. (Photography via: Precious Style)
Looking for the perfect centerpiece? Why not try these DIY music sheet flowers. They will fit in perfectly with your musical theme and are fun and easy to make. Best of all, they won't wilt, so you can keep them for a future fete. (Photography via: Amare Events)
Whatever your genre of music, whether its classical, country, or rock, there is a way to include it in your celebration!