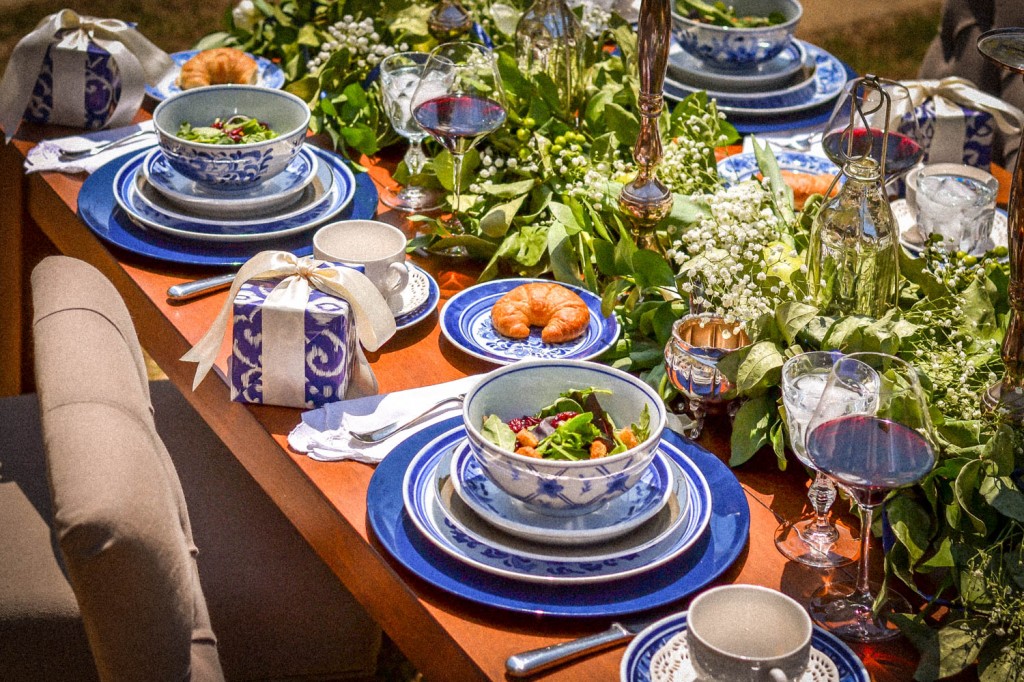 Indigo Blue Table Setting for an Intimate Dinner Party of Six
If you're on the mailing list for Pottery Barn catalogs, you know that Blue – Indigo, Ocean, Navy or whatever shade you fancy – is big this season.  And, since most entertaining trends spawn from interior design trends that means we're seeing the natural shade pop up in weddings, parties and everyday shindigs galore. Case in point:  This over-the-top blue table setting for a dinner party of six sent to us by Bhoke Manga of Paper Truffles.  That garland!  Can you even?  Bhoke breaks down all the details on how to recreate this table setting below.  Trust us, it's easy!
Decor
Because this table setting is inspired by the spring season it's time to bring out  all the gorgeous greenery that was missed in the winter and a clear blue sky.  Mix and match patterns and shades of blue to create the place setting and don't forget that garland.  You can call on your local florist to create the piece for you or forage for greenery in your neighborhood to tie the piece together yourself.  More on that later…
Serve
An outdoor dinner party in the spring or summer calls for a light and fresh menu.  Summer salads and seafood are our go-to choice for the menu.  Pair with a delish glass of your favorite red or white white and of course, lots of ice water and tea to pair with dessert.
Perfect For
A couple who favor traditional and classic designs but with and edge of drama.  Emphasis on the drama.  The Blue and white china is a classic staple, yet the wide center garland that cascades to the ground says we favor the over-the-top.  
Items to Incorporate
To replicate this look, incorporate the following items:
•  Blue and White china. Mix-matched china looks best.
•  Teacup set that is different but complementing to the dinnerware
•  Simple white linen napkins
•  Silver and mercury glass containers for flowers
•  Cascading leaf garland with white flowers
•  Tall silver plated candlesticks with white tapered candles from Pottery Barn
Things to Consider
•  Use a garland with leaves that are well defined.
•  Do not use leaves and flowers that have a strong scent on a dining table.
•  If giving favors to guests, co-ordinate the wrapping with the table design. In this case we used a blue and white Ikat paper by Cynthia Rowley.
•  Consider after dinner activities, like a mini set of chess and a gift for the last man standing.
Take It Up a Notch
To take this table to the next level, consider doing the following:
•  Use flowers such as peonies and ranunculus
•  Use fine china and antique silverware as opposed to the casual dinnerware we used
•  Use a more formal wood table in lieu of the farm table we used for the shoot.
•  Add outdoor lanterns with flameless candles everywhere to create a great ambience at in the evening.
•  Add menu cards and assigned seating with guests names on place cards.
Bam! Just like that dinner with friends just got a serious upgrade.