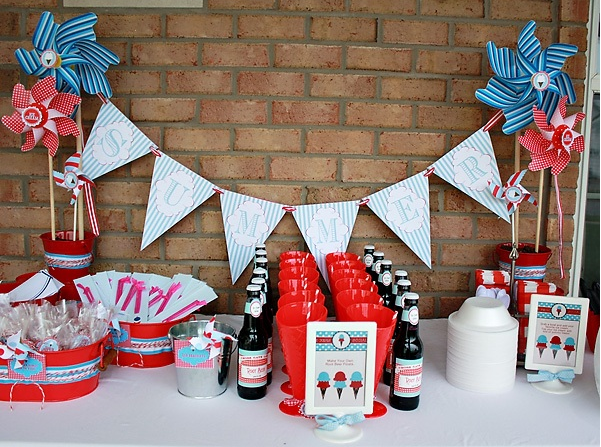 Ideas for a Fabulous Fifties Sock Hop Party
A few years ago, my youngest sister's birthday fell while she was away at summer camp. As a surprise, my other sister and I threw a fun, girly sock hop-themed party for her that was all set up as soon as she got back! We had so much fun brainstorming and decorating on a tight budget, and we were thrilled with the results. Tons of the party materials came from around the house, and the rest we picked up at the dollar store and party store. Between a display of '50s records, lots of pink and silver balloons, hot fudge sundae cupcakes, and a pretty amazing poodle wall decal (trace a poodle skirt decal on white poster paper and glue cotton balls onto the head, tail, and paws!), we had a blast designing our sock hop party, and with these ideas, I'm sure you will too!
The first step to throwing any beautiful party? Choosing the perfect color palette. For my sister's party, we picked retro pink, silver, and black, but now that I've seen the lovely picture above, I think a neapolitan-inspired palette would be even more fitting! Fun fifties accents will pop against soft pink, taupe, and vanilla white, and if you serve up a coordinating ice cream bar, then all the better. Picture via Kellie Kano Photography.
I can't imagine a more perfect decoration for a fifties-inspired party than a mobile of vintage records! If you don't have your own collection, just look through thrift stores–most have a sizable collection at super low prices. Tie them as densely as you would like on fishing wire and string from an embroidery hoop. So easy, and makes a great statement! Picture via Ken Kienow.
A fifties party wouldn't be complete without a root beer float bar! I love the red and sky blue color scheme here, but if you don't have time to arrange a whole coordinated display, just use some bottles of fun root beer (maybe even assorted brands, all lined up in rows), Coke glasses, barbershop striped straws, and a few silver ice buckets full of ice cream will pull off the look beautifully. Don't forget the signage! Picture via Hostess with the Mostess.
This is one idea that my sister and I used, and it was a hit! Cupcakes that look like hot fudge sundaes are whimsical, delicious, and oh-so-retro. If you want an interactive dessert, you can even set up a cupcake sundae bar, complete with toppings! The barbershop striped straws are the perfect finishing touch on these darling desserts. Picture via Bakerella.
Antique stores are a great place to find centerpiece items for a sock hop party. If it looks like it's from the fifties and you can put flowers in it, then it's probably perfect! This Coca Cola crate is so charming, but I also love the idea of using old (clean!) Coca Cola bottles as bud vases for hot pink flowers. Picture via Shannon Nicole Smith.