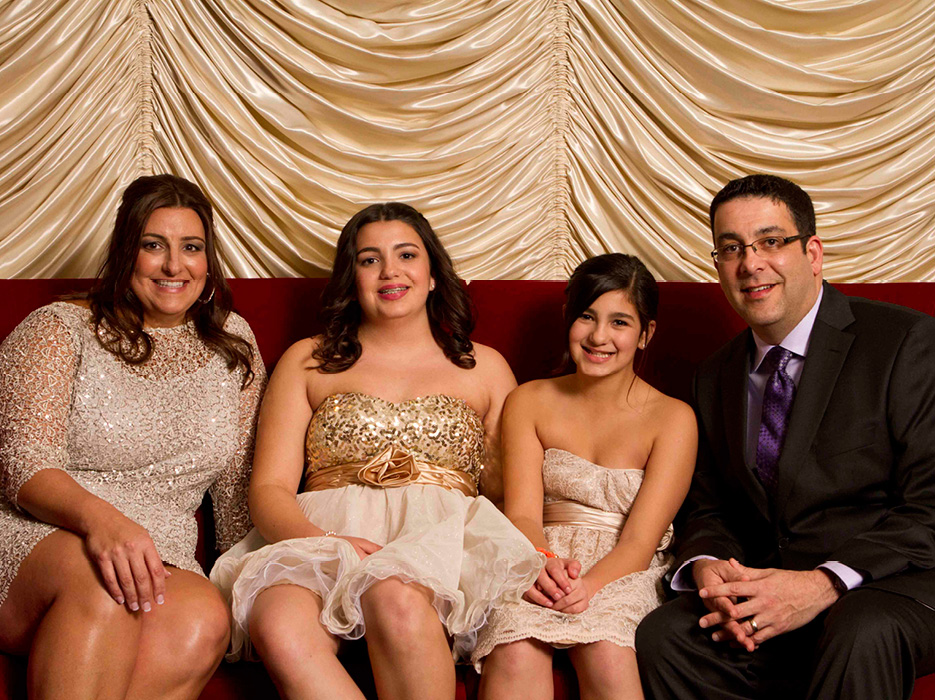 Hot Pink, Black and White Bat Mitzvah
There were only three simple letters that could accurately sum up the night of Olivia Morgan Goldstein's Bat Mitzvah celebration: O.M.G.!  Olivia and her mom, Jennifer Goldstein, worked closely alongside Creative Designs and Events to host a celebratory night like no other. From the onset of planning, it was Olivia's love for the color combination of hot pink, black and white, candy and her own OMG monogram that inspired the decor. The OMG logo was first used on the — get this — Bubble Gum Tape! — save the dates that read: "OMG…For A Sweet Time…2.11.12…Atlanta, Georgia". Olivia's vision for the event included lots of candy and a festive atmosphere. No wedding reception vibes here, please! Held at 103 West, kids and adults alike were dazzled by flower centerpieces made to look like ice cream cones, cherry cotton candy served in martini glasses (from a vintage cart no less), a candy bar, "mocktail" bar for the kids and more. Kailel from Vibe Entertainment surprised guests with a "neon set," using black lights, white gloves and other props, the dance floor came alive and had each and every guest on their feet until the night's end! Images by Ryan Carroll!
SAVE THE DATE
What better way to remember to save the date for a super sweet Mitzvah than with candy? Olivia sent guests custom labeled bubble gum containers, inviting them to the OMG p-a-r-t-y.
CANDY BAR
For the larger than life candy bar, designers used the OMG logo to create custom labels for every jar of candy to read: "OMG it's M&M's" or "OMG it's Taffy," and so on. (Tip: Use jars that vary in size and height to create a display that packs a true OMG moment!)
LOUNGE
A custom kid's lounge was created for Olivia and her friends using luxe white furniture, a "mocktail bar," cotton candy cart and intimate table settings featuring the party's signature hot pink, black and white color scheme.
CENTERPIECES
For some centerpieces, the design team used pink and white lollipops in lieu of flowers. A display that was as much to eat as it was to look at. Consider dual purpose design for your next party!
Party Professionals
Photography: Ryan Carroll | Venue: 103 West | DJ: Vibe Entertainment, Inc. | Favors: RC Engravables | Entertainment: Crave Cotton Candy | Invitations: Barefooted Creations | Decor: Creative Designs and Events | Hair: Annie Gonzalez of Beauty Is Salon and Shop | Makeup: Elizabeth Mobley