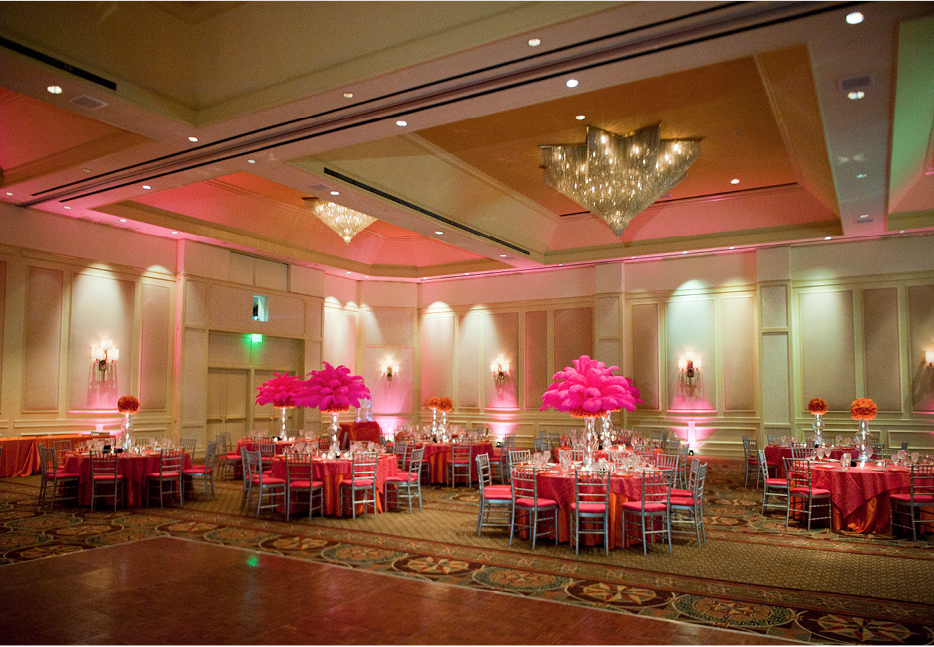 Hot Pink and Orange Bat Mitzvah
Celebrating a Bat Mitzvah is symbolic for many reasons, one of which being the transition from girl to young woman. When Danielle and her mom, Stacy began to plan her own Bat Mitzvah celebration, that notion was kept close. Balancing sophistication and fun were the top priority for the event decor and entertainment. Festivities began Friday evening, with a special dinner for out of town guests at Maggiano's. Saturday morning Danielle and her family attended services at their synagogue, Gesher L'Torah, where Danielle became a Bat Mitzvah; followed by a catered kiddish luncheon. For the Saturday night party, Danielle, a true girly girl, went for a vibrant pink and orange color scheme for the Grand Hyatt Atlanta ballroom. The design truly came to life with the help of Denise Rinsberg of Let's Celebrate. Larger than life vases filled to the brim with hot pink plumes covered the room on tables with sequined linens. And if that didn't spell glam, the all white "club" lounge for the younger party-goers certainly did! Though a dazzling night of decor, dancing and delicious treats, the undisputed highlight was the video montage of Danielle and her family, put together by Blue Orchid. "We all cried," confessed mom, Stacy. Happy tears on an even happier day. Images by Ric Mershon Photographers!
CENTERPIECES
We loved these grand feather and rose centerpieces from Let's Celebrate. The plumes and florals not only add a fun, dramatic elegance to the party — their clear vases are practical too. We constantly hear complaints of partygoers unable to see their table guests through a flower arrangement. Use clear vases like these and problem solved!
BRANDING
Creating a logo or emblem for your mitzvah or special event is a great way to unify your party decor. Design one yourself or enlist the help of a stationer or graphic designer who can lend their expertise. Once you've settled on a design, use it on everything from the napkins, to the stationery, to your very own marquis like Danielle's!
COCKTAIL HOUR
Not only did the Grand Hyatt Atlanta host Danielle's big night, they were also the caterer. "Cocktail hour was amazing!" said mom, Stacy. "We had incredible sushi, passed hors d'ouvres, an Italian charcuterie station and a chef's soup station with gazpacho shooters." Yum! (Hostess tip: one-handed dishes like soup shooters are great for cocktail hour. Your guests will be able to eat and enjoy their mixed drink with ease.)
DESSERT
Cupcake delight! There was no shortage of this delectable treat at Danielle's Bat Mitzvah. Flavors available for all sweet tooth's present included creme brulee, mango and raspberry! Not your thing? Not to worry. Lemon sorbet, cheesecake and brownie lollipops from Schott Chocolate were also on hand for a late night sugar rush!
Party Professionals
Venue: The Grand Hyatt Atlanta | Photography: Ric Mershon Photographers | Decor: Let's Celebrate | Event Planner: The Party Connection | Programs: Event Impressions | Favors: Schott Chocolate & Party City |  Videographer: Blue Orchid Productions | Stationery: Jenny's Paper, Ink. | Synagogue: Gesher L'Torah | Transportation: Greene Classic Limousines