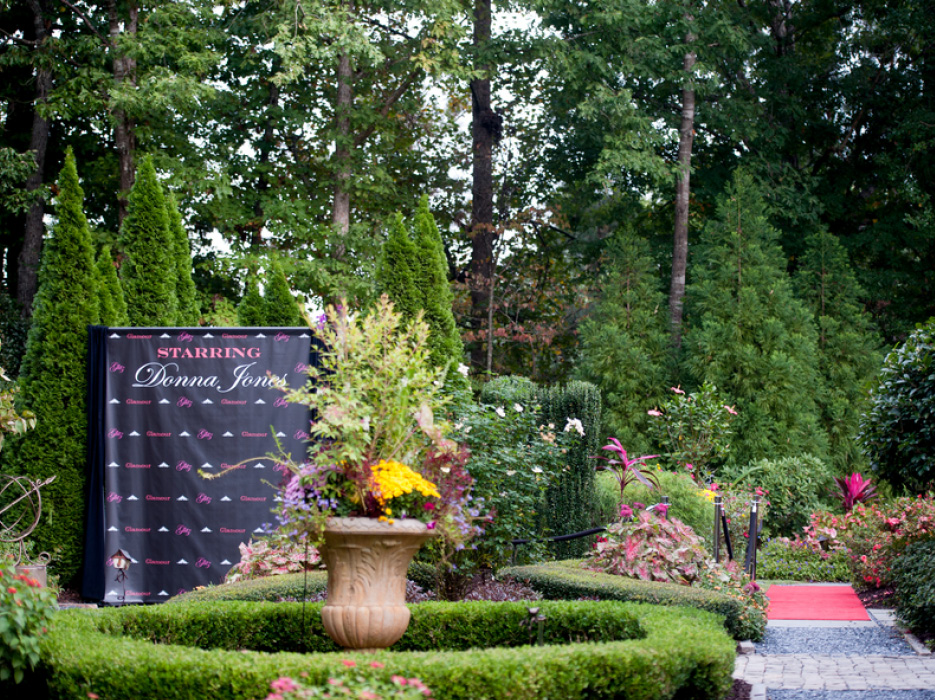 Hollywood Glamour Themed 60th Birthday Party
What to do for the birthday of a woman who has everything?  Well, throw her a party of course!  And not just any party, a glitzy and glamourous, over the top old Hollywood bash!  After going through the custom step and repeat just like the movie premieres in LA, guests were transported into a gala fit for a celebrity.  So, smile pretty for the press, then grab your glass of champagne and enjoy the festivities with photos brought to you by Shawna Herring.
Can you give us an overview of the event?
Donna loves the glitz and glamour of Hollywood, so what better way to celebrate her 60th birthday than LA style. Little did she know what was in store.  Hip and chic was coupled with elegance and romance created by furniture groupings, creative use of lighting elements and candles.  We created a Hollywood styled party to include exceptional service in a glamorous environment where guests could eat, drink, dance and be entertained late into the night.  Drive up valet service was provided as guests arrived and were greeted with a signature cocktail and were interviewed by a live on site video crew as they stepped onto the stantioned red carpet. A personalized "step and repeat" backdrop was aesthetically placed in the beautifully manicured garden where guests could have their pictures taken by the photographer during the evening. The elegant cocktail hour included butler passed hors d'oeuvres and 2 well-stocked bars offering a selection of mixed drinks, martinis, specialty wine and sodas. The 7-piece band played romantic tunes as guests mingled and enjoyed their dinner. A chic lounge was created on the grassy area using white leather sofas, ottomans illuminated cocktail and end tables, eclectic lamps accented with crystals and votive candles. A white shag carpet was placed in the center of the lounge area and created the hip Hollywood club atmosphere found only at a premier "after party" in LA.  Existing outdoor furniture was accented with votive candles, "diamonds" and mini vases of roses.  A custom "Donna" gobo was projected in the center of the lounge area in addition to which a gobo consisting of the guest of honor's initials "DJ" was projected into the water of the garden fountain.
After guests had enjoyed dinner, they gathered around to listen to some special speeches. The birthday girl was presented with a personalized birthday cake adorned with sparklers after which she was led to the driveway and surprised with her gift – a convertible silver Bentley tied with a huge red bow!!  The band then kicked into high gear and the guests danced the night away.  Every detail was carefully planned out and perfectly executed right down to the guests exit – each guest was handed a custom hand made chocolate favor thanking them for joining the celebration.

Was there a specific theme or style?
Hollywood Glitz and Glamour

What inspired the theme or style?
Donna loves the glamour and glitz of Hollywood.

What were your playful twists that made the event unique?
The live video crew with host interviewer greeted the guests who could then leave a personal birthday message for Donna. The red carpet entrance which also led to the backdrop where guests could have their pictures taken "Hollywood style" was a huge hit.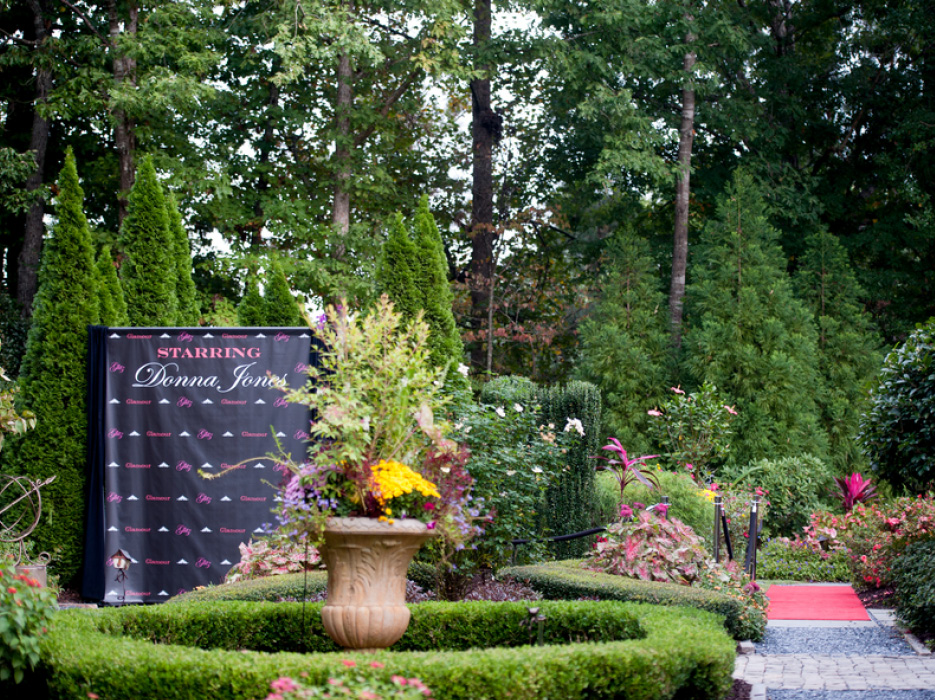 Did you DIY any of the details?
No.
What was the most memorable moment?
After dinner, Dave made a heartfelt speech and Donna was presented with a personalized birthday cake. In the meantime, her real gift was being parked in the driveway at the end of the red carpet and tied with a red bow – a Convertible Bentley. She was led to the driveway and presented the keys to her brand new car!!

Tell us about the food and desserts.
Passed hors d'oeuvres were fun and unique and included mini tacos, presented on lime wedges and coupled with mini shots of Patron as well as mini sloppy joes which were presented with shots of beer. The buffet dinner was set out inside, salads presented in mason jars, room temperature filet and salmon and a beautiful display of mini desserts was amongst the offerings.

What kind of energy did your entertainment give the guests?
Band X started out with romantic dinner music but soon kicked it up into high gear and the dance area was packed for the rest of the evening playing every genre of music which appealed to every single guest. Guests partied into the early hours of the morning.

If there was one thing you could change, what would it be?
The humidity was crazy that day and we had to keep on wiping the furniture to make sure it was not damp before the guests arrived. Other than that…not ONE thing!!

Party Professionals
Venue:  Private Residence | Event Planner:  Specialtevents | Photographer – Shawna Herring Photographer | Videographer: Dewitt Smith Video | Catering:  Added Touch Caterers | Décor/Design:  Michelle Friedman Design | Lighting:  PPi | Entertainment – Band X | Chocolate Favors:  Candy Art USA