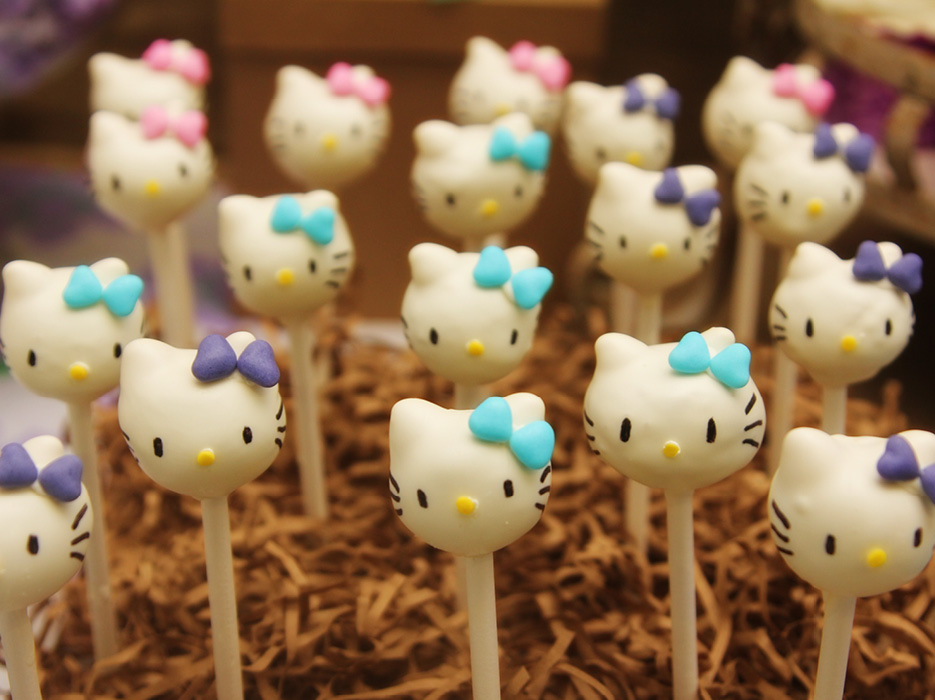 Hello Kitty Themed Birthday Party
For Mia's sixth birthday, event designer extraordinaire Lauren Weems of Adorned Event Design planned an event both Mia and Mom, Brynn could celebrate! It was Mia's love for Hello Kitty paired with Brynn's affinity for all things retro and vintage that inspired the day. After falling in love with a piece of purple and aqua patterned vintage fabric, the design fell into place with Lauren at the helm of handcrafting one fantastically creative detail after the next. "Hello Kitty is so popular right now," said Lauren. "I wanted to find a way to do that concept as a party designer in a new and fresh way. I also didn't want the party to feel too themed or overwhelmed with Hello Kitty." Lauren began with a vision board that served as a style guide, and followed through with sketches of the table and other elements to make sure the party would be just as she envisioned. Establishing her modern-cartoon-meets-vintage-detail aesthetic, she began with a seriously cute hand stitched "Mia" banner, that translated into invitations, party hats, cupcake toppers and more! Photos by Inije Photography.
FABRIC
Finding the aqua and blue vintage floral fabric was the jumping off point for Lauren. Scanning it into her computer, she was then able to use the pattern and customize each design element. Our favorite? Those too-cute-for-words party hats! With the party's "vintage" vibe, we love the throwback to a good ole party hat of yesteryear. The tufts of aqua and purple are an adorable touch. Such a fun and nostalgic idea!
GOODY BAGS
Ditching traditional cellophane bags, Lauren opted for a goody bag that was more in line with the look and feel of Mia's big day. Each guest received a drawstring purple burlap bag that coincided with a scrumptious dessert bar. Filling their sacks to their hearts content, guests chose from a sugary spread of treats like giant marshmallows, gummy bears, grape taffy and vanilla meringues to name just a few!
CAKE POPS
Cupcakes were Mia's "birthday cake" of choice, but Lauren Weems of Adorned Event Design had another special dessert surprise in store. Creating her own unique spin on the cake pop craze, she created custom Hello Kitty cake pops for the big day. Leaving no detail spared, she even color coordinated each bow in the party's signature purple and aqua. They were an instant hit and crowd favorite!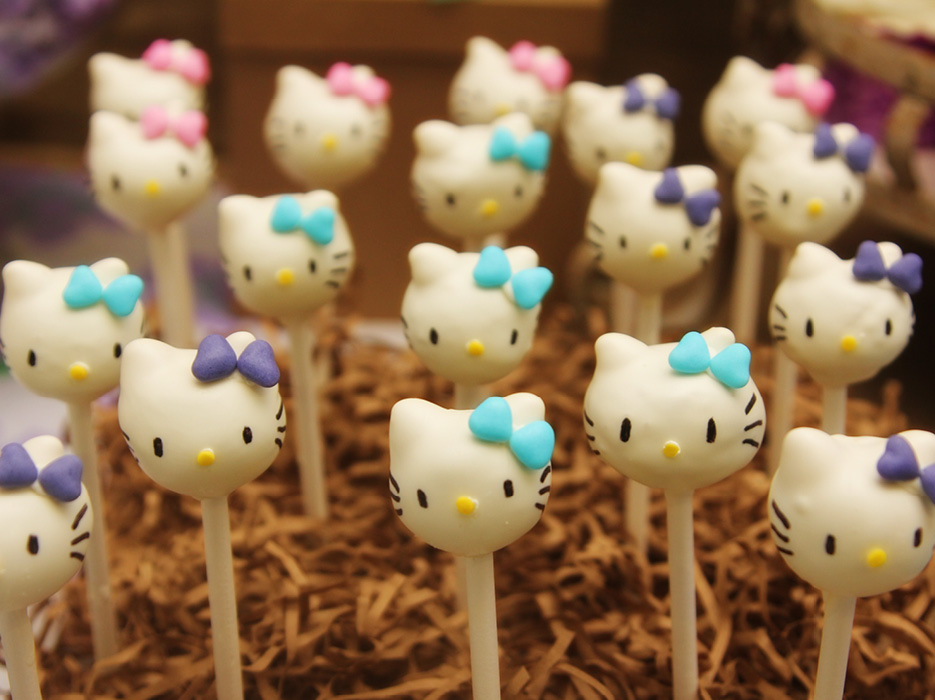 CHALKBOARD SIGN
Sentimental moments can be hard to come by with kids running around, sweets being served and presents being opened. But thanks to a shabby chic chalkboard and some creativity on Lauren's part — Mia and her family have happy memories to look back on. After writing a birthday message or wish on the chalkboard, each party guest took turns snapping a picture with their kind words for the birthday girl. Says mom Brynn, "It was fun for the kids, made great thank you cards, and a wonderful memento for Mia."
Party Professionals
Party Location and Entertainment: Sensations | Photography: Inije Photography | Baked Goods and Sweets, Stationery, and Decor & Styling: Adorned Event Design