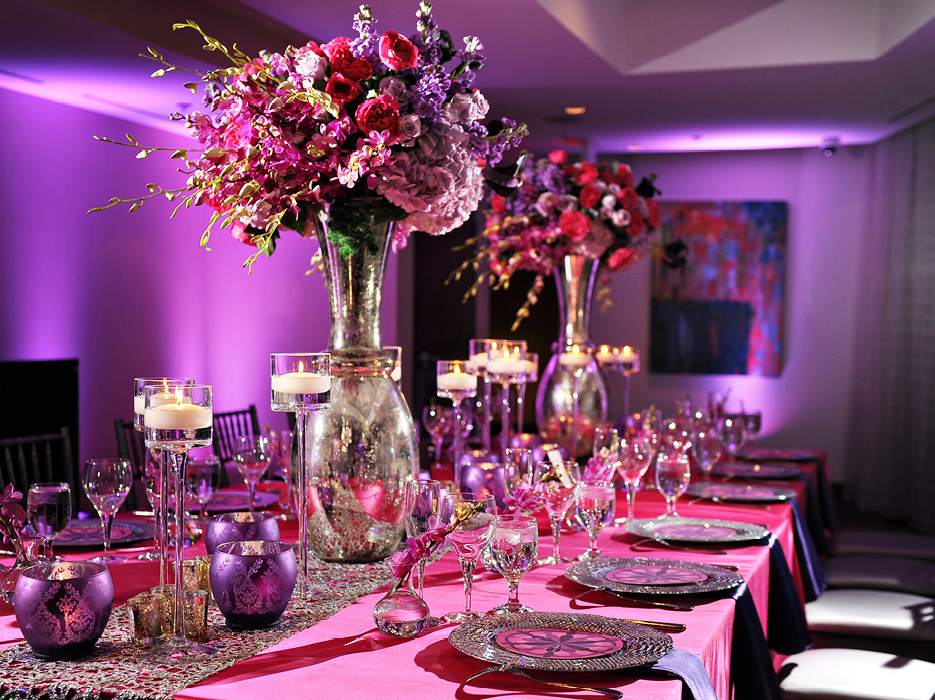 Adult Birthday Party: Sophisticated and Elegant Dinner Party Celebration, Part 3
121212. A date that will only occur once in our lifetime.  And it was also the theme to Helen's birthday bash.  Her birthday happens to fall on December 12th, so this year she went with an ONLY TWELVE theme for her soiree and handed the party planning reigns over to ellyB Events.  She had invites hand delivered to 11 of her closest friends (making the attendee count twelve) for her party at TWELVE Centennial Park and the celebration lasted for 12 hours going from 12 noon to 12 midnight.  Guests were treated like queens throughout the day and finished off with cocktails and dinner.  It was definitely one for the history books.  Images by Milanes Photography.
SWAG BAGS
Each of Helen's eleven guests received a custom embroidered bag of gifts including a sleep mask, music mix cd, manicure set and notepad.
PARTY WITHIN A PARTY
There were many parties within the unique and magical celebration: the arrival tea, the glam photo shoot, the spa experience, then cocktails and dinner and finally the after party. All fun twists to this unique occasion.
DESSERTS
Custom desserts were provided by Sift! Dessert Boutique and included glitter cake truffles, pistachio rolls, pecan butterscotch bars, peanut butter chocolate truffle cookies, cream cake slices and macarons.
To read more about the other parts of this TWELVE hour birthday soiree: check out her Arrival Tea/Photoshoot, Spa Experience and After Party and you can see why we were so amazed by this extravaganza.
Party Professionals
Venue: TWELVE Centennial Park | Photographer: Milanes Photography | Event Planning & Design: ellyB Events | Floral: Andy Beach & Co. | Stationery: Paper Parfait, Wishing Well Productions, Paul Silks, Paper Source | Desserts: Sift! Dessert Boutique | DJ: DJ Tron | Music: Andre Benet | Transportation: Cooper-Atlanta