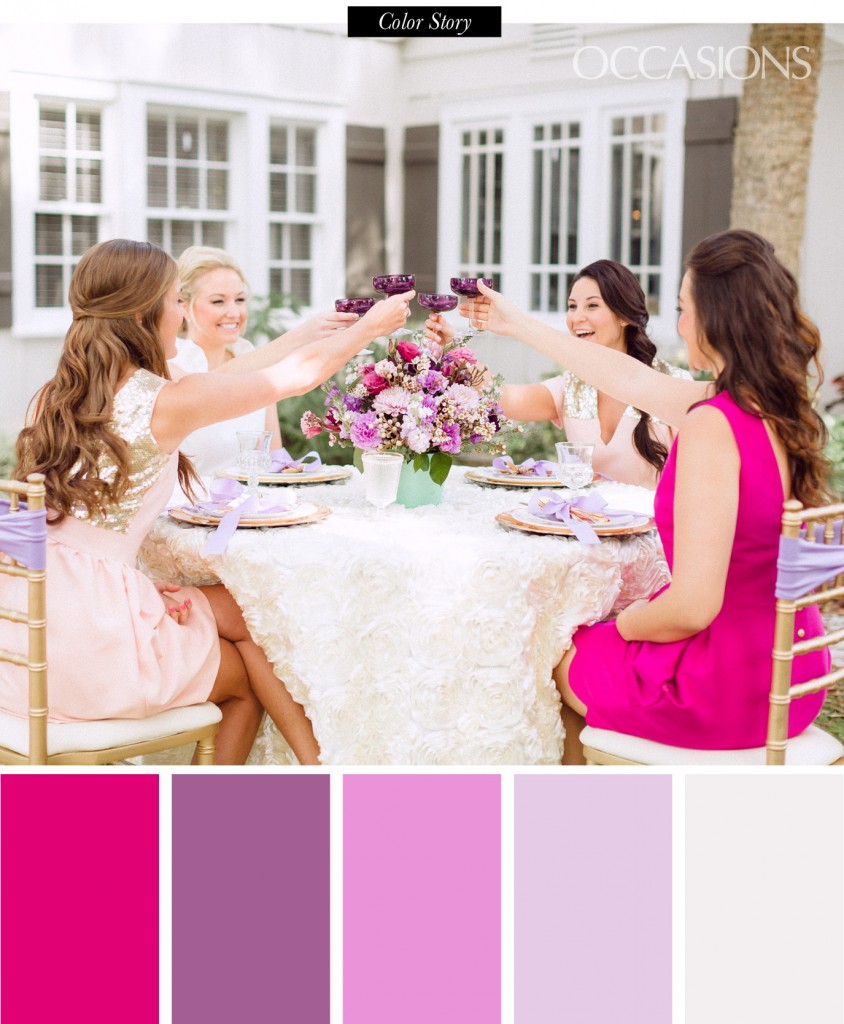 Gold & Radiant Orchid "Besties" Bridesmaids Luncheon
We just can't get over our Radiant Orchid craze!  So we have another special summer soiree to share before the warm weather fades away, and it's especially for all you recently engaged ladies.  Brides, before you walk down the aisle to say "I do," show some love to your lady friends with a special bridesmaids luncheon!  A lovely afternoon of reminiscing and memory-making with your girlfriends as you dine from delicate china plates, your surroundings swathed in sunlight and a pretty palette of gold, ivory, and purple . . .  Tell me, what could be sweeter?  This piece of Southern charm is brought to you by Hunter Ryan Photo!
THEME
The theme of this shoot is "Besties." With the setting being a bridesmaid luncheon and tea, I really wanted to highlight friendship and all of the girly, playful goodness that goes with it!
COLORS
Since Radiant Orchid is the color of the year I wanted to show ways to tie it into the color scheme while still having an aesthetic that is soft and lovely. The combination of Radiant Orchid, lavender, mint, and gold seemed to strike that balance and looked great in the 6ft custom installation, flowers, and other details.
ITEMS TO INCORPORATE
I focused on bringing in traditional southern charm in ways that were unexpected. I feel this was achieved by using monogrammed bows in place of escort cards, having a custom invite that was equal parts sassy and gorgeous, and models wearing stunning dresses by local designer Camilyn Beth with custom clutches by local designer Oatmeal Lace. As well as a private residence for the venue location, lush linens, and vintage furniture and china rentals. All this tied together gave the elegant yet playful feel of the south that a lunch like this warrants!
FLOWERS
Lavender stock, Pink Lisianthus, Moon series carnations, Wax flower, Lysimachia, Burgundy leucadendron, and Lavender
SIGNATURE COCKTAIL
I chose to stick with the color scheme, serving a purple custom cocktail that was lovingly labeled the "Berry Bestie Mojito." This is a traditional Mojito with 1 oz. of lavender syrup added to give it its purple hue. Throw in some blueberries for garnish and voila! You and your besties have something light and pretty to sip on.
PERFECT FOR
Any bride who wants to spend some time loving on her best friends! Although I chose to highlight southern charm in this shoot, it is not only for the southern bride. This concept can be recreated to fit any group of girlfriends.
WHAT TO WEAR
The dresses featured in this shoot are by local designer Camilyn Beth. They were absolutely stunning and fit so nicely with the overall aesthetic. Plus, they received rave reviews from our models! Whatever you choose to wear, make sure it makes you feel amazing and comfortable like these dresses did for our models. Adding in some sparkle is always a great idea!
THINGS TO REMEMBER
This luncheon was held outside so keep in mind the time of year when recreating this shoot. This shoot was set in the spring but could easily take place in summer or early fall – weather permitting!
TAKE IT UP A NOTCH
A bride can take this shoot as a starting point and really make it her own. Instead of hosting this at home, maybe have it at a great hotel and enjoy a spa or pool day following lunch. Perhaps have a band play while you're eating or a photo booth on site to document all of the fun. Remember, this is just inspiration so take this idea and run with it in a way that reflects you and your bridesmaids!
Shoot Professionals
Planning & Design: Kelly Hancock Event Planning | Photography: Hunter Ryan Photo | Florals: Taylormade Floral & Event Décor | Invitations: Ashley Brooke Designs | Linens: Kate Ryan Linens | Rentals: Kate Ryan Linens, WISH Vintage Rentals, and Dishie Rentals | Desserts: Pastries by Design | Venue: Private Residence | Monogrammed Clutches & Bows: Oatmeal Lace and Hugs by Wendy | Dresses: Camilyn Beth | Hair & Makeup: Lasting Luxe Hair and Makeup Artistry | Jewelry: T. Georgiano's