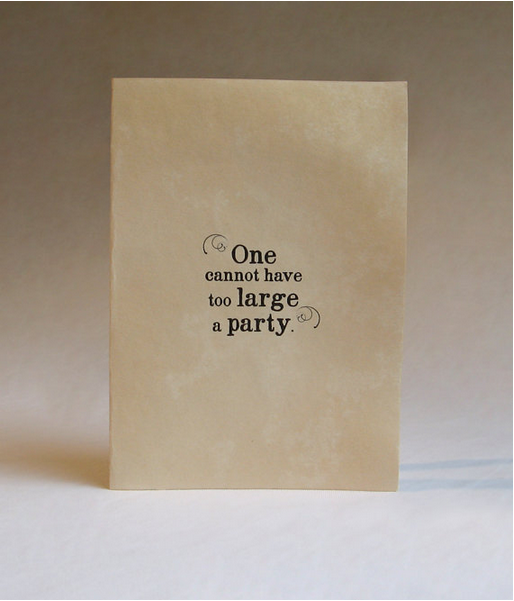 Girls Night In: Jane Austen Inspired Party Ideas
Jane Austen is one of my favorite writers. Over my break from school I have been rereading some of my old favorites of Ms. Austen's as well as reading some others I had never read before.  I got to thinking about how fun it would be to have a "girls night in" where we celebrate our favorite author and literary characters! To quote the novel Emma, "One cannot have too large a party." and I say one cannot have too much fun having a Jane Austen themed party!
I love these cards from Lucille Studio that have different quotes from different Jane Austen Novels. I think they could make perfect invitations to invite your girls over for the night. Of course the quote from Emma is only fitting since you will be throwing a party and also encourages "the more the merrier" of having a large girls night with all your best friends.  (via Lucille Studio)
Now for decorations of this night in, I love this easy DIY garland. Just find a silohoutte of Jane Austen, find some old copies of your favorite Austen books (ones that are in poor condition of course!) and glue the silohoutte on the pages and string them together. Super easy but super cute right? Also guests can look at the pages of the garland and try and guess which book the pages came from! (via Dear Lillie )
For food, think English tea party with scones and tea sandwiches.  This bridal shower made place cards for all the food and made them Jane Austen themed. For example, "Sense and Sensibility Scones","Persuasion Petit Fours", "Mansfield Park Tea Sandwiches", and "Pride and Prejudice Pound Cake."  Such a fun idea! To continue with the tea party theme, pull out some vintage tea cups and order some tea from the Jane Austen Tea Series which you can order here. (via Pt Potts)
It wouldn't be girls night without some kind of sweet treat and this Jane Austen themed cake is perfection. Topped with Jane Austen quotes and themed stamps, this cake is a traditional Twelfth Night Cake which was commonly served in England during the Regency era in which Ms. Austen lived. The Twelfth Night Cake is similar to a Mardi Gras King Cake except instead of finding a baby in the King Cake, you find a bean in the Twelfth Night Cake and whoever finds the bean gets to be queen for the night! (via Sprinkle Bakes)
Of course it wouldn't be a Jane Austen party without watching some of the movies but other ideas for the night include dressing like the time period, card games such as Speculation-a popular game played during the Regency era, and making bookmarks with your favorite Austen quotes. I am ready to go pop in Pride&Prejudice or my favorite Persuasion in the DVD player and have a girls night in, who's with me?