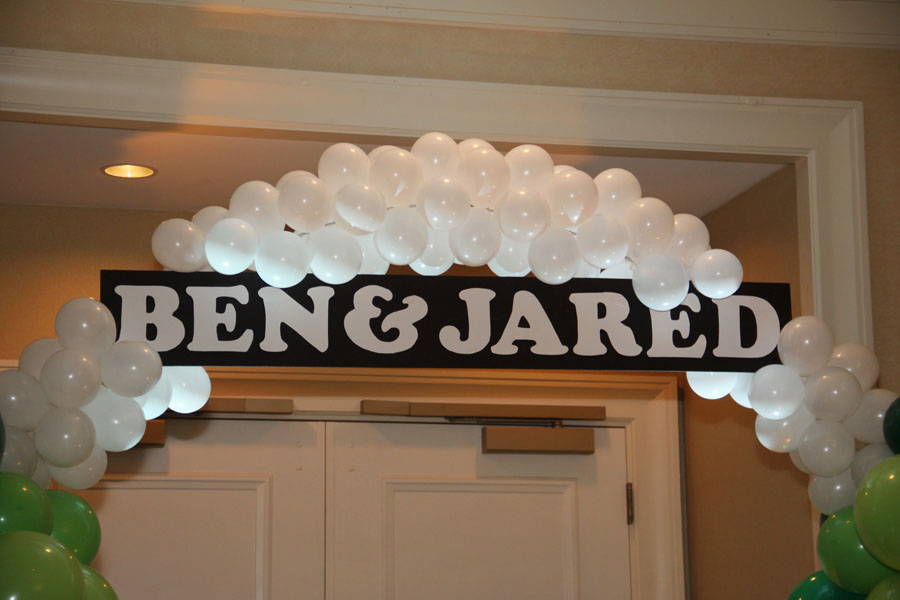 Fun Ice Cream Themed B'Nei Mitzvah
Lifelong friends, Ben and Jared have been pretty much inseparable since pre-school.  So when plans for Bar Mitzvahs commenced, it only made sense that the two whose birthdays are close together would share the milestone with one big party.  By the time they invited their friends, and each of their parents' friends, the guest list pretty much rocked at about 300 people.  And so, naturally, the entertainment was awesome to match.  The celebration at the Atlanta Marriott Alpharetta was themed after the popular Ben and Jerry's ice cream brand, only this was Ben and Jared's party, and what could be better than that?  A custom Ben and Jared's logo was created, complete with caricatures of the boys, and printed on signs that looked like ice cream containers used as table centerpieces.  The theme carried throughout the room to the delight of the guests, especially the ice cream sundae bar.  A seated lunch of salmon and chicken marsala for the adults and a kid-friendly buffet was a hit, everyone feasting to their hearts' content before DJ Keith Schroder brought everyone to the dance floor.  Savor the fantastic fun of this B'nei Mitzvah with these images from Scenesations Photography!
Party Professionals
Photography: Scenesations Photography | Venue: Atlanta Marriott Alpharetta | Invitations: Letterbox Press | Graphic Design: BIGhead Cartoons | Event Decorator: Balloonacy | Videography: Blue Orchid | Entertainment: Horizon DJ | Green Screen & Favors: DJR Photography
Planning a Bar/Bat Mitzvah? Purchase a copy of our all-new Mitzvah Guide here!