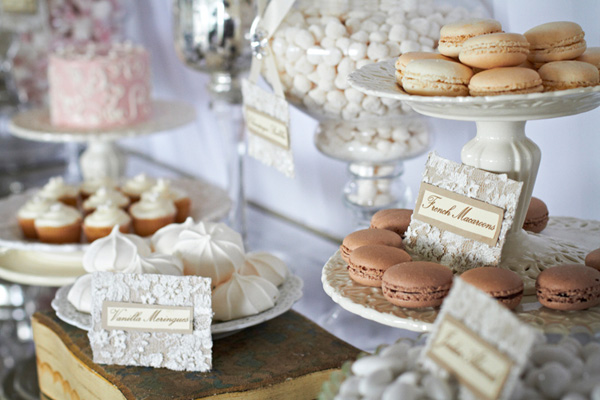 When it comes time to decide the perfect look for your next event, take cues from the Parisians and consider incorporating the timeless elegance of shabby chic, French-inspired décor. From a crystal-drenched château to the subtle beauty of a country cottage, France is the perfect place to gather inspiration for an event that oozes with charm. Whether you're planning a wedding, birthday, bridal or baby shower, a French-chic event will leave your guests feeling culturally immersed and awe-inspired.
Whimsical Wonders
When capturing the essence of France, think chandeliers, pearls, Chanel, patterned china, and anything that radiates effortless romance. For further inspiration, try visiting vintage stores or hunt the flea markets to find those one-of-a-kind pieces to incorporate into your event. Antique dishware, delicate perfume bottles, or even pieces of upholstered furniture are just some of the vintage goods you may find. Picture via HGTV.
Think Pink
A color palette of champagne, ivory and blush-tones perfectly captures the essence of Parisian loveliness. Also, including plenty of pink peonies and roses will continue the soft color scheme into the floral elements. Picture via Ruffled.
Petite Treats
When it comes to the food, think anything from mouth-watering macaroons to bite-size éclairs. These eats are uniquely delicious, and will make a corner dessert table feel more like a little French bakery. Designing a menu of dainty finger foods carries on the feminine, French inspiration and allows guests to graze on an array of sweets throughout the event. Picture via Canadiana Chic.
Make it Your Own
Remember, the idea is not to go overboard with a theme, but rather choose an initial inspiration in which to work around. Whether it's incorporating an antique item with special meaning, or putting a modern twist to this classic French style, including those personal touches will truly make your event come to life.