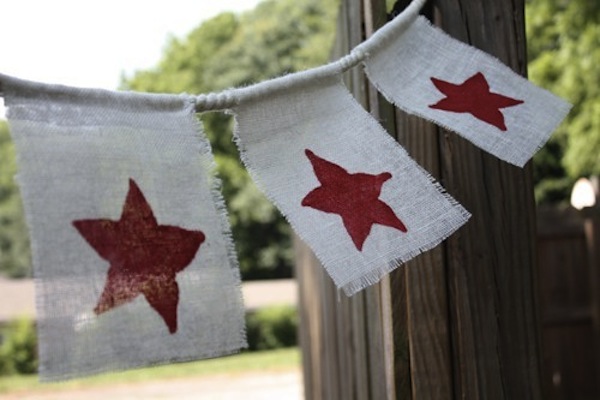 Fourth of July Food + Decor DIY Ideas
Between the fireworks, the food, and of course the decorations the Fourth of July is the holiday of the Summer! Between you and me, it is chaos, but a special chaos. You are surrounded by all of your loved ones including family and friends, so what are you going to cook and how is the place going to be decorated? Being that you want to spend as much time as you can with your family, the simpler the recipes the better. Even with the decorations, who wants to be running around doing a million things when in actuality this is a fun holiday. So, if this holiday is hosted at your house this year, here are some simple food and decor ideas.
For the food, do not go too crazy. Luckily, this holiday has the perfect colors, especially when it comes to fruit. Strawberries,  blueberries, and a whipped cream go perfectly.  Typically, they can be lined up to look like the American Flag. One snack that is very simple is a parfait. Martha Stewart has provided a delicious recipe.  A simple yogurt goes first and then red jello and yogurt again, then on top add some blueberries and there you go, you have a stripped snack.
As far as drinks are concerned, it is hard to get that red, white, and blue feel. Featured on the blog We-Made-That, it goes step by step on how to get the right consitatesy. You will need Fruit Punch, SoBe Colada, and Powerade Zero. Blog, Bee in Our Bonnet, tells you exactly what to do in how to decorate cake pops. The cake part is easy, but when it comes to coloring the white chocolate, it can get difficult. Instead of using regular food coloring, use Oil Candy Color. Another easy snack would be a fruit-tart flag. This was featured on the Food Network as a great way to incorporate the strawberries and blueberries as mentioned above.
Now, it is time to decorate! Most of these are DIY which makes it easier on everyone. It could also be a fun activity for those of you with children. We all know that Mason Jars are very popular especially when it comes to DIY, so why not use them for the fourth? All you need is some paint and you are good to go. These make a great decorating tool used for utensils.
As far as the walls are concerned, cut out some red, white, and blue stars. This is the simplest way to decorate your walls, and the cheapest. Another way would be getting fabric and cutting them into triangles, lately that is the more popular thing to do. It is a little more tedious, but very cute. On the blog, Tip Junkie, it goes on to explain why both the mason jars and the cutout stars is a good decor idea.
When everything else is decorated, there is only thing that is not and that is yourself. If you are not wearing US colors, then this pin is the perfect accessory for you. There are plenty of other sayings, but 'Made in the U.S.' is a pretty clever one according to the blog, Eighteen 25. Well, there you have it. A few tips to make your fourth of July a little less chaotic. Enjoy!