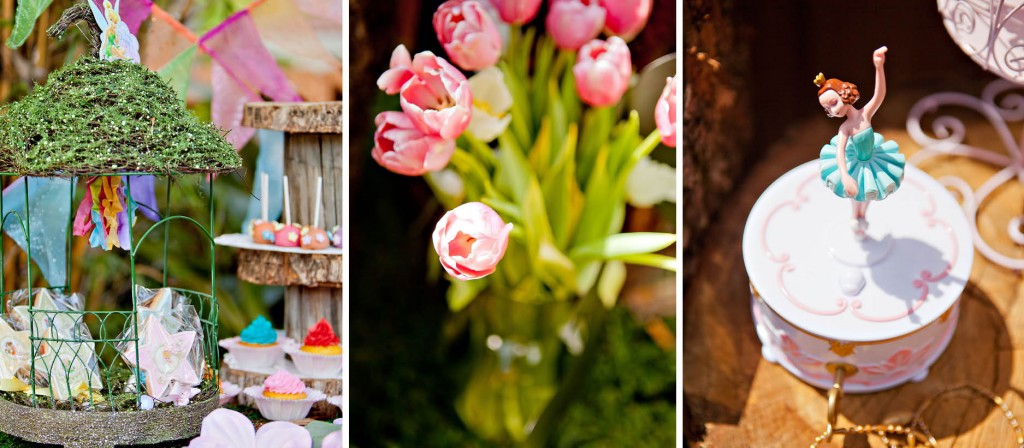 Florida Pixie Hollow Birthday Party by Santiago Martinez
It's mid-afternoon and we're betting that you may be in a little bit of an energy slump. To that we say, take a few minutes to enter the whimsical and playful world of this third birthday party. Inspired by her daughter's love for all things tinkerbell, Maylene Freire for Malu Boutiques, hosted a celebration that was full of vibrant color, and a little bit of fairy dust around every corner. Shot by Santy Martinez, we dare you not to crack a smile and feel your spirits instantly lifting!
Can you give us an overview of the event? This was my daughter's third birthday party. She has a never ending love of Tinkerbell, and she loves to watch all of the fairy movies over and over. What better theme than Sam's Pixie Hollow then, for her birthday? Everything was made with natural items so that it would capture the feeling of Pixie Hollow. The girls had Queen Clarion's Tree for a centerpiece, the napkin rings were decorated with Pixie Dust flowers, and each chairs had a different Fairy. The boys had Captain Hook and the Croc on their centerpiece with Pirate Hats for each one and Hooks decorated The back of their chairs. The Dessert Table was made to resemble Pixie Hollow the top was filled with moss and tree barks, on the bottom we made a pixie hollow scene to compliment the top portion of the table.
What were the playful twists that made the event unique? The party was created to delight the girls and boys that attended, fairy wings and wands for the girls and the boys had pirate hats and swords. We had coloring activities and sword decorating and then there was the tree house that the children played in the boys would use it as a pirate ships as it has a captains wheel and the girls were playing inside as tinkerbells tree house.
What kind of energy did your entertainment give the event? The energy was charged you saw Fairies running with their wands, Pirates fighting with their swords and parents mesmerized with their children having so much fun it was a great time had by all.
If there was one thing you could change, what would it be? I really would not change anything as my daughters face said it all, and that was the person that I wanted to impress.
[nggallery id=359]
Invitations: Designing and Styling: Malu Boutiques | Photography: Santy Martinez | Tinkerbell's house cake and cupcakes: Sweet Treats by Cristy | Cake pops, apple tarts, chocolate covered Oreos, and macaroons: Sugar fancies | Sugar Cookies: Dainty Delights | Fondant Fairies: Mimi café Union | Push pop containers: CakesAndKids | Mini bunting banners: The Purple Pug | Tinkerbell tutu outfit: Tini Posh | Headbands: ElleBelle Couture | Rice paper butterflies: incrEDlBLEtoppers | Fondant flowers on macaroons: allaprimadesigns | Glittered bon bons: Bedazzle My Bon Bons | Mini butterflies: Lynlee's Petite Cakes | Entrance sign: Peas & Thank You's  | Tulle pom pom: Titi's Tutu