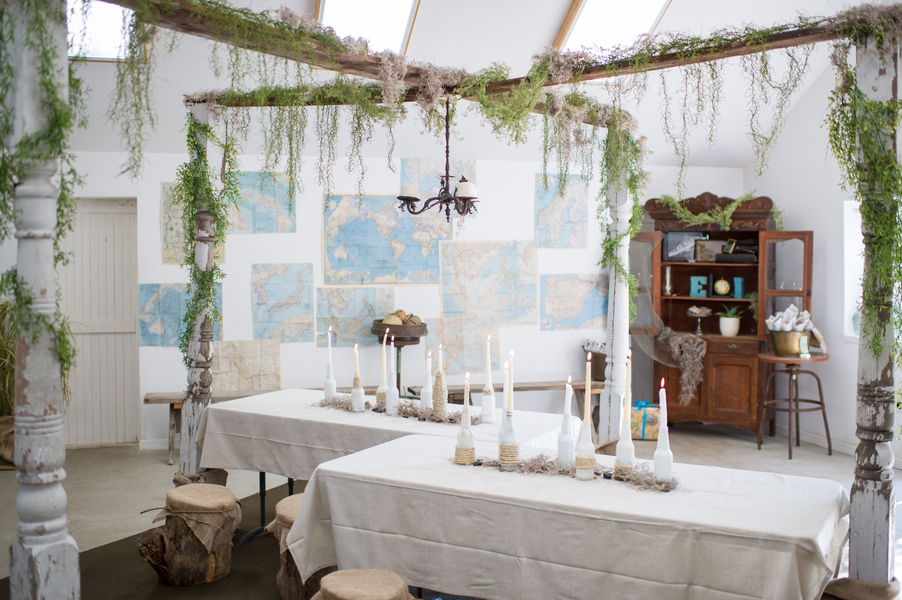 Fanciful Sailboat Themed Birthday Party
When sweet Eli laid eyes on all the whimsical, nautical fun laid out for him for his second birthday party, his mother Shannon knew that all her hard work planning the special affair had been well worth it.  Hosted at the family's Boulder tree nursery, Shannon's vision for her son's special day came to life amid wooden sail boats, vintage pergolas, beautiful treats and an array of hand-crafted details lovingly created in the days before the party.  Antiques, flickering candles, paintings of old ships and vintage maps brought Shannon's ideas to life in clever, sophisticated fashion, while custom cakes, pies, popcorn, and sweets kept everyone well fed and smiling.  From Eli's very own wooden sail boat built especially for him by his grandfather, to the bright vines and greenery spread throughout, to the perfectly detailed wisps of blue waves decorating the cake, each and every detail was perfectly planned and elegantly assembled in a culmination of laughter and fun that none in attendance will ever forget.  Sail on over to the celebration with these images by the birthday mom herself, Shannon of Shalynne Imaging!
Please give us an overview of the event.
A highly curated, very detail-oriented Nautical themed party with personal, handmade touches throughout.
What were your playful twists that made the event unique?
The party was held at our place of work: A tree nursery.
Did you DIY any of the details?
But the wooden elements were handmade. My father helped me build the pergola out of 4 vintage wooden, front-porch posts I found laying outside of an old 1900s home owned by my in-laws. We used old barn-wood from our first office to attached them all together. My dad also hand-made a wooden sailboat for Eli and a very large, wooden anchor to match. He also spent long nights hand-making mini sailboats as party-favors for the guests that matched Eli's boat, and little wooden fishies that hung over an old fence as decor. 
Splurge on…
My spurge is on details! I want lables, pretty foods, and decor gallore! I'm fortunate enough to have a father who hand-built most of my dreams for this party for me — and he gave me a great discount!! Haha — but the biggest expense was probably the vines and greenery throughout. Having anything living, or green in a party changes things so much, so for me, it's worth it, but that was the most expensive.
Tell us about the food and desserts.
All hand-made by family and friends. My mother made half the food & chocolates and my grandmothers made pies and other desserts that matched my theme.  The cakes were custom made by a dear friend, and award-winning cake designer here in Colorado. I simple gave Rachael a few inspirational images of what I was hoping for, and she created a gorgeous three-tired cake of fondant waves, topped with an anchor that matched the one my father made. And then for Eli's smash cake, she made a smaller cake of sugar waves and topped it with a hand-cut sailboat that looked identical to the mini sailboats we had for favors. 
What was the most memorable moment?
Seeing Eli's face when he first saw the custom boat my father built for him JUST for his party.
If there was one thing you could change, what would it be?
I'm not sure…everything was just perfect! Even the weather!
Party Professionals
Invitations, Design & Photography: Shalynne Imaging | Venue: CreekSide Tree Nursery | Wooden Decor: Frank Crabbs with Twigs & Treen | Cake: Intricate Icings | Vintage Stamps: Verde Studio