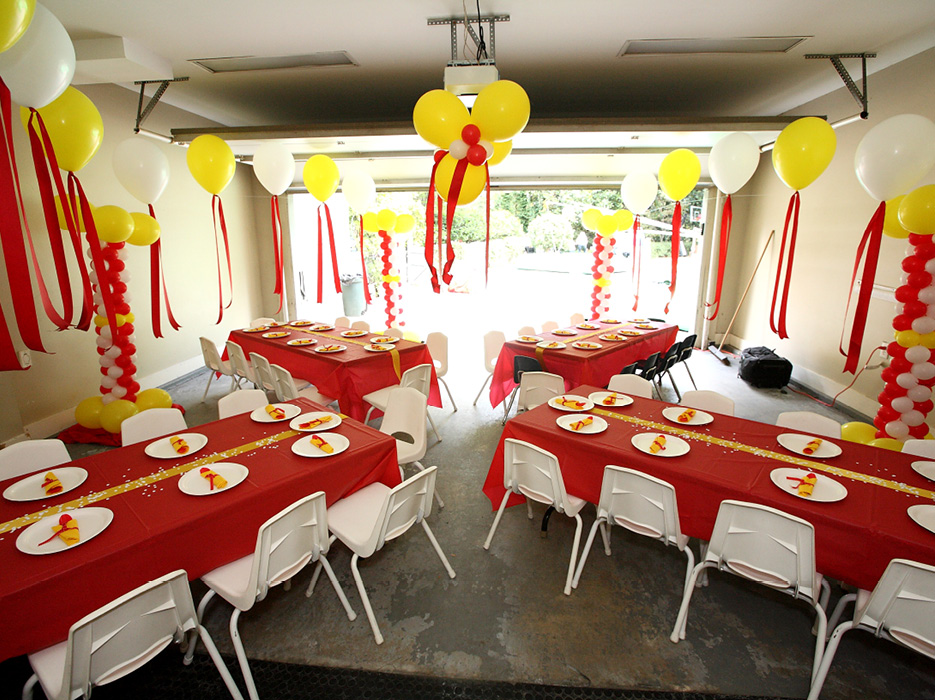 Fall Carnival Themed Birthday Party
Nothing says "carnival" quite like a clown. That's why when guests made their way into Bryce and Sumter's fall carnival birthday party, they were greeted by one standing nine feet tall! Though the greeting was certainly special, it was just the beginning of a party that offered plenty of fun for every guest. The day's entertainment included face painting, a petting zoo, and a Fair Hair booth, where the kids could have their locks crafted into some of the craziest hairstyles ever seen! Images by Shari Zellers.
COLORS
Taking a cue from the circuses of yester-year, vibrant red and yellow were the party's signature colors, appearing everywhere from the invitations, to the tablecloths, to the grosgrain ribbons tied on each take-home candy jar.
ENTERTAINMENT
Ribbons, glitter, (washable) spray paint, and plastic toys were only a few of the wacky items Fair Hair used in creating the jaw-dropping hairstyles seen party wide.
Party Professionals
Photography: Shari Zellers | Event Planner: Holland Muscio | Balloons: Balloonacy Atlanta | Monkey Bounce: Amusement Masters | Hair & Face Painting: Fair Hair and Miss Zooey | Entertainment: Jumptastic | Petting Zoo: Party Ponies | Favor Tags: Ink Spot Workshop | Dessert: Henri's Bakery