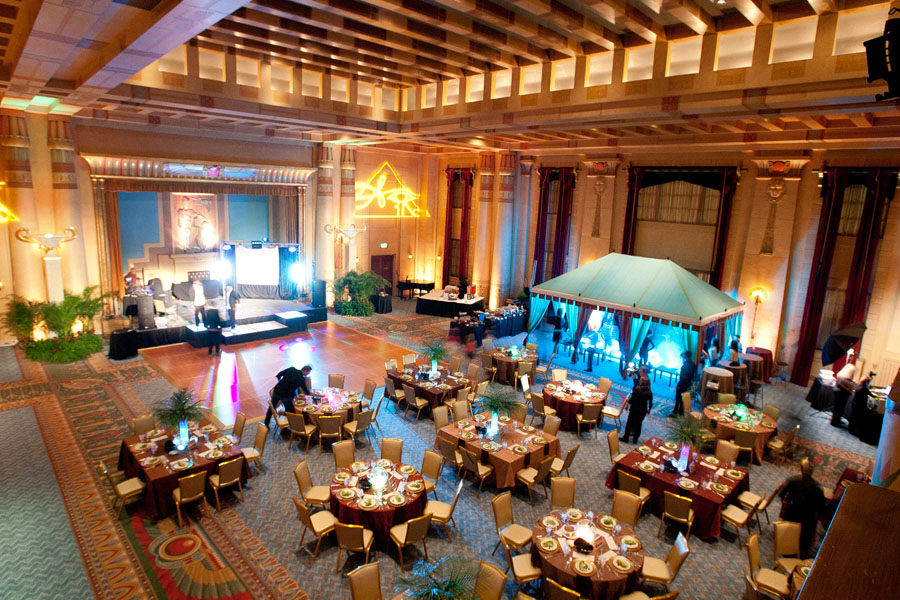 Exotic Egyptian Themed Bat Mitzvah
Ever since my mom first shared them with my sisters and me as young girls, I have been fascinated with the histories and mythologies of Greece, Rome, and . . . last but not least . . . Egypt!  Ashlyn — a girl after my own heart! — wished for her Bat Mitzvah to give the same magic and wonder as this exotic kingdom of old, so an Egyptian themed celebration it was!  And where better to have the Bat Mitzvah than in the Egyptian Ballroom at The Fox Theatre?  The scene was truly magical to behold.  Ashlyn's logo, based on Egyptian hieroglyphics, glowed brightly on the walls. Escort cards attached to small bronze pyramids led guests to their seats, each table bedecked in rich crimson or gold linens and named after a god of Egyptian mythology. Urns releasing steam were placed about the food stations, and anyone needing a break from the dance floor had only to visit the lounge area: a large tent filled with white furniture and luxurous, jewel-toned pillows — a space fit for Cleopatra herself!  Step back in time with this elaborate celebration captured by Paula M. Gould Photography!
Party Professionals
Venue: The Fox Theatre | Photography: Paula M. Gould Photography | Event Coordinator: Your Party By Karen | Caterer: Affairs to Remember | Entertainment: MC Mello and "Kasual"Atlanta Fever | Decor: JPatrick Designs | Videography: Dewitt Smith Video Productions | Photo Keepsakes: Button It Up | Invitations: Kelli Goldstein | Place Cards and Menus: Event Impressions
Planning a Bar/Bat Mitzvah? Purchase a copy of our all-new Mitzvah Guide here!