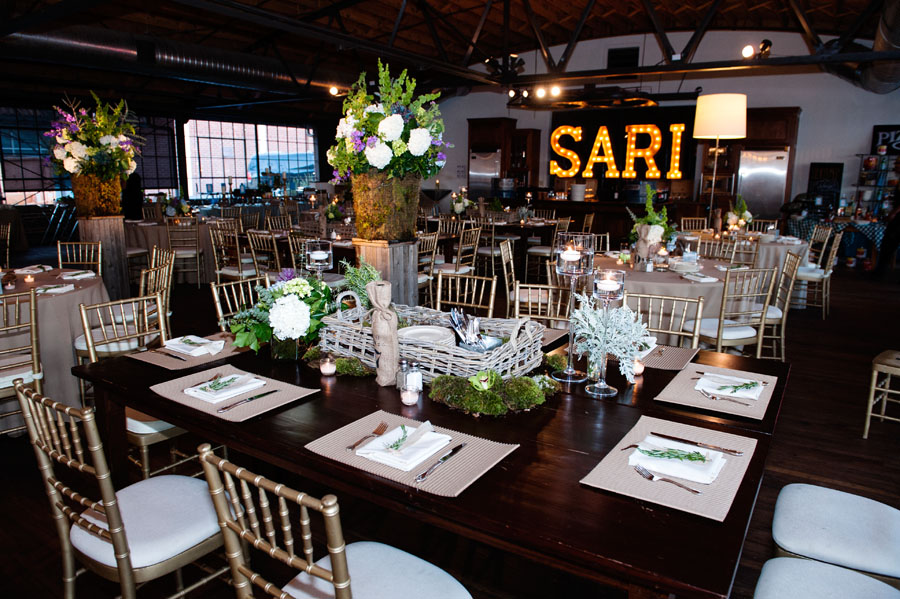 Eclectic and Feminine Spring Bat Mitzvah
The Bat Mitzvah celebration for Atlantan teen, Sari, was the perfect combination of elegant and youthful touches, the feminine and rustic décor paired with unique and unexpected twists that had guests talking for weeks afterward.  Tones of blue, turquoise, teal and lime were used to create an atmosphere unique to Sari's personality, the prominent focal point of the event a large marquee of letters spelling Sari's name adding an extra special touch.  The venue, Summerour, lent a lovely Italian atmosphere, complemented by burlap wine covers that doubled as table numbers.  The Italian vibe carried over to the food with a gourmet pizza buffet, served alongside family-style salads and custom-flavored gelato.  Sari's celebration took fun to the next level in a big way with strolling performance artists, face-painted fire-eaters and hula hoop performers who kept the energy high and the guests entertained well into the evening.  And who could forget the energetic tunes and fun provided by DJ Crazy Boyz?  Sari's celebration was the perfect culmination of an unforgettable day and an event she'll never forget.  This unique celebration was captured by Ric Mershon Photographers!
Please give us an overview of the event.
Summerour Studio with sky-line views was the setting for an aesthetically unique and beautiful celebration for Sari. BEE collaborated with Tulip to create a feminine, eclectic and industrially chic and modern environment. The colors were taupe, pops of vibrant blue, turquoise, teal and lime. Perfect for our daughter, Sari.

Tell us about the food and desserts.
Added Touch Catering and Sandra Bank created the most incredible food replete with stations to cater to varying tastes. We are still getting compliments about the unbelievable fresh, hand-tossed, gourmet pizza bar. It was AMAZING! BEE designed a plan that incorporated rustic, farm tables with family styled salads, canteen styled place settings and worked with Tulip to conceptualize amazing tablescape decor elements. BEE hired Honey Suckle Gelato to come in and create the most amazing and delicious gelato bar with custom flavors for our family.

What kind of energy did your entertainment give the event?
BEE hired strolling performance artists to liven up the atmosphere. There were full-face painted, costumed fire eaters and light-up hula hoop performers who interacted with guests throughout the evening.

What was the most memorable moment?
The inexplicably special moment when our daughter, Sari unexpectedly grabbed the microphone during the welcome and conducted an impromptu speech thanking all of her friends and family and we, her parents for bringing the weekend together and highlighted the love and support she's received along the way. That one moment made all the work and effort seem effortless. Priceless.

Party Professionals
Photography: Ric Mershon Photographers | Venue: Summerour Studio | Event Planning & Design: BEE – best.event.ever | Catering: Added Touch Catering | Linens & Decor: Tulip | Entertainment: Event Performance | Invitations: Jenny's Paper, Ink | Rentals: Peachtree Tents & Events | Videography: Blue Orchid Productions | Party Activities: Button It Up
Planning a Bar/Bat Mitzvah? Purchase a copy of our all-new Mitzvah Guide here!