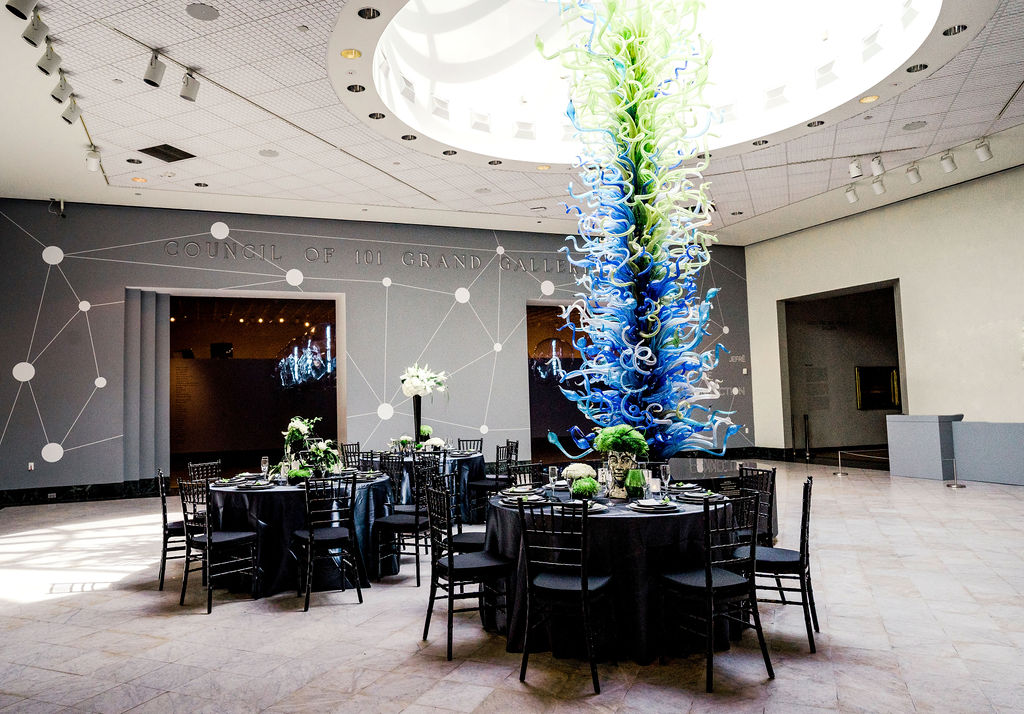 COVID Impact Art Installation at the OMA
This was an Event Art Installation at the Orlando Museum Of Art depicting the impact and struggle COVID has had on our industry.
Together, with a group of our favorite vendors, we put an artistic twist on the pandemic that has turned the event industry upside down. Each table was designed with the elements of art, people, and connection in mind. The centerpieces really brought these concepts to life, showcasing a face container to show this was an attack on people and their lives, a multidimensional structure representing both personal and business connections, and an elevated masterpiece on the final table to show we will all rise above this.
There were 3 tables, representing 4 million event professionals each, 12 million in total. Each seat represented 500,000 event professionals affected by COVID. The "menu" on each place setting was a short list of how COVID impacted the industry, and each name card had a specific entity of the industry instead of a person's name. ie. DMC'S, Meeting planners, Caterers, Etc.
We pulled from the colors in the room and really played on the artistic elements of the museum. The backdrop to the shoot shows another point of connection, and for us represented the spread of not only this virus but the trickle affect of event cancellations.
In a stressful time for everyone in the live events industry, a small group of us came together to get creative and send a message.
Artist Crediting: "Installation of view of JEFRË: Points of Connection at the Orlando Museum of Art, 2020. Courtesy of the artist."
Venue: Orlando Museum of ArtCoordinator/Designer: Encore Event Company Photography: Daylin Lavoy Photography Florist/Designer: Petals by DesignRentals: Go To Event Rentals Stationary: Katie & Co Houston
---