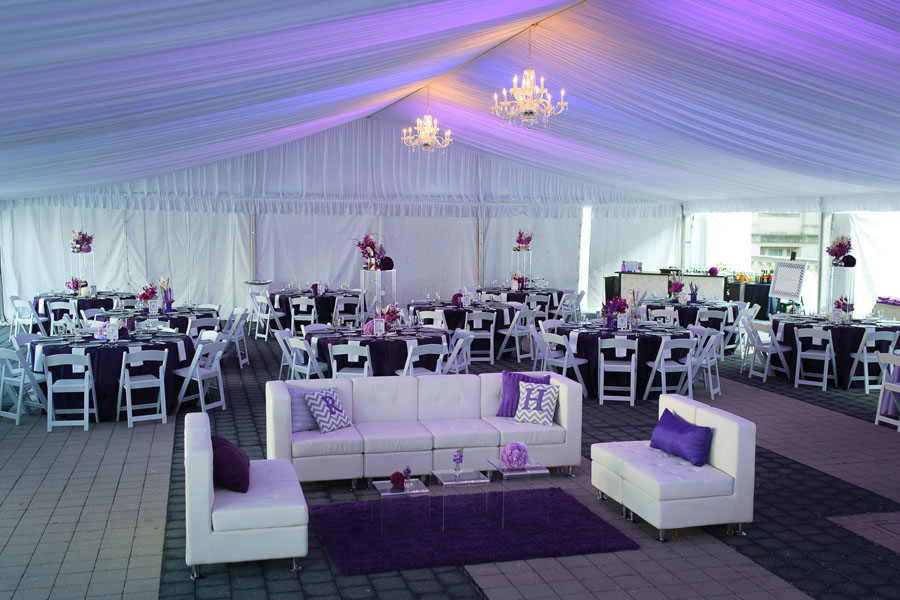 Classy Purple Bat Mitzvah
Elegant tones of purple arranged in pallets of ombre bouquets of flowers lent an air of festive commonality among the different events leading up to Rebecca's Bat Mitzvah dinner celebration.  The affair began with a Bat Mitzvah-eve Friday night dinner, followed the next morning by Rebecca's Bat Mitzvah service and luncheon.  When guests arrived that night for dinner they were greeted by a picturesque tent on the banks of the Scioto River.  Dinner consisted of Cameron Mitchell's Brined Airline Chicken, snap peas, oven-roasted potatoes and salad.  The kids' buffet boasted pasta with various fun sauces, sliders, tots and all of Rebecca's favorites, including a Buckeye Ganache chocolate cake.  A large white dance floor surrounded by lounge areas sprinkled with purple accents and Rebecca's initials waited for guests to come and dance the night away to the soulful tunes of Mobile DJ Entertainment.  Fun gifts of goofy hats and inflatable guitars were the perfect favors to take over the photo couch where Rebecca and her guests posed for photos to last a lifetime.  This fabulous fete is brought to you by Benjamin Scot Photography!
Was there a specific theme or style?
Cool graphic design and typography of my daughter's name, purple, ombre, and chevron.
Please give us an overview of the event.
As the sun set behind the downtown Columbus skyline the purple lights glowed from a tent set on the bank of the Scioto River where the music rocked for Rebecca's family and friends. Looking around under the tent your eyes would be immediately drawn to the kids' long tables with a purple ombre flow of flowers from one end the the other, then to the adult tables magnificently set with flowers of varying heights and shades of purple, then to the candy table filled with glass bowls of all kinds of purple candy, a lounging area on a fluffy purple carpet with a white couch and initial pillows, to shelves with photos of the bat mitzvah girl and mouthwatering cupcakes all in different shades of purple.

Smartest savings…
Reuse the flowers for multiple events of the weekend. At the luncheon the tables were set with a square container of chrysanthemums, each set of three table having a different shade of purple . We reused those square containers again at the evening event to line the kids tables with an ombre effect of flowers running the length of the table. They looked completely different individually and grouped together and nothing needed to be rearranged in its container.

Tell us about the food and desserts.
The food was important to me, even though I am not a foodie. I wanted delicious food that was recognizable and easy to eat with a knife and fork. Although I thought hard about having a double entree, like beef and fish on a single plate to try to please the largest variety of palates, I chose to have Cameron Mitchells's Soy Brined Airline Chicken simply because it was outstanding. The chicken was complemented by sugar snap peas and oven roasted redskin potatoes and a verde salad to start. The kids' buffet included caesar salad, pasta, marinara and alfredo sauces, meatballs, grilled chicken, sliders and tater tots, all of my daughter's favorites, but also to please the simple palate or combinable for more fun. Cupcakes in a variety of cake flavors and fillings, including deep chocolate cake with Buckeye Ganache (peanut butter) filling and lemon cake with raspberry filling, all iced in a hue of purple according to their flavors, when plated together added to the decor, were easy for all of the guests to eat when they were ready to eat ( no mass exodus off of the dance floor for dessert) and were scrumptious!
Don't sweat…
…the details on the actual day of your event. All will be fine. You prepared the best you could and if something happens or doesn't happen most people won't even notice. Everyone is there to celebrate with you and they will have a wonderful time if you are having fun. Enjoy! It will go by so fast.

Party Professionals
Event Planner: MMJ Events | Photography: Benjamin Scot Photography | Table Setting: Event Source | Tent: O'Neil Tents & Party Supplies | Lighting: Live Technologies | Catering: Cameron Mitchell Catering | Venue: COSI | Entertainment: Matt Ryan, Mobile DJ Entertainment | Floral: Posy | Cupcakes: Enticing Icings and Custom Cakes  | Videography: True Video
Planning a Bar/Bat Mitzvah? Purchase a copy of our all-new Mitzvah Guide here!