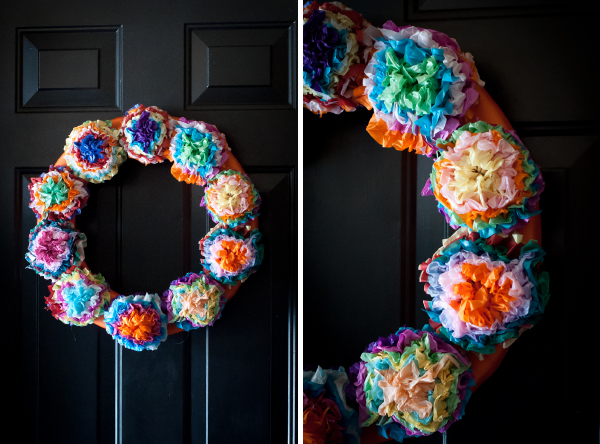 Cinco de Mayo! DIY Wreath + Tutorial
Happy (almost) Cinco de Mayo everyone!! This is admittedly one of my very favorite holidays of the year. For a Texas ex-pat like me, the bright colors, margaritas, spicy food and plain ol' party that May 5th brings reminds me so much of home and the promise of summer right around the corner. In the spirit of Cinco De Mayo we came up with an seriously cute DIY wreath for your to liven up your door (or party) with, just in time for this weekend! Follow the directions below for enviable decor and first class fiesta!
– 18 inch foam wreath  (or whatever size you prefer!)
– Assorted colored tissue paper (Each flower is 6-8 layers of paper — our wreath took 10 flowers to fill)
– 9 yards of two inch ribbon – about three spools at Hobby Lobby
– Scissors
– Floral wire
-Tape
-Ruler
-Hot glue gun
– Curling ribbon *Editor's note: we decided in the end NOT to accent the wreath with ribbon…but you totally could!)
Step One: Begin by measuring & gathering your two inch ribbon. We liked to work with 2 yards at a time, but it's more of a comfort thing. So cut at your own discretion.
(Continued) Hot glue one end of the ribbon to your foam wreath and start wrapping! You'll want to overlap the ribbon slightly each time you come around, so that the foam won't show through. Around and around and around….!
Step two: Once your wreath is wrapped, set it aside. Lay out your assorted tissue paper and stack the sheets into layers or six. You can mix and match colors here, or leave them the same, depending on the look you're going for. With a ruler, mark the tissue paper at increments of 5 inches and cut into strips.
Step three: Take one set of strips (5 inches wide, 6 layers of paper) and begin folding them accordion style, back and forth.Don't be frustrated if your edges aren't perfect!
Step four: Secure the middle of your soon to be flower with floral wire, wrapping it around the center, and twisting the ends to secure. This sort of looks like a stem! Next, fan out either side of the fold, to loosen up the paper. This will help with the next step…fluffing the "petals."
Step five: In order for your flowers to "bloom," separate the first and second layers of tissue paper, pulling the top layer up and toward the center. Repeat with remaining layers.
Repeat for all 10 flowers, or desired amount!
Step six: Adhere your flower to the wreath with hot glue!
Repeat for remaining flowers.
Step seven: Hang finished product on your door, and get ready to FIESTA!!!
(Step eight – optional but highly encouraged: Pour yourself a Margarita, put on a sundress and bust out the guacamole. The wreath brings the party!)