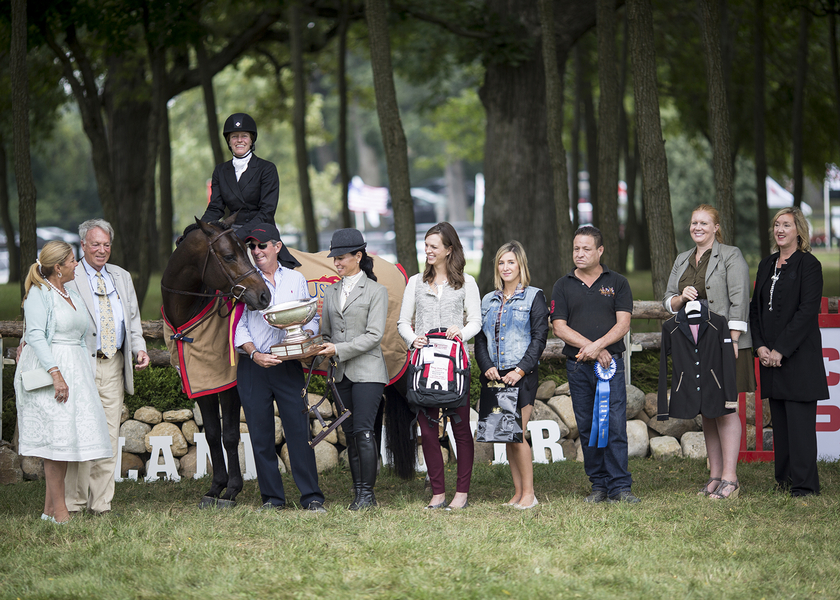 Chicago Hunter Derby 2013
I tell you, folks, looking at the pictures for this post makes me want to watch National Velvet!  There's just something so thrilling about equestrian competitions, the power and grace of the horses as they sweep their riders through a course!  And the 2013 Chicago Hunter Derby was certainly an event to remember!  Presented annually by Chicago Equestrians with a Cause, this special weekend of derbies not only showcases classic equestrian sport but also raises funds for deserving charities.  After watching this year's $5,000 USHJA National Hunter Derby on Saturday, September 7th, attendees returned to charming Annali Farm the next morning for the crème de la crème competition, the $50,000 USHJA International Hunter Derby!  After the excitement of the derby's first round, everyone gathered beneath a large white tent to enjoy a delicious brunch.  Tables were bedecked in sophisticated linens of white and royal blue, the floral centerpieces providing brilliant pops of orange!  Following the meal, round two of the derby began, and all eyes watched eagerly as riders led their horses along the course, the route reminiscent of fox hunting days with its vintage jumps comprised of logs and rock walls.  The contest ended, a winner was awarded, and more money was raised for this year's three selected charities than the event had ever collected before!  Saddle up your horse for this sensational event captured by Marcin Cymmer Photography!
Can you tell us a little about the event?
Just an hour north of downtown Chicago in Antioch, Illinois, are the open fields and rolling meadows of Annali Farm. Owned and operated by Rush and Caroline Weeden, this picturesque destination was the setting of the 2013 Chicago Hunter Derby presented by Chicago Equestrians for a Cause on September 7 and 8. The event featured the $5,000 USHJA National Hunter Derby sponsored by ABBA Vet Supply and the main event, the $50,000 USHJA International Hunter Derby, presented by Canadian Pacific. Event proceeds benefited three deserving charities: the University of Chicago Cancer Research Center, Ann & Robert H. Lurie Children's Hospital of Chicago and the United States Hunter Jumper Association Foundation. On Sunday, festivities began with the ceremonious ringing of the bell by Chicago Equestrians for a Cause co-founder Rush Weeden, who was joined by Lynn Jayne and Caroline Weeden, also co-founders, Chicago Hunter Derby chairwoman Margaret Benjamin, and the event's planners Michelle Durpetti and Sterling Berry. Rush Weeden, owner of Annali Farm, was awarded The Maybank's Volunteer Perpetual Trophy for his outstanding and generous efforts towards making the 2013 Chicago Hunter Derby a success. The Mill Creek Hunt Club and Foxhounds continued the opening ceremonies by sounding the horn on the field, a beautiful and meticulous course designed by Bobby Murphy and George H. Morris. Spectators under the tent enjoyed fabulous food, an open bar courtesy of Gene & Georgetti and live music by Blitz FM on Saturday evening. Sunday featured Kentucky Mules provided by sponsor Angel's Envy and champagne and wine flowed, courtesy of Gene & Georgetti. Additionally, there was a beautiful Sunday brunch, boutique shopping, and children's activities including a horseless horse show, petting zoo and face painting.
Tell us about the decor.
We chose a palette of blue and white, with pops of orange, and it made for a bold statement. The event historically has used a muted palate, and we really wanted to amp up the decor this year, to surprise and excite guests! At first we were a bit stumped for decor, until 2 members of our team and the florist all stumbled upon an Instagram of a gorgeous striped linen at a Mindy Weiss event. Within moments, we were all messaging each other, and we just jumped off from there. Tracking down the linen was a bit of a feat (Windy CIty Linen actually made them just for this event!), but once we had them it all came together spectacularly. We had been eyeing the French Country Day chair from Hall's for a while, and thought this event would be a perfect chance to use them! The event has traditionally used chiavari chairs, so we knew the new chair would be something new and different. We also teamed up with Carol Woldhuis Designs to create all of the collateral, and she made the cutest table numbers, etc with a hand drawn horse! Between the linens, floral, chairs, glassware and flatware, we were able to transform an empty tent into a stunning setting for a country brunch.

What kind of energy did your entertainment give the event?
There was lots of entertainment for guests to enjoy, starting with a live auction where attendees got the opportunity to bid on a team of horses and riders that they believed would win the competition. It was a lively auction, and beat past year's record of money raised for the charities! Once the live auction was through, and all guests had gotten some delicious food and drink, the hunter equestrian competition began. This type of competition is an exciting, graceful experience, but it is also very tranquil. It is an art for both horse and rider to compete and guests enjoyed the gracefulness of the gorgeous horses jumping over the natural obstacles, some that stretched up to 4 feet high!

Who won?
For Saturday's $5,000 National Hunter Derby, Alliy Moyer and her horse Carlson jumped their way into first place with a combined total of 356 points. The $50,000 International Hunter Derby took place over both days of the event. Kelley Farmer flawlessly rode Mythical, owned by Kenneth Garber, placing first place in both the classic and handy round with a combined total of 398 points. The 2012 International Hunter Derby winner, Jennifer Alfano and horse Jersey Boy were this year's third place finisher with a total of 381 points.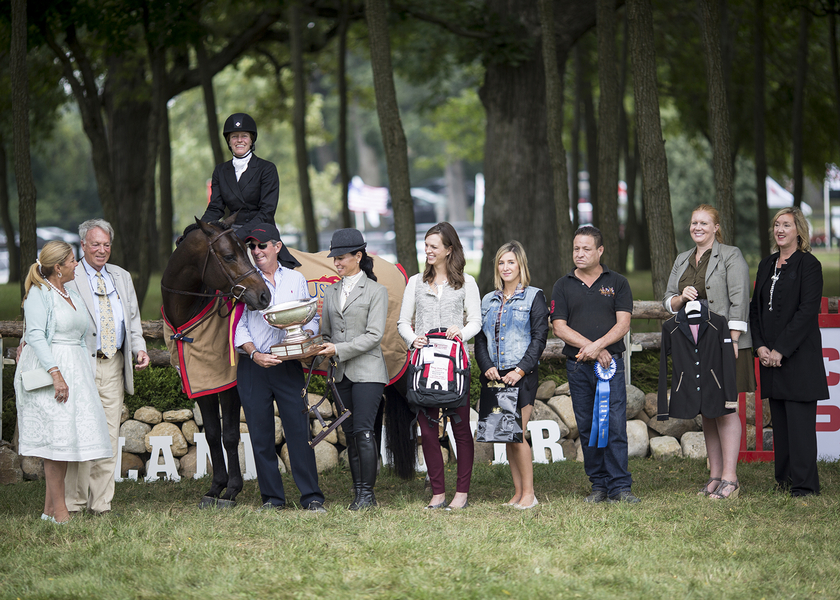 Event Professionals
Venue: Annali Farm | Event Planner: Michelle Durpetti Events |  Catering: Chef Paul Catering | Photography: Marcin Cymmer Photography | Florals: Exquisite Designs | Linens: Windy City Linen | Chairs: Hall's Rental | Stationery: Carol Woldhuis Designs | Favors: Sugar Chic Designs | Bartending: With a Twist Bartending Service