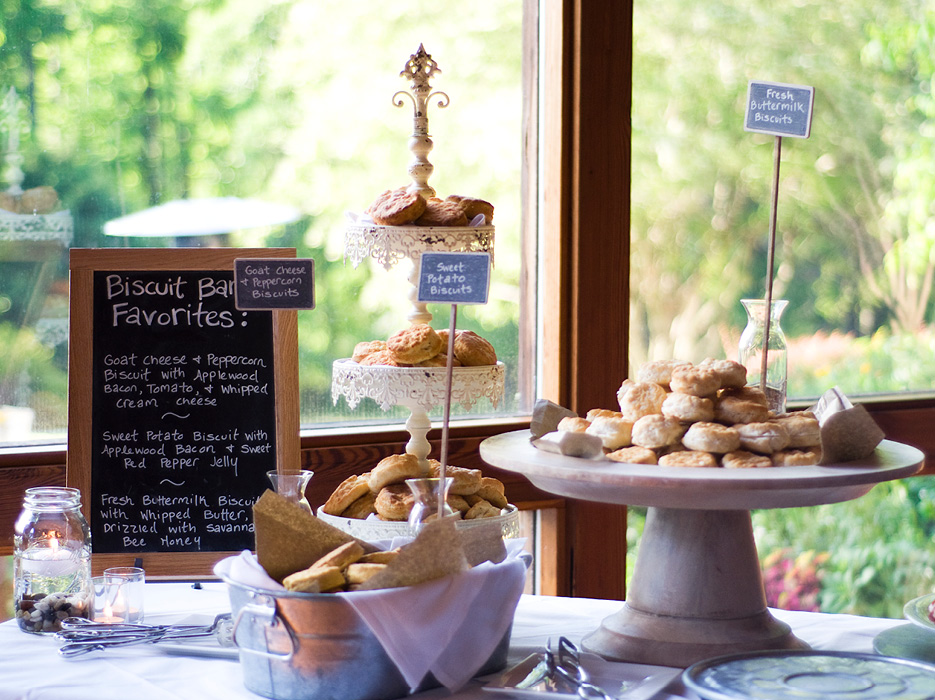 Casually Elegant Spring Engagement Party
For Laura and Josh's May engagement party, it was all about the farm, food, friends and family that surrounded them on that very special occasion. Designed by Danielle Copeland of Simply Charming Socials, the party was to be relaxed, with an emphasis on casual elegance per the bride's request. What she and her groom got was a classic, unforgettable spring soiree that centered around comfort, style and togetherness. As guests made their way into the party hosted at Fair Weather Farms in Monroe, GA they were greeted by colorful pops of yellow and white decor, ranging from hemstitched napkins to cupcakes piled high with whipped yellow frosting! (With the party decor a surprise to Laura, she unknowingly arrived in a bright yellow dress herself!) Guests dined under an expansive tree covered patio on regional specialties from Dennis Dean Catering and mingled amongst the music of an acoustic guitar as the afternoon stretched into evening. The sunny, simple, southern celebration was pure bliss! Images by Zach May Photography.
SIGNS
A good friend of Simply Charming Socials, Judy David of Lil'Mia Boutique, upcycled old windows by giving their old frames a new coat of white paint and cleverly decorating the glass to make a dessert menu and welcome sign.
FLOWERS
Our favorite decor detail from this event has to be the flower chandelier from Birch Blooms! The cascade of white and yellow creates a WOW factor and feminine contrast to the rustic interior. Constancy with a color scheme, from invitation to flowers, even cupcake frosting is a great way to create visual impact.
SWEETS AND SPIRITS
Guests sipped on signature Firefly Vodka and lemonade cocktails under the Fair Weather Farms' 200 year old oak tree. The night's second sweet finish was provided by Pie in the Sky and included a spread of embroidered sugar cookies, vanilla cupcakes, apple pie and rice krispies treats!
BISCUIT BAR
This Biscuit Bar from Dennis Dean Catering was a hit with Laura and Josh's guests. Dennis Dean Catering pulled out all of the stops, featuring buttermilk, goat cheese peppercorn and sweet potato biscuits accompanied by red pepper jelly, bacon, heirloom tomatoes, whipped cream cheese, Savannah honey and warm cinnamon butter. Delicious!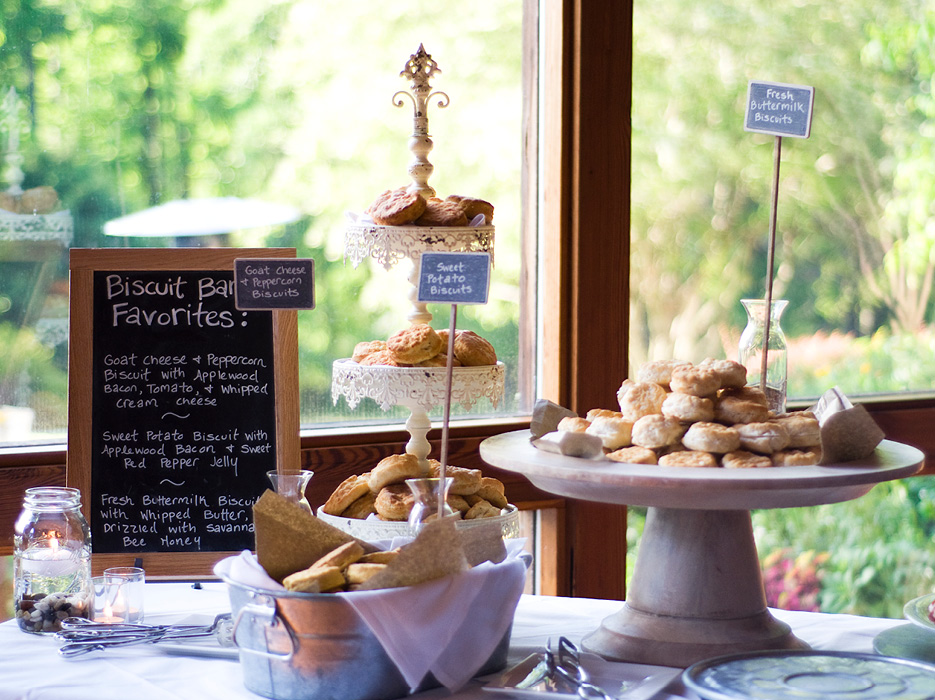 Party Professionals
Photography: Zach May Photography | Planning, Design, Decor & Coordination: Simply Charming Socials | Venue: Fair Weather Farms | Florals: Birch Blooms | Catering: Dennis Dean Catering | Linens & Rentals: Fair Weather Farms | Desserts: Pie in the Sky | Painted Windows: Lil'Mia Boutique