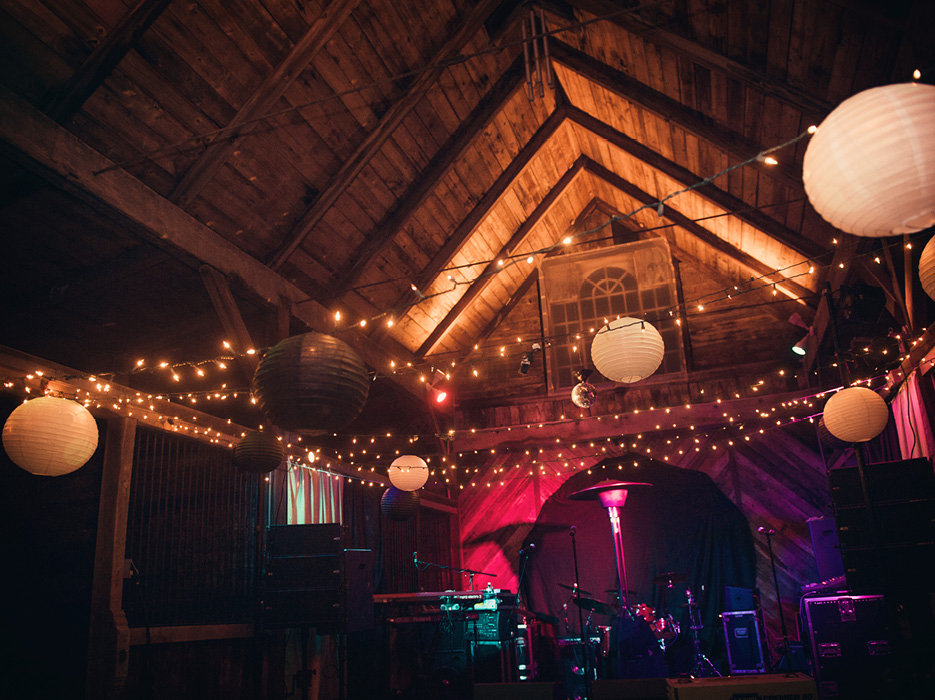 Caribbean Carnival Themed 50th Birthday Party by Berrytree Photography
Come one, come all to the carnival themed 50th birthday party for Keith!  We have a one of a kind venue, fabulous cuisine, decadent cupcakes and a band who will bring the house down!  So grab your mask, take a seat and enjoy the show with photos by Berrytree Photography.
Can you give us an overview of the event?
This birthday party was an absolute blast to put together! When I first met with Amy, the birthday boy's wife, and the rest of the family, I was instantly in love with the entire crew. They are some of the sweetest clients that I have ever worked with. Their main objective for the evening; celebrating Keith Becker's 50th birthday party, while ensuring that everyone attending had an incredible time!
As we discussed details, it was clear that Keith loved bright bold colors, but not your traditional palette. So, I went with lime green as a base for the linens and a few details. With a recent trip to the Caribbean behind me, I was completely inspired by the Caribbean's Carnival feel for this event and threw in a mix of deep purple, yellow, black, & white details along with the lime green base to complete the look. We incorporated the theme further with a mix of masks, custom signs by Stacey Meacham, and a black and white checkered dance floor provided by Barron's Rentals. I incorporated palms and black river stones in the decor, to keep the masculine, yet natural vibe we were looking for. And, we included a tray of shots for guests at the bar, with vibrant lime accents and Mardi Gras beads scattered across the tables. Showtime Entertainment's photo booth was a must for this client, and I have to say that the guests really enjoyed dressing up with the props and taking some goofy pictures together. We brought in Band X to complete the wild feel that we were looking for, and they certainly delivered. They rocked out with guests to everything from classic 60s & 70s music to new favorites, such as Gangham Style. It was an incredible time for everyone that attended.

What were your playful twists that made the event unique?
Everyone really enjoyed turning the barn into an intimate performance venue!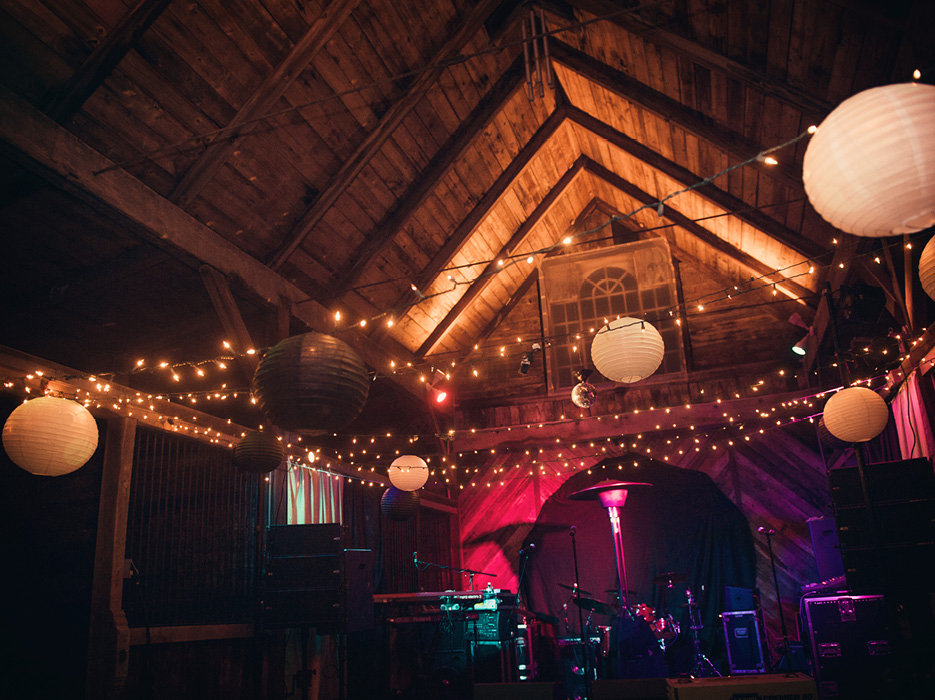 Did you DIY any of the details?
We did DIY a lot of the decor and details. Since, we were trying to go for something a bit more masculine and funky, which meant that traditional decor just wouldn't fit.
What was the most memorable moment?
About half way through the night, Band X invited Keith on stage to play with them. The guests went crazy, and it was just such a fun moment to share with everyone. You could just see the joy and laughter spread throughout the venue and cameras snapping away! It was truly a special moment for everyone involved.

Tell us about the food and desserts.
Del Rio Mexican Grill set up an awesome spread of mexican food that guests really enjoyed. They went above and beyond with set up, and really delivered a quality experience for guests. We also had a self service bar, with shots, wine, and a wide selection of beer.

What kind of energy did your entertainment give the guests?
Band X really pumped everyone up! They would go out into the dance floor and sing to and with people, which really got people involved in the show. Everyone was laughing and having such a great time dancing and listening to the band. It was a joy to watch.

If there was one thing you could change, what would it be?
We really wish it had been a bit warmer that day. Temperatures were in the 30s, which put a bit of a damper on the day, since it was an "outdoor" event. However, Barron's really saved the day, by giving us further heaters for the space though. Otherwise, I wouldn't change a thing!

Party Professionals
Planning & Design:  Sarah Chancey with Chancey Charm | Photography:  Sarah Bezila with Berrytree Photography | Rentals:  Barron's Rentals | Entertainment:  Band X | Event Staffing:  Sosh | Invitations:  Stacey Meacham | Photobooth:  Showtime Entertainment | Linens:  Linen Effects, Inc. | Cupcakes:  Sweets On The Square | Catering:  Del Rio Mexican Grill