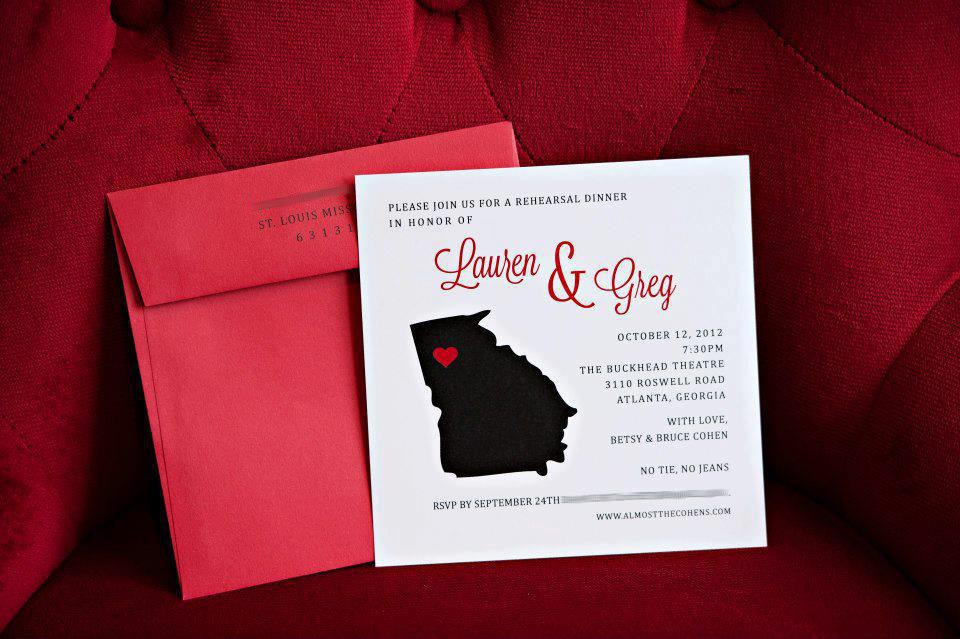 Broadway Themed Rehearsal Dinner at The Buckhead Theatre
Curtain rises.  It is the evening before Lauren and Greg's nuptials.  They are hosting a rehearsal dinner for all their guests at The Buckhead Theatre.  Amazing food is served, champagne is toasted to the couple, laughs and fun are had by all and the memories are captured by Reichman Photography.  Scene.  Enjoy 'Almost the Cohens'!

Can you give us an overview of the event?
Neither Greg nor I are from Atlanta, but we chose to get married here since Atlanta is where we met, fell in love, and made our home. We were so excited host all of our friends and family from across the nation and show off "our" city. Our rehearsal dinner was held the night before our wedding and we enjoyed the company of all of our out of town guests, our family, and our bridal party.

Was there a specific theme or style?
In the spirit of showing our guests Atlanta, we chose to have our rehearsal dinner at the beautiful Buckhead Theatre, right in the middle of Buckhead, and served traditional southern fare and decorated with natural cotton, burlap, and red roses to compliment the existing decoration of the theatre.

What inspired the theme or style?
We LOVE Atlanta and wanted to pay homage to the south since many of our guests were coming from all over and we also wanted to play with the space. Since it was a theatre, we went with the famous couples throughout history and with the Playbills. It was extra perfect since both of us have theatre backgrounds.

What were your playful twists that made the event unique?
We loved our invitations that I designed with Jenny Adair of Jenny's Paper, Ink. They listed famous couples throughout history with our names in the middle! We continued that style and had them printed on the napkins and handtowels and a simple "Lauren".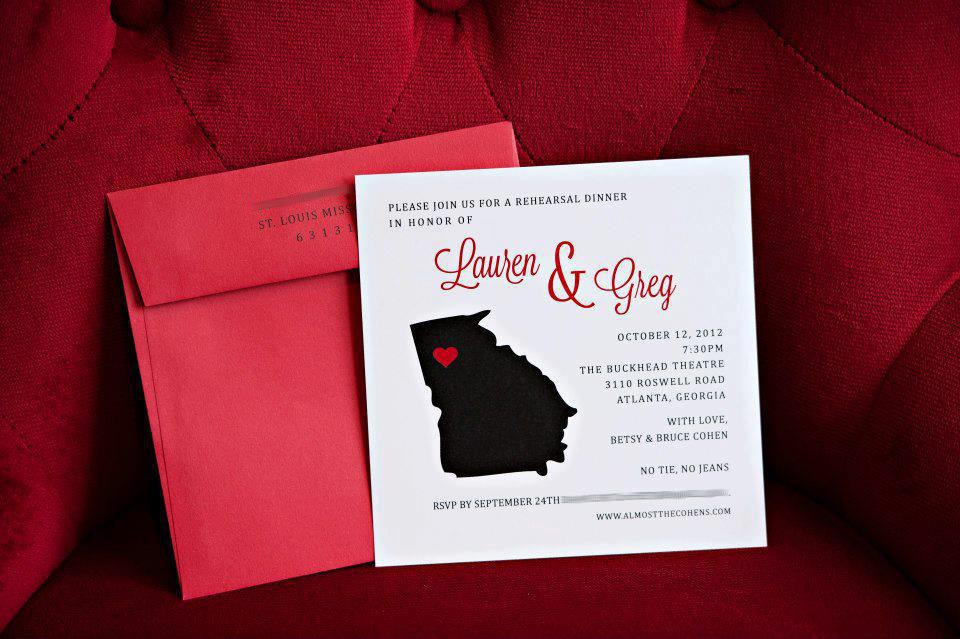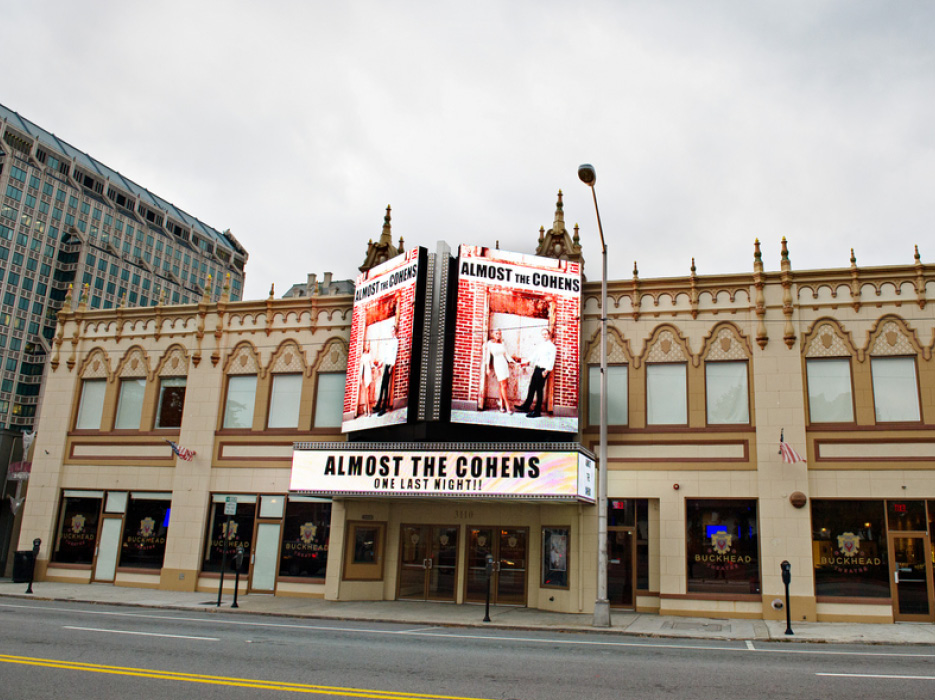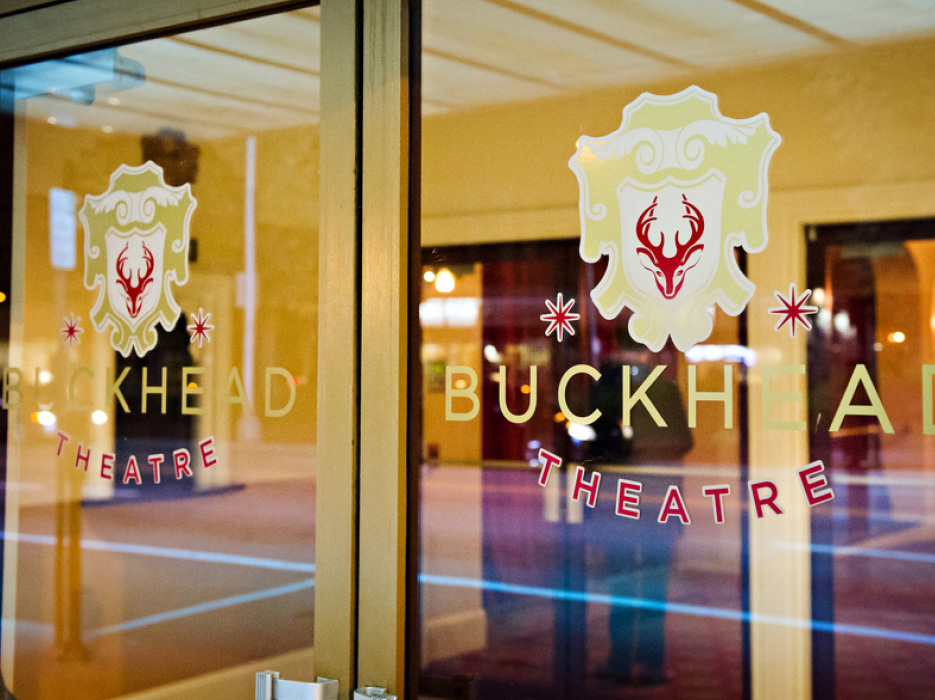 Did you DIY any of the details?
We created the Playbill.  Steve Bales (Bold American), Jamie and Todd Reichman (Reichman Photography), and Jenny Adair (Jenny's Paper, Ink!) created absolutely everything else.
What was the most memorable moment?
For me, one of the most memorable moments was when my cousins showed a video montage of all of their children wishing me well on camera. But I think the moment I'll remember most is when I first came to the realization that everyone important in both of our lives was in the same room with us, and all there to celebrate the love that we had found. It was absolutely surreal.

Tell us about the food and desserts.
The food was incredible!  We started with boiled peanuts at the bar instead of pretzels. At the cocktail hour, we passed cherry heirloom tomatoes with goat cheese and basil in wonton cups, smoked chicken breast salad with spicy avocado puree in cornets, bacon wrapped dates with manchego cheese, mini pulled pork sliders with blue cheese, coke braised short rib tartlets with brie, and lump crab cakes with red pepper salsa on blue corn tortillas. We also had a deviled egg station with sundried tomato and basil deviled eggs, white truffle and asparagus deviled eggs, and traditional deviled eggs.  Our bread basket had baked corn muffins and southern-style biscuits wtih whipped butter and pimento cheese. Our first course was fried green tomatoes with goat cheese and sweet tomato aioli with fresh field green salad. Our main course was springer mountain chicken atop a sweet potato biscuit, sauteed baby spinach, and garlic gravy and rhubarb jam. For dessert, we served a quartet of banana pudding, apple cobbler, a pecan pie pop, and a red velvet whoopie pie.

What kind of energy did your entertainment give the guests?
My hilarious sister and Greg's adorable brother served as the emcees for the night and our friends gave such nice, funny, sweet and SHORT toasts that the evening flowed so nicely! Many people used multi-media to create slideshows, videos, and even arts and crafts – we were truly touched.

If there was one thing you could change, what would it be?
I wouldn't have changed one detail or one moment. It was a perfect evening surrounded by everyone who means the most to us. It was one of the happiest nights of our lives.

Party Professionals
Venue:  The Buckhead Theatre | Decor:  Bold American Events | Photographer:  Reichman Photography | Invitations:  Jenny's Paper, Ink!