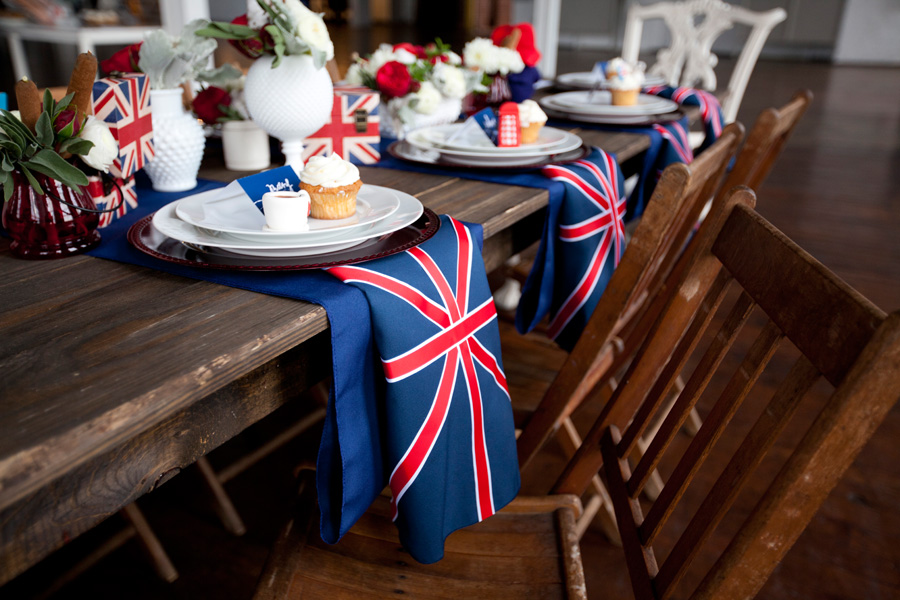 British Themed Baby Shower
What do you do when your friend, who is 8 months pregnant, comes to visit?  Well, Callie threw her friend a chic British-centric surprise baby shower of course!  Getting the idea from Olivia's (the mom-to-be) Sherlock Holmes inspired nursery, Callie handed the reigns over to Amanda Ready of Ambient Plus Studio and she ran with it.  Since Olivia was having a boy, they wanted to play up on the masculine (and British) theme.  They achieved this by utilizing the versatility of the venue, Ambient Plus Studios, as well as using navy blue napkins designed with the iconic Union Jack.  After surprising Olivia, the small group of friends caught up with Olivia while enjoying cupcakes and drinking tea.  Images by Achor & Eden!
STATIONERY
The custom stationery was designed by Made in the Fold who used quirky fonts in red, white and blue with the phrase "Sip, some tea and celebrate the mum to be" on some of the pieces.
NAPKINS
The Union Jack inspired napkins were a fun way to add a bold design element.  They were made out of standard navy event napkins with grosgrain ribbon sewn on in the shape of the British flag.
DESSERTS
Fondant art used as the cupcake toppers were provided by Edible Details and added a touch of whimsy and youth to the decor.
Party Professionals
Venue: Ambient Plus Studio | Photography: Achor & Eden | Event Planning & Design: Atlanta Event Studio | Floral: Juli Vaughn Designs | Stationery: Made in the Fold | Rentals: Blue Eyed Yonder