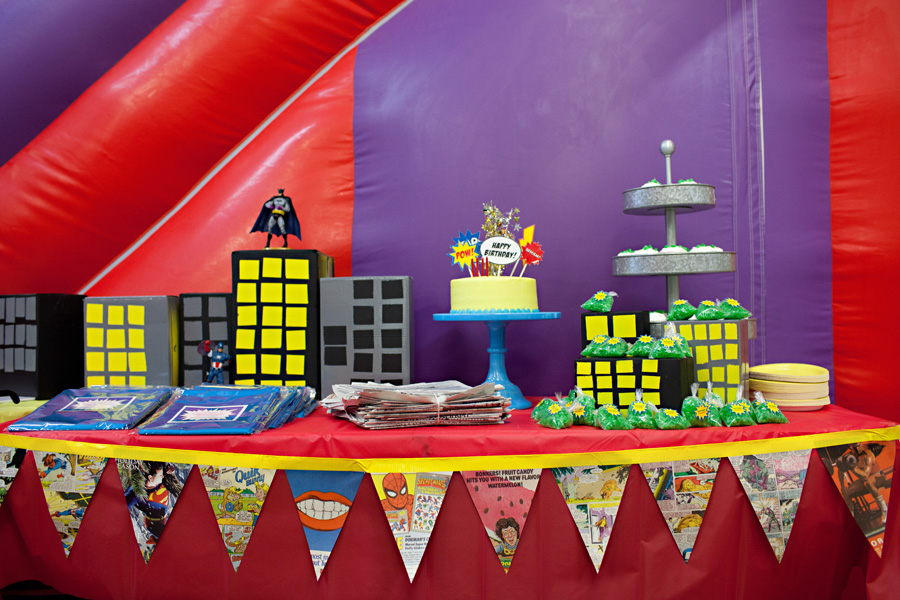 Bright Superhero Themed Birthday Party
Birthday boy Roman could not decide on one superhero, so instead of going with one for his birthday, his mom Kristy went for an entire superhero theme.  Held at Bounce-N-Beans in Cartersville, Georgia so the kids could fly to the cupcakes topped with kryptonite (green rock candy), this was a party made for the superhero in all of us.  Even Batman made an appearance at the party to bring all the superheroes in training pizza and the kids even received their own personal superhero capes to continue their crime-fighting crusades when they got home.  Images by Kristy Dickerson Photography!
DECOR
Banners adorning tables and the backs of the chairs were handcrafted by cutting superhero comic book covers into pennants.
THE CENTERPIECE
The Gotham City centerpiece, made by Roman's mother Kristy, was crafted out of different shaped boxes and spray painted in gray and black.  Then a second coat of yellows and whites were used to make the windows.
Party Professionals
Venue: Bounce-N-Beans | Photography: Kristy Dickerson Photography | Catering: Papa John's | Stationery: One Charming Party | Capes: Discovery Denim