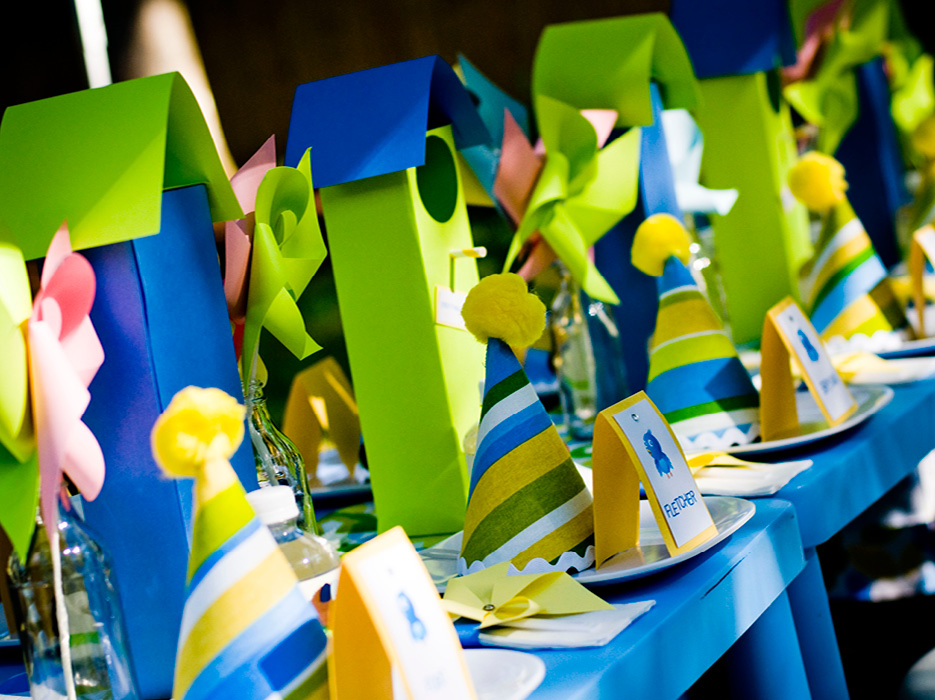 Bright and Playful "Zippity-Doo-Dah" Inspired Birthday Party
Jay and Amy Harrison wanted to throw their daughter a birthday party to remember. Teaming up with Posh Tot Events helped them to do just that. Inspired by 3- year- old birthday girl Ellie Critz's favorite song "Zippity-Doo-Dah," the decor was playful and full of whimsy, centered around images of bluebirds, colorful pinwheels and festive patterns. "We loved the opportunity to create a party around something like a classic song and not the usual 'Princess' or 'Pirate' type themes," said event designer Jennifer Shields. "It gave us a chance to flex our creative muscles and really build a beautiful event with unexpected details." Ellie Critz's reaction to her awe-inspiring party set-up? "OOH! It's SO PRETTY!" Images by Lauren Nicole Studios.
BALLOONS
To create the larger than life balloon canopy, Balloonacy used a combination of 16-20" custom balloons in the peppy bright blue, lime green and yellow color scheme.
BLUE BIRDS
Taking a cue from the classic "Zippity-Doo-Dah" animated characters, a pair of bluebirds appeared on everything from the birthday cake, to the drink stand, and even on the party girl's festive frock.
FAVORS
For a chance at their own bubble magic, guests took home customized tins of their own special bubble juice from The Georgia Bubbleman.
Cake
Miss Mamie's Cupcakes took the invitation to the birthday party along with a small fabric sample and created a custom cake that truly brought the party theme to life. A two-tier strawberry lemonade cake was certainly a highlight of the celebration!
Party Professionals
Photographer: Lauren Nicole Studios | Venue: Private Home | Styling & Coordination: Posh Tot Events | Balloons: Balloonacy | Entertainment: Miss Gail Music and The Georgia Bubbleman | Stationery: Posh Tot Events | Cake: Miss Mamie's Cupcakes | Hand Painted Cookies: Whimsical Originals