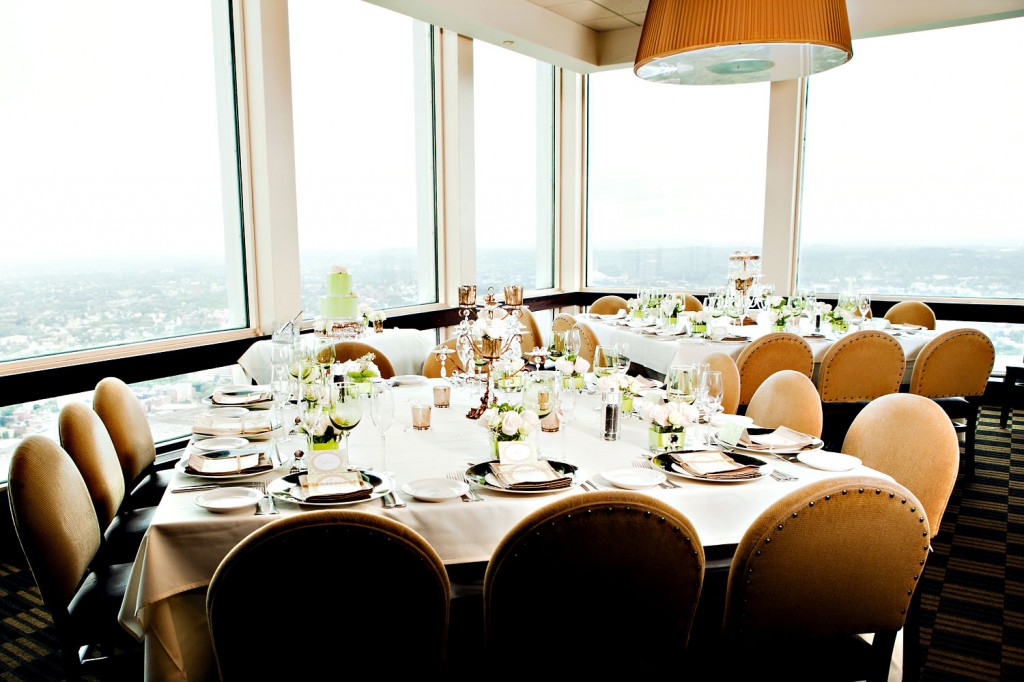 Boston Wedding Shower by Petite Social at Top of the Hub
First of all, I need to let out a big "AHHH!" We've had these images for a while now and have been waiting for our new site to be up and running before we shared them. Katie of Petite Social is a saint… she also happens to be extremely talented, as is evident with this could-you-die-cute Jimmy Choo themed shower. From the glittering cookies to the stunning venue and chic color palette, it's a knock out. Get ready to pin… (Photography via: Pizzutui Studios )
From Katie: My client's little sister was getting married and she wanted to host an elegant bridal shower for 25 of her closest friends and family.  The venue was booked at Top of the Hub in the Prudential Building in Boston, MA. The room was at the top of the Prudential Building with an amazine view of downtown Boston.  I had that going for me!  What was challenging was that I wasn't able to decorate the walls or ceilings and we were limited to what we could bring in.  I needed to get creative and I hope this party shows how all the little details can make all the difference.
(Continued) Since the inspiration was a very glamourous pair of shoes (the hostesses gift to her little sister), I envisioned lots of glass and lots of sparkle. And since we were in a room surrounded by glass windows, it was very fitting.
On the color palette: The client wanted elegant and with Pear Green as the guest of honor's favorite color, I chose to go with a romantic and elegant champagne and pear green combo, which blended in well with the mostly cream setting of the venue location.
How she designed the table: I was limited to what I could do with decor so I tried to add personal touches through the tablescape by bringing in our own: 1) Glasses –  I wanted to pull in color and adding green stem glasses to the table really added a nice punch to the table and overall room.  2) Floral arrangments & centerpieces – I always like the idea of each place setting having their own vase of floral arrangement. So, instead of one large floral centerpiece, I decided to go with 10 individual floral arrangements and one large gold and crystal candelabra, which really pulled in the glass and sparkle. 3) Personalized seating cards and menu cards that I embellished with a simple but elegant diamond trim ribbon made such an impact to what could've been a very plain setting.
Dessert and favors:  Jacques Pastries in CT does some amazing and very artistic creations, but they can also do simple.  A two tiered red velvet and carrot cake was created and I loved the added diamond ribbon on each layer of the cake.  Sara from Dandy Delights created Jimmy Choos and Diamond rings for our guests to take home as their party favors.
We love the idea of bon bon's as a dessert offering. Light enough that you're not rolling out of the shower, you're able to get creative with a variety of flavors. Plus, they are still tres chic and will make a stylish splash at your party.
Jimmy Choo's and frosting. I could stop right there, couldn't I? Custom cookies make a great party favor. Take a themed motif from the shower (monogram, invitation pattern, significant date, etc.) and let your local bakery run wild!
[nggallery id=336]
Event Styling: Petite Social | Professional Photography: Pizzutui Studios | Custom Designed Menu Cards, Name Cards, Favor Tags: Love the Day | Custom Designed Cake: Jacques Pastries |  Custom Designed "Jimmy Choos' and Diamond Ring Cookies: Dandy Delights | Venue: Top of the Hub